The hunt for the missing Malaysia Airlines flight 370 was bolstered Thursday when the U.S. Navy deployed one of its most sophisticated surveillance planes.
The P-8A Poseidon is based on the design of a Boeing 737 passenger jet but is packed with cutting-edge military equipment. It was only brought into service last year.
The P-8 is a long-range aircraft specializing in the surveillance of both submarine targets and targets on the surface of the water.
The electronics aboard are so secret that reporters travelling with the search mission said they were asked to give up their cellphones and cameras.
Boeing says the aircraft's systems allow it carry out advanced communications with other planes, ships, and satellites in what it calls the "future battle space." The P-8 can also be armed, but on this mission the Navy will be interested in drawing on its surveillance capabilities.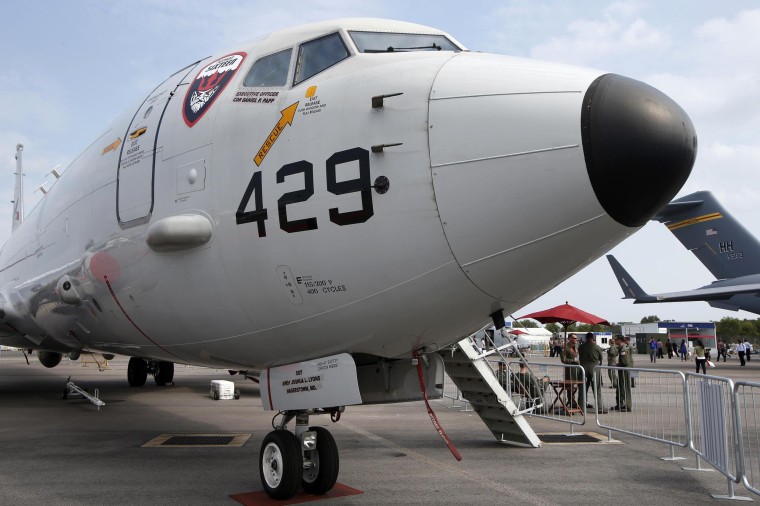 The aircraft joins an older aircraft, the Lockheed Martin-made P-3C Orion, which the U.S. Navy dispatched to the search on Saturday. Three P-3s from Australia and one from New Zealand are also involved in the hunt.
The Navy said the arrival of the P-8 was a significant boost to the search because unlike the propeller-driven P-3, the P-8's twin jet engines allow it to cover far more territory.
Seventh Fleet spokesman Cmdr. William J. Marks told the Wall Street Journal on Thursday that the plane has a maximum speed of 490 knots and can climb as high as 41,000 feet. But in this scenario the aircraft would be flying far lower and slower - at a height of 5,000-10,000 feet and at 350 knots - giving it a search time of up to nine hours, Marks told the newspaper.
That would provide the P-8 with a range of 1,200 nautical miles, 300 further than the P-3, he said.
"This move adds the P-8's enhanced technology and greater range to the search efforts while maximizing planned maintenance and guarding against air crew fatigue for both aircraft," Marks said.
Boeing says the U.S. Navy plans to buy 117 P-8s. In December, the firm delivered the 13th aircraft in this order, according to Navy Recognition magazine.
- Alexander Smith