The hunt for the missing Malaysia Airlines jet expanded dramatically this week, but the toll on military and financial resources could begin putting pressure on countries to scale back efforts before the mystery is solved.
The U.S. Navy on Monday said it has stopped using the destroyer USS Kidd to scour the Indian Ocean in favor of deploying long-range and more efficient surveillance aircraft. Vietnam and India have halted search efforts, at least until Malaysia pinpoints other areas to investigate. Other countries may soon follow.
With the lack of compelling clues amid a search area the size of Australia, the Federal Aviation Administration is meeting about whether to pull back its investigators as well, said Greg Feith, an air-disaster analyst and former investigator with the National Transportation Safety Board.
A senior U.S. official told NBC News that investigators will continue to assist Malaysia to refine its radar data information in the hopes of narrowing down the search. The help, however, is not open-ended, the official said.
"We as a country have to determine our return on investment and how long we can keep expending critical assets, which is why we're pulling the USS Kidd," Feith said.
"There are a number of other places that are probably getting ready, and I expect over the next few days, to pull out," he added. "Each country is bearing its own cost, and a lot of these smaller ones don't have the economic resources to support an effort like this."
Malaysia Airlines Flight 370 vanished March 8 from Kuala Lumpur en route to Beijing with 239 people on board. Investigators say it was deliberately diverted, and theories have emerged that the plane may have been hijacked, or succumbed to pilot error or even pilot suicide.
The search area has grown to a massive 2.24 million square nautical miles, Malaysian officials said Tuesday. It has been divided into a 14-section grid, with Australia, China, Indonesia and Kazakhstan spearheading efforts in those areas they are closest to.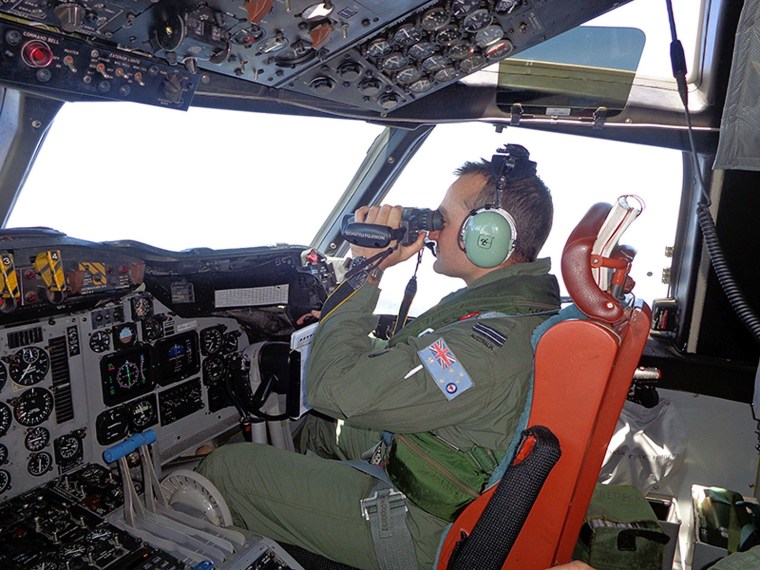 The U.S. Navy has deployed its P-8 Poseidon submarine-hunting aircraft to aid the Australians off their western coast.
The plane's advanced radar capabilities allow the crew to recognize and investigate small points of contact on the water's surface. The crew can use the onboard camera system, as well as a multitude of sensors, to investigate the objects.
Those objects could include debris that would float to the top of the water in high-speed impacts, from clusters of seat cushions to baggage to cargo. But other parts of the plane could be lost forever if the Boeing 777 descended into the Indian Ocean, where the average depth is more than 12,000 feet.
Feith said the search remains "well-choreographed," but Malaysia by this weekend will likely have to clarify its next phase — and whether that would entail giving up the search entirely.
China could take over operations because it has the most at stake since the majority of those on board are Chinese. Either way, Feith said, Malaysian officials will need to spell out publicly what they have done and why it remains near impossible to find any signs of the plane.
That's something that will need to be explained to families.
"That news is going to be very hard for them," Feith said. "It will leave them wondering, maybe for the rest of their lives, what happened to their loved ones."
NBC News' Jay Blackman and Courtney Kube contributed to this report.