Boko Haram, the ruthless rebels who kidnapped nearly 300 Nigerian schoolgirls, is poised to become a larger and more serious regional — and even global — threat to peace, said leaders who met Saturday at a multinational conference in Paris.
"It is serious, it is dangerous, for Africa and the rest of the world," French President Francois Hollande told reporters of Boko Haram, which has relied on weapons and training from other terror organizations in West Africa.
During the summit, which included Nigerian President Goodluck Jonathan, Nigeria's neighbors — Chad, Cameroon, Niger and Benin — and Western officials established a plan to work together in the effort to combat Boko Haram.
Jonathan, who has been criticized for Nigeria's slow response, said Boko Haram is not just a local problem anymore.
"Boko Haram is acting clearly as an al Qaeda operation," said Jonathan, who only recently accepted international help to tackle the terror group, which stepped up its deadly violence in northern Nigeria four years ago.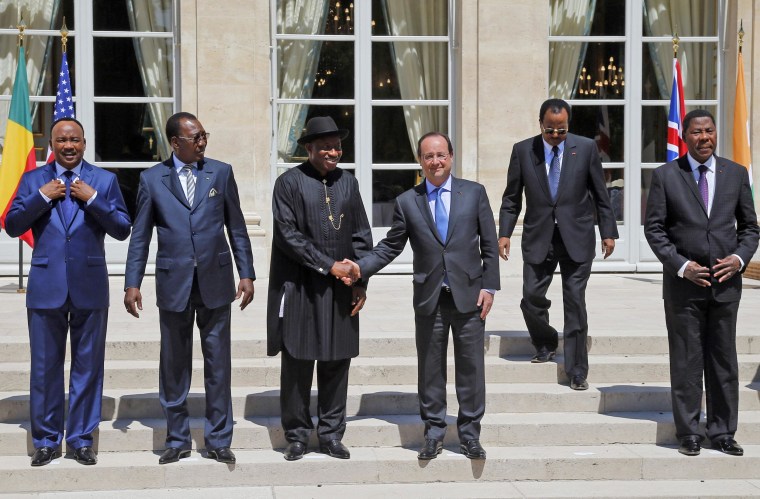 On Friday evening, suspected Boko Haram rebels from Nigeria attacked a Chinese work site in northern Cameroon, near the Nigerian border.
"Boko Haram uses pernicious tactics with night-time attacks," Cameroonian President Paul Biya said.
"Let there be no ambiguity; we will fight an intensive war against Boko Haram," added Chad's president, Idriss Deby.
He described the discussions about the schoolgirls — kidnapped by the terror group more than a month ago — as emotional.
Hollande said there was no way to know whether the girls were still together or had been separated, but meetings and surveillance to secure their whereabouts would be ongoing.
Jonathan canceled a planned trip to the town of Chibok, where the girls were abducted from, on Friday because of security concerns. His critics said the decision highlighted his inability to rein in Boko Haram.
"Our primary interest is to locate the girls. … The president going to Chibok today does not solve any problem," Jonathan said Saturday.
Britain, meanwhile, said it is offering to send advisers to help Nigeria organize its military, which is searching for the schoolgirls. U.S. officials, who've also sent advisers to the country, said the effort to retrieve the young hostages is a top priority.
— Peter Jeary and Elisha Fieldstadt