Boko Haram is trading tips with other terrorist groups as it plows on with a bloody campaign to carve out an Islamic state and deepens a crisis threatening to engulf central Africa in religious violence.
Emboldened by Nigeria's failure to stamp out its al Qaeda-inspired insurgency, the militant group attained global infamy in April with the mass kidnapping of more than 300 schoolgirls. International attention was focused on the hashtag #BringBackOurGirls with Michelle Obama and teenage Taliban shooting victim Malala Yousafzai expressing their support. The U.S. and others stepped in to help track the girls down.
Sign up for breaking news alerts from NBC News
With no sign of the schoolgirls more than two months after their disappearance and new reports weekly of further Boko Haram attacks, experts warn the battle to contain the extremists has hit an impasse and the terror could spread beyond Nigeria's borders.
Jacob Zenn, an expert on Boko Haram who has advised the State Department on the terror group, said worrying signs have emerged of the extremists communicating and sharing tactics with al Shabaab -- an al Qaeda-linked group based in Somalia that is waging a bloody campaign in east Africa.
"Early in 2011, Boko Haram and al Shabaab did coordinate with some bombings, but until recently we did not see much activity," he said. "Now, in the past few months, we've seen them sharing communications and tactics again - which is significant."
Several countries in central Africa between Nigeria and Somalia already have seen an uptick in sectarian violence. The Central African Republic and South Sudan have endured decades of internal unrest, but in the past year this has been drawn along increasingly religious lines.
Zenn said the spillover of religious killings that is being fanned by the influence of these Islamist sects could plunge the entire region deeper into chaos.
"Nigeria is having its own problems, Somalia is having its own problems, and in between we're seeing for the first time in history Muslims and Christians fighting in the Central African Republic where this didn't exist [before]," he told NBC News. "That's partly what the global al Qaeda movement wanted to do, and it is succeeding in certain respects."
With no solution to Nigeria's captured girls in sight, international interest in Nigeria has waned. But the maelstrom of violence in a country riven by religious differences rages on.
Boko Haram – which translates roughly to "Western education is forbidden" – has been waging a bloody campaign to destroy what they see as Nigeria's oil-driven, Westernized society and create in its place a state governed by strict Islamic law, known as Shariah. The campaign of terror has not solely targeted Christians: Boko Haram also has attacked mosques and Muslims it views as traitors to the cause.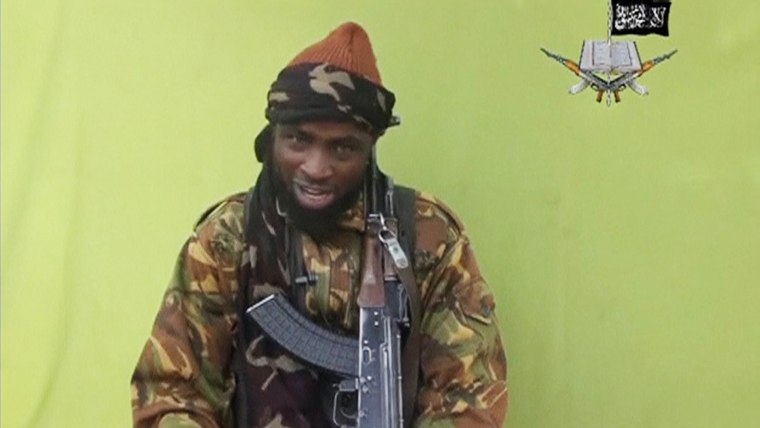 The group established its foothold in Nigeria's north and has thrived largely unchecked in the deeply divided country.
Nigeria has long seen splits along sectarian lines: The majority Muslim north is plagued by deep poverty and a dearth of education; the largely Christian south has seen greater benefits from the country's natural resources.
Zenn – who co-authored "Northern Nigeria's Boko Haram: The Prize in Al Qaeda's Africa Strategy" and serves as a fellow with London's Henry Jackson Society think tank – told NBC News that militants are able to fan sectarian flames in countries like Nigeria by targeting churches and provoking reprisal attacks. In this climate, he said, "economic issues can sort of take on a religious veneer."
The death toll caused by Boko Haram and Nigeria's under-funded security forces, themselves subject to allegations of human-rights abuses, is estimated to be more than 20,000 since mid-2011.
According to Zenn, Boko Haram has seized the opportunity to exploit the economic and sectarian divisions – and evolved to become more like al Shabaab. He said the former likely received training from their east-coast brothers to carry out their first suicide bomb attack in 2011.
More recently, Boko Haram's bombing of a venue showing the World Cup that killed 14 people earlier this month mirrored deadly attacks attributed to al Shabaab in Uganda and Kenya.
Zenn said there are signs that such "synergies" are going the other way, too, with al Shabaab copying Boko Haram's kidnapping strategy by taking girls in Kenya.
Still, some analysts question how many cues Boko Haram is taking from its al Qaeda-inspired peers.
John Campbell, an expert on Boko Haram at the Council on Foreign Relations, confirmed that the group had been communicating with al Shabaab, but said he did not think that means they have been coordinating their tactics.
"There has been communications between [Boko Haram and al Shabab] - but I'm skeptical whether these communications are transformative," he told NBC News.
Campbell attributed the increase in sectarian violence in other central African countries to deep-seated internal problems rather than the external forces of Islamic extremism and influence of groups like Boko Haram or Al Shabaab.
"The Central African Republic is going to hell in a handbasket," he told NBC News. "Religious extremism there has become quite fierce, and it is relatively new."
But he said there is plenty of other fodder to ignite the flames of sectarian violence, with several other countries in the area already facing "grotesque" social and security issues.
"In other words," he said, "there is a lot of dry grass lying around."