Millions of Nigerians are ready to pin their hopes of defeating the Islamist group Boko Haram on a 72-year-old ex-military dictator with a checkered human-rights record.
Retired Gen. Muhammadu Buhari is standing against President Goodluck Jonathan in Nigeria's general election, which has been delayed amid militant violence and is now scheduled for March 28.
The campaign is being fought against the backdrop of an intensifying campaign of suicide bombings, raids and kidnappings by Boko Haram. The group has overrun a huge area in the northeast and its insurgency was blamed for 10,000 deaths last year.
A month out, polls suggest the race is neck-and-neck.
Buhari has a reputation as an incorruptible strongman, promising to crush Boko Haram and root out Nigeria's endemic corruption problem.
But despite these credentials many analysts view Buhari as a surprising choice for the opposition ticket.
Buhari was once Nigeria's military dictator
The retired general has already had one attempt at ruling Nigeria, for just under 20 months from 1983 until 1985. He helped oust the democratically elected government in a bloodless coups before being deposed in a counter-coup himself.
When Nigeria transitioned from military rule to democracy in 1999, Buhari came out of retirement for a series of similarly-unsuccessful attempts at politics. He has fought — and lost, by some margin — the three presidential votes in the ensuing 16 years.
"In terms of what a Buhari government would be like, all we have is his record during the 1980s, and that's not particularly reassuring," according to J. Peter Pham, director of the Africa Center at The Atlantic Council think tank.
Human-rights groups have accused Buhari's regime of crushing political dissent and installing harsh military values into civilian life.
"A lot of journalists and civil society campaigners were arrested and thrown in jail without a trial," Nigerian author and historian Max Siollun told NBC News. "This was either because they were critical of the government of accused of fomenting dissent among opposition groups."
His regime was implicated in the 'Dikko Affair'
The most notorious example of how dissidents were treated during Buhari's previous reign was an incident in 1984 known as the "Dikko Affair," the details of which read like something from the pages of a spy thriller.
After Buhari's regime took power, many ministers from the former democratic government were thrown in jail on charges of embezzlement. Umaru Dikko, the transport minister and de facto second-in-command, fled to the United Kingdom and became the West African country's most wanted fugitive.
Nigerian intelligence agencies allegedly worked with Israel's Mossad to hatch a plot to track down and kidnap Dikko, according to Siollun, who wrote about the Dikko Affair in his book, "Soldiers of Fortune: A History of Nigeria (1983-1993)."
Testimony given in the ensuing court case also implicated the Nigerian and Israeli governments, according to a Reuters report during the trial.
A group of Nigerian and Israeli men tracked Dikko to his home in West London and bundled him into the back of a van, the then British Home Secretary Leon Brittan told Parliament at the time.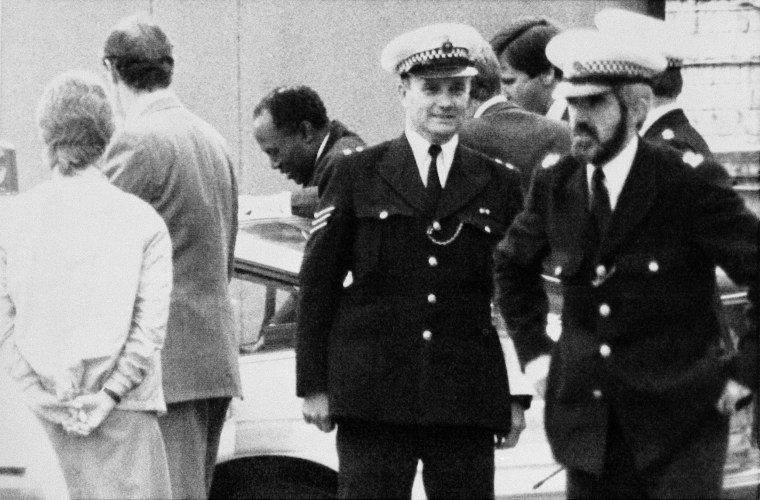 Dikko was put in a sealed crate along with a doctor who sedated him and kept him alive while he was driven to a Nigerian Airways cargo plane waiting at London Stansted Airport.
But unknown to his abductors, Dikko's secretary had seen the kidnapping unfold through her window and the crate was apprehended by customs staff at the airport. Armed police surrounded the cargo plane — thwarting the plan at the last moment.
The Nigerian and Israel governments have always denied involvement, but the incident sparked the worst diplomatic crisis between the U.K. and its former colony Nigeria.
The Nigerian High Commissioner was declared persona non grata in London, diplomatic relations between the counties were suspended for two years, and three Israelis and one Nigerian were convicted and jailed in Britain for their part in the plot.
While the Dikko Affair occurred under Buhari's rule, it is not clear what role — if any — he played in it.
Critics cite his record on the economy, discipline and religion
Buhari's economic record was "nothing short of disastrous," according to Pham. Although factoring in that the price of oil crashed in the 1980s, Siollun points out that none of the leaders of oil-rich Nigeria emerged from the period with much financial acclaim.
Buhari also introduced the "War Against Indiscipline," in which drill sergeants were placed in public-sector offices to punish late or truant workers with jumping jacks and other grueling physical exercises.
"He was a disciplinarian, your archetypal army general: very firm, very decisive, very resolute," Siollun said.
Buhari's critics have also attempted to capitalize on the deeply religious nature of the presidential race. Nigeria's population of almost 180 million is divided evenly between Christians, most of whom live in the oil-wealthy south, and Muslims, who are largely concentrated in the underdeveloped north.
President Jonathan is a southern Christian, Buhari a Muslim from the north.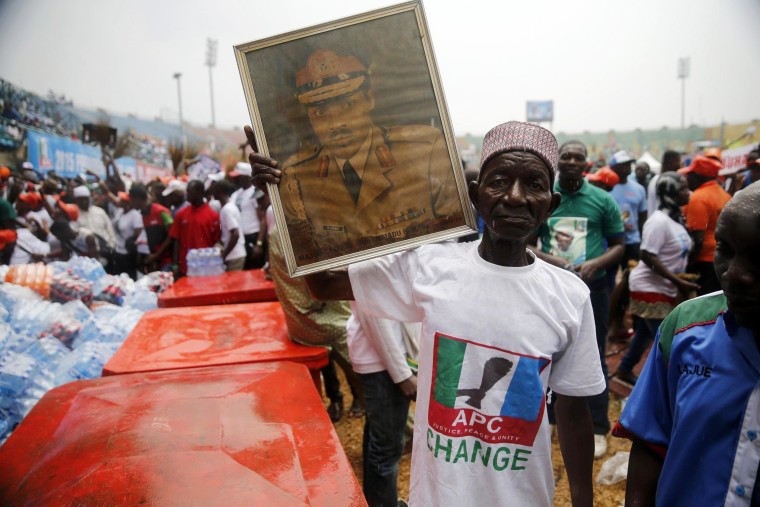 Buhari has been forced to defend against allegations that he would seek to impose hard-line Islamic law, something currently present in 12 of Nigeria's 36 states, as a blanket policy across the country. Although most analysts agree there is no basis to these claims.
As heavy-handed and ineffectual as some of Buhari policies may have been, he is still seen as principled in a country ranked as one of the most corrupt in the world.
"He was known in Nigeria for being comparatively honest," Siollun said.
During his rule in the 1980s he engaged in an anti-corruption drive that according to the author was "unprecedented, no one had seen anything like it."
It was this ethic that partly led to Buhari's downfall, his own peers ousting him when he turned the spotlight on them. Many Nigerians speculate that some of the officials opposing Buhari this time around are doing so in fear of a similarly ruthless approach.
He is known for leading a modest life
Buhari is also revered for having led a far less opulent existence than is customary among Nigeria's political and military elite.
"While other generals retired to be millionaires, he went off to lead a relatively austere lifestyle," Siollun said.
This lifestyle was witnessed by former U.S. ambassador to Nigeria John Campbell, who visited Buhari's home several times during his diplomatic tenure in the country.
"The most striking thing to me was that, in a Nigerian society where more is better and excess is best, Buhari lives very modestly," Campbell told NBC News. In contrast to other prominent figures Campbell met, Buhari's house was "not a palace," he said, noting that the retired general answered the door in person and kept no visible servants.
"His physical health appears to be excellent and he has extremely good manners," said Cambell, who is now a senior fellow at the Council on Foreign Relations. "This image is a big part of his appeal on the street."
The race between Buhari and Jonathan appears to be close
Buhari's supporters are convinced this appeal is strong enough to propel him to Nigeria's seat of government on his fourth attempt. Reliable polls are hard to come by in a vast country of such poor infrastructure, but the figures that are available put the candidates on level pegging.
His hand is strengthened still by the considerable number of lawmakers who have defected from President Jonathan's People's Democratic Party (PDP) to his coalition, the All Progressives Congress (APC).
Another factor in Buhari's favor is Nigeria's youthful population. The country has a median age of less than 18 (the U.S. figure is nearly 37), so most people were not alive during — let alone remember — Buhari's time in power.
Even so he faces a monumental challenge. He would be the first opposition candidate ever to win an election in Nigeria. The only exchange of power since the country gained independence from British rule in 1960 has been through military coups and counter-coups. Whenever there have been democratic elections, the government has always been reinstalled with a landslide victory.
The opposition alleges the government has turned to underhand methods to sustain that record. The decision to postpone the vote by six weeks from its original date of February 14 was seen by Buhari's supporters as a panic-button measure by a government facing defeat.
If Buhari does win, however, it may be only the start of his problems. "Between keeping his coalition together and actually trying to govern he will have his hands full to say the least," Pham said.