America's toughest fighters, members of the elite Special Operations Forces, are watching with growing concern as the social-media hashtag #bringbackourgirls becomes an international campaign.
Some commanders worry that U.S. troops will be pushed, pressured and guilted into action to find and rescue the 276 girls who were abducted from a school in northeast Nigeria last month by Boko Haram, an Islamic militant group with an ideology similar to al-Qaeda's.
No specific order to prepare for a rescue mission, let alone to launch one, has been given, according to numerous interviews with military officials. But in internal conversations, Special Operations commanders said they think the writing may be on the wall.
According to two well-placed defense department sources, senior Special Operations commanders — those in charge of the Navy SEALs, Delta Force and the Ranger Regiment — have told their men to be ready, assuming that eventually "the hashtag will bring us out."
"We're being tweeted into combat," said a military official who spoke to NBC News but asked not to be identified.
Any information about U.S. special operations forces is highly sensitive.The White House and the Pentagon have repeatedly said that the U.S. will not launch an active operation to save the Nigerian girls. Boko Haram's leader has said the girls should not have been getting a western-style education. He has said the girls have been converted to Islam and that he is considering selling them "as slaves."
The Pentagon has said that no U.S. military rescue operation is being planned. Unarmed drones and surveillance aircraft have been directed to assist in the search, according to Pentagon spokesman Col. Steve Warren. White House spokesman Jay Carney said, "at this point, we're not actively considering the deployment of U.S. forces to participate in a combined rescue mission."
Former military leaders know that the White House is weighing its words carefully. "The White House is sensitive that the outcome may be the loss of both the teams and the hostages," said one.
"There is a logic building that it took U.S. 10 years to search for Osama bin Laden and then we found him, so why not spend a few months looking for the girls in Nigeria and find them too?"
Still, the cumulative impact of the #bringbackourgirls campaign, including the much-retweeted photograph of first lady Michele Obama holding a "Bring Back Our Girls" sign, is leading some in the special forces community to believe that the order may one day come.
"There is a logic building that it took U.S. 10 years to search for Osama bin Laden and then we found him," said one source, "so why not spend a few months looking for the girls in Nigeria and find them too?"
The answer to that question, according to retired Col. Jack Jacobs, NBC News military analyst and Medal of Honor recipient, lies in the enormous tactical challenges of trying to rescue so many hostages, separated into an unknown number of groups, and hidden in a remote jungle controlled by a terrorist group.
"The tactical difficulty of an operation to rescue the girls would be overwhelming," Jacobs said. "First, you need accurate, complete intelligence about the hostages' locations and the size and disposition of the forces guarding them, both extremely difficult to obtain and verify (a Nigerian official claimed that the military knows where the girls are, but U.S. officials have not confirmed the report).
"In addition, you need a very high degree of confidence of being able to conduct simultaneous raids on all locations, by multiple teams working with balletic coordination. Otherwise, a single radio call from one camp would doom the other hostages. And you would have to be prepared for the deaths of some — even most — of the girls. This would be a raid infinitely more difficult than the one to capture Osama bin Laden in Abbotabad, Pakistan and one that would almost surely to end in tears."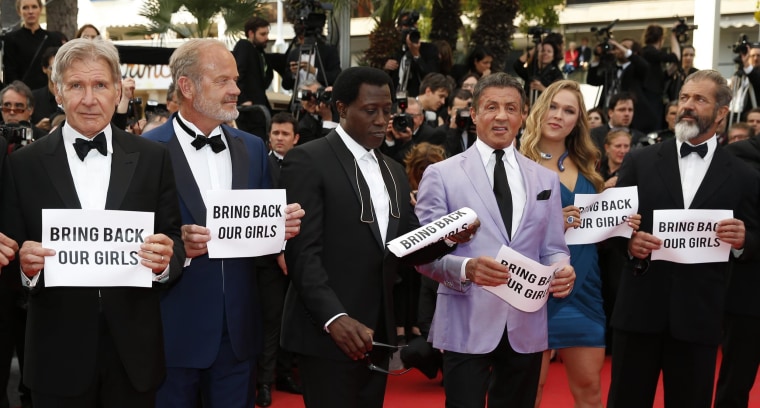 It may sound implausible that a popular Internet cause can drive elite U.S. troops to take on a dangerous and prolonged mission, but there is a recent and ongoing precedent. The online movie "Kony 2012" described atrocities, including the use of child soldiers, of the Ugandan militant leader Joseph Kony. The viral film was been reportedly viewed 100 million times online. U.S. troops are currently in Uganda assisting in the hunt for Kony.