You've almost certainly heard of Nigeria's Chibok Girls.
The 276 female students received worldwide attention in April 2014 after they were kidnapped by Boko Haram, one of the world's deadliest terrorist groups.
On Sunday, the Nigerian government announced 82 of the girls had been released in exchange for five militant commanders — a move hailed by parents and officials, and reported across the international media.
But in truth the Chibok Girls are a drop in the ocean.
Human rights groups estimate thousands of men, women and children have been abducted by Boko Haram during the group's eight-year insurgency.
These missing people have received little attention outside of their communities.
Ryan Cummings, director of South African consultancy Signal Risk, believes international attention has often missed the bigger picture with its narrow focus on the Chibok Girls.
"The focus should be on the fact that Boko Haram has kidnapped thousands of people and we still do not have an accurate account of how many are still held captive," he said.
Estimating even a ballpark figure for the total number is difficult.
Boko Haram has carried out at least 41 mass abductions since the start of 2014, according to a record kept by human rights group Amnesty International.
In 2015, Amnesty put the number abducted at more than 2,000 — but given the armed group's ongoing campaign of terror, that number has almost certainly risen since. Now, Amnesty just estimates the figure to be in the unknown thousands.
So why has the cause of the Chibok Girls been elevated above that of other victims?
Their abduction gained international attention on the back of the hashtag #BringBackOurGirls. It was tweeted millions of times, backed by everyone from former first lady Michelle Obama and Ellen DeGeneres to Amy Poehler and Puff Daddy.
Tuxedoed Hollywood A-listers held up signs on the red carpet calling for their release.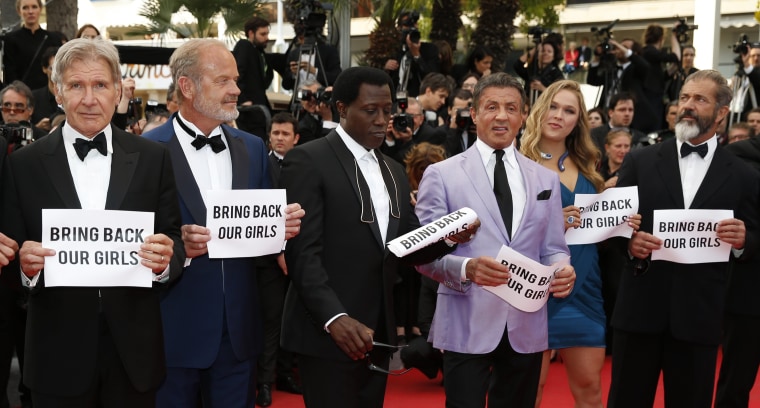 With the West alerted to a crisis that had hitherto received little attention, the United States was among several nations to send troops and military experts to help find the missing students.
But aside from 57 girls who escaped almost immediately, no trace was found of the remaining captives for around two years. Since then, some have been released or escaped, leaving the number missing at 113.
The #BringBackOurGirls phenomenon was also the first time many in the West had heard of the Boko Haram insurgency, a conflict that has claimed upward of 20,000 lives since it began in 2009.
The ISIS-affiliated militants enslave and rape their captives before, experts believe, strapping some of them with explosives and forcing them to act as suicide bombers.
The group has also used dozens of children as human bombs.
Even on the occasions when young women have escaped Boko Haram, they are often viewed with suspicion, mistrust, and even hatred by their own friends and families. Some have returned carrying the children of Boko Haram fighters and their own families worry they may have been radicalized while in captivity.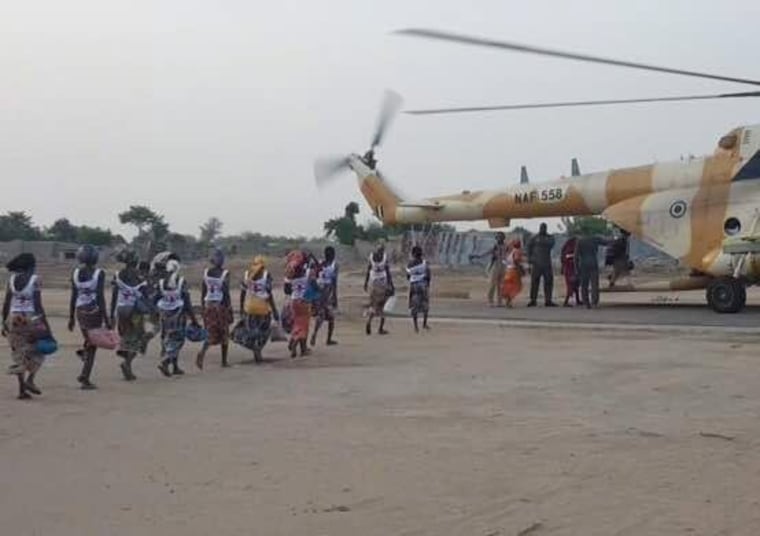 But the Chibok Girls may not even be Boko Haram's largest mass kidnapping.
In March 2015, locals reported that upward of 500 people were taken from the town of Damasak. Human Rights Watch alleges that the Nigerian government has done little to publicize the event or help its victims.
"Nigerian authorities have neither publicly acknowledged the Damasak abductions nor disclosed efforts to recover the missing children," Mausi Segun, a senior researcher at Human Rights Watch, wrote in March.
Following Sunday's announcement that 82 of the Chibok Girls had been released, human rights groups again called for Nigerian authorities to work on the release of the thousands of unsung kidnap victims still out there.
"The Nigerian authorities must now do more to ensure the safe return of the thousands of women and girls, as well as men and boys abducted by Boko Haram," Amnesty International said in a statement Sunday.