Nigeria postponed an election to crush Boko Haram. With polls opening Saturday, data provided exclusively to NBC News shows that the six-week delay did little to stem the violence. Instead, suicide attacks are up —showing the militants merely shifted tactics.
And as anticipated, the country's security forces say gunmen have launched a wave of deadly attacks near polling sites in the country's northeast as residents lined up to vote.
But defeating Boko Haram has become the stated mission of President Goodluck Jonathan, who has been criticized for allowing the militants to flourish and is under pressure over Nigeria's floundering economy and disruptions to key services like electricity.
Aided by its neighbors, Nigeria says that since it postponed Feb. 14 elections it has reclaimed around 30 towns and villages and liberated two of the three states previously rendered ungovernable by the militants.
While Nigerian officials have made much of their territorial advances against Boko Haram, analysis of IHS Jane's Terrorism and Insurgency Center's (JTIC) database show the country's renewed offensive has simply prompted the Islamist sect to change tactics and increase suicide attacks.
"What we are seeing is Boko Haram transitioning away from the kind of attacks it has carried out in the past 18 months, where it raided towns and villages and killed civilians indiscriminately," said Matthew Henman, managing editor at JTIC. "The group is now switching back to the kind of guerrilla operations we saw from it previously."
NBC News analyzed JTIC data from the six weeks before and after the day Nigeria postponed the elections. Boko Haram carried out 10 suicide operations between Dec. 28 and Feb. 8, according to the data — which is drawn from a wide spectrum of open-source media reporting. The number of suicide bombings rose to 12 in the six weeks from Feb. 9 to March 23.
In one incident earlier this month, four suicide bombs rocked the northeastern city of Maiduguri, killing more than 50 people and wounding 140 others.
The Nigerian military appears to have acknowledged that its "final onslaught" forced the extremists' alternate tack, saying in a statement Friday that Boko Haram was now resorting to "diversionary tactics" such as "isolated attacks and bombings."
That is not to say the military drive has been without its victories. In the six weeks since the February 7 postponement, the JTIC information showed some 442 Boko Haram militants have been killed in 10 counterterrorism operations by the West African coalition. This is compared with 294 militant fatalities in six operations in the six weeks prior.
And while the number of suicide attacks has increased, the bombings are typically less deadly than the murderous raids they replaced — and the total number of civilian casualties attributed to Boko Haram has decreased slightly during this time.
Still, that's not expected to be much of a reassurance to Nigerians, who began voting Saturday in the elections. As polls opened, there were reports of gunmen killing at least 15 people near polling sites, including an opposition politician from the northeastern state of Gombe.
Besides violence, voters are facing challenges on several fronts: widespread corruption, a faltering economy and fears of non-militant post-electoral violence — but before that is the threat at the polls themselves.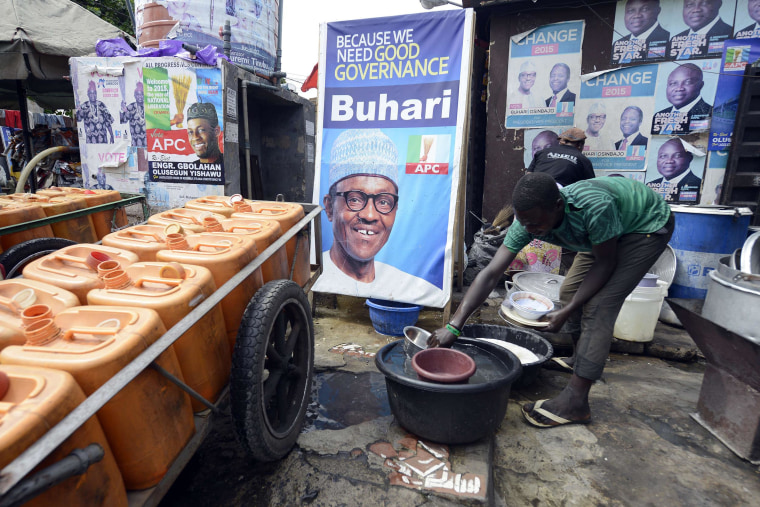 Polling stations opened at 8 a.m. (3 a.m. ET), but no one was able to cast their vote until at least 1:30 p.m. (8:30 a.m. ET), when the registration window closes. That means that millions of Nigerians are being forced to line up for hours in crowded spaces waiting to cast their ballot, making them prime targets for attacks.
"There are going to be situations in a lot of these places where there are large numbers of people coming into town, and they are going to make very, very inviting targets for suicide bombers," Henman said before the polls opened.
John Campbell, former U.S. ambassador to Nigeria, agrees. "As these suicide bombings are increasing, I think more and more Nigerians will think twice before going to the polls," said Campbell, who is now a senior fellow at the Council on Foreign Relations.
Nevertheless, the vote comes at a pivotal moment for Nigeria — and Africa's most populous country, largest economy and biggest oil producer is poised for the closest electoral contest in its history. Polls suggest that Jonathan, a Christian from Nigeria's oil-rich south, is neck-and-neck with his opponent, retired Gen. Muhammadu Buhari, a Muslim from the north.
Buhari has governed Nigeria before, ruling the country as a military dictator for less than two years in the 1980s. He has run and lost in the past four presidential elections, the last time to Jonathan.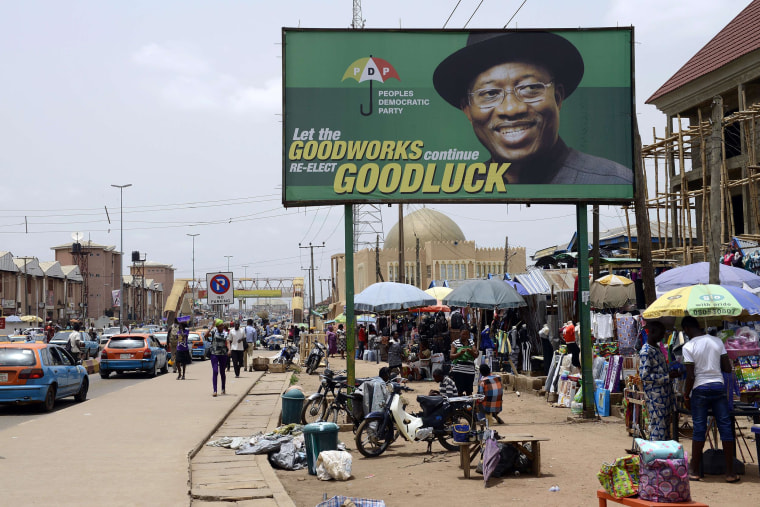 Despite his evident popularity among supporters who claim Jonathan has failed to tackle corruption and Boko Haram, Buhari's task will not be easy. As well as a simple majority, the winning candidate must secure at least 25 percent of the vote in two-thirds of Nigerian states. If this requirement is not met there will be a run-off.
Voter apathy also looks set to be a challenge. On March 22, Nigeria's electoral commission, INEC, said 20 percent of Nigeria's 68.8 million electorate were yet to pick up their voter cards.
"For elections to be credible, they must be free, fair and peaceful," President Barack Obama said in a video message on Monday. "All Nigerians must be able to cast their votes without intimidation or fear."