Deadly attacks by the militant group Boko Haram have put a stranglehold on one of Nigeria's key cities, limiting supplies and sending prices skyrocketing amid mounting fears of a massacre.
Four of the five roads out of Maiduguri have been blocked off by Boko Haram, which has mounted two large-scale assaults in the past 10 days on the city. The city is the birthplace of the insurgency and a potential jewel in the crown of the militants' caliphate.
Many residents fear it is only a matter of time before the city is overrun.
"The mood here in the city is very gloomy and frightened," 23-year-old geology student Dhera Iloka told NBC News by phone. "We do not know when the next attack is going to come, but we know they are always going to come back."
Iloka said people were fleeing from Maiduguri to other parts of the country "en masse," including several members of his own family.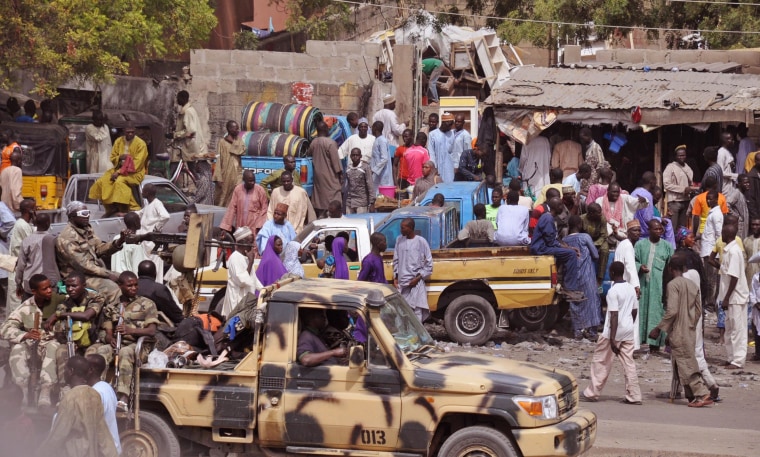 Clerical worker Bina Ahmed, 25, said only those with enough money were able to leave. "Everyone left behind is very anxious but they don't have anywhere to go," he said.
With a population of around two million, Maiduguri was historically a center for trade and education in Nigeria's largely rural northeast. But the city — capital of Borno State, whose motto is "Home of Peace" — has now become a target in Boko Haram's increasingly bloody insurgency.
Like many Nigerian towns and cities, Maiduguri has been peppered by suicide bombs during the five-year campaign of violence. However it is still run by local government officials and patrolled by the military, police and local militias. In contrast to the no-go areas for officials deep in the militants' territory, such as the town of Gwoza, it has remained a relative haven.
In other parts of the northeast, Boko Haram's terror has been rampant. Last year alone the group was linked to the violent deaths of some 10,000 people. And the U.N. has said more than 1 million people have fled their homes to escape the insurgents.
Boko Haram — which roughly translates to "Western education is a sin" — aims to establish an Islamic state, or caliphate, based on hard-line religious law. Analysts say that as the group's spiritual home, Maiduguri appears central to those plans.
Seven years after the group was formed in the city in 2002, Boko Haram founder Mohammed Yusuf and hundreds of his followers were killed there in clashes with state security forces.
While the government claimed a crushing victory, Yusuf's death ushered in the leadership of his deputy — Abubakar Shekau — who has steered Boko Haram down a far more violent path.
"The city is certainly symbolic," said Dr. J. Peter Pham at the Washington, D.C., think tank The Atlantic Council. "In the narrative of Boko Haram that is where the martyrdom of hundreds of its fighters took place."
Maiduguri also has historical significance, according to former U.S. ambassador to Nigeria John Campbell. The city was thought to have been built on a key settlement in the Kanem-Bornu Empire, an Islamic caliphate dating from the 11th century that Campbell said Boko Haram appears to be attempting to reconstruct.
"As far as we can see, Boko Haram's operations in Cameroon, Niger and Chad have also been restricted to border areas that were once part of that caliphate," said Campbell, who is now a senior fellow at the Council on Foreign Relations.
When Boko Haram launched dawn raids the past two weekends, residents said in conversations with NBC News and on social media that they could hear artillery while hiding in their homes. On both occasions the army said it had repelled the assailants.
"We are trying to defend the town so people are not stranded," a soldier posted outside the city told NBC News, speaking on condition of anonymity because he was not authorized to speak to the press. "We are their hope."
The Nigerian military has come under criticism internationally for failing to more effectively deal with the insurgency despite its multi-billion dollar defense budget. The country's national security adviser said last month that part of the problem was that there were "a lot of cowards" within the ranks.
"The corruption within the military is something you have to talk about," said Iloka, the geology student. "The billions of naira [Nigeria's currency] that have been put into security — where is it going to? Nigeria has the military capacity but the corruption means it cannot use it effectively."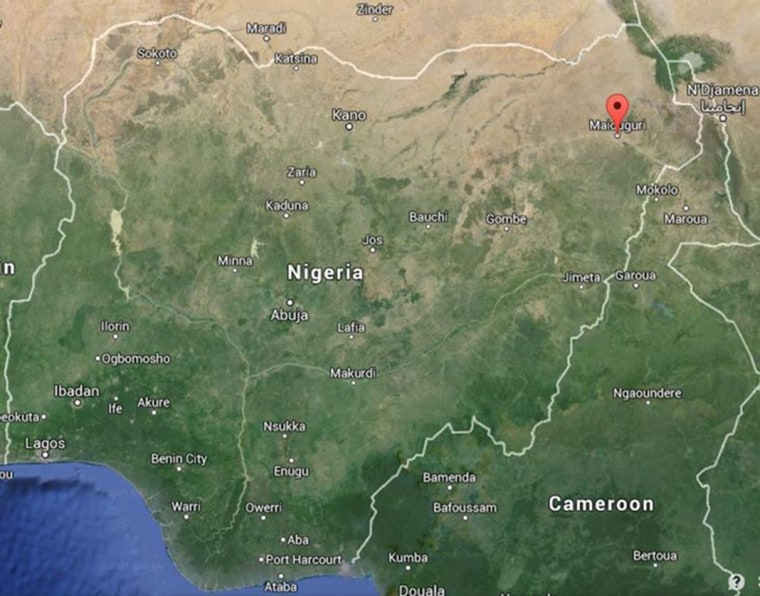 Despite the military holding its position on the only open road into town, the blockades have restricted the import of supplies, according to residents interviewed by NBC News. This, along with farmers being unable to tend their land because of the violence, has caused prices to skyrocket and rations to dwindle.
"There is only one way for anything to get in or out," said Hassan Ahmed Jidda, a 24-year-old teacher.
The attacks have also hampered efforts by the International Committee of the Red Cross to import supplies. "All these attacks complicate our work," ICRC Nigeria spokesman Denes Benczedi said. "That's the reality, it's very difficult."
Both the former ambassador Campbell and the Atlantic Council's Pham said the militants almost certainly do not have the manpower to seize administrative control of a city Maiduguri's size. But continued raids may weaken state forces sufficiently to render the city ungovernable by anyone else, they said, leaving it in the de facto control of the militants.
"What would Boko Haram do with Maiduguri? Does it have enough personnel to run a city of two million people? I doubt it," said Campbell. Much more likely, he said, was that the group was carrying out "a more-or-less continuous series of raids where Boko Haram attacks and then withdraws without ever occupying Maiduguri."
"Even if they are unsuccessful, they underscore the weakness of the Nigerian government," Pham added. "Storming through the town, even if they did not take it, would be a victory for Boko Haram. It would be a bloodbath, but it may be something they attempt."