The "Global Hawk" — the U.S. military's high-altitude, long-endurance aerial drone — flew its first surveillance mission over Nigeria on Tuesday in search of some 276 school girls kidnapped by the Boko Haram terrorist group, U.S. officials told NBC News.
With a wingspan of just over 130 feet, the Global Hawk's air time is a huge advantage in surveillance operations: It can remain airborne for 28 hours with a range of 8,700 miles and has a top speed of 310 knots (357 mph), according to the Air Force.
The Global Hawk also has a variety of surveillance systems including radar, optical and infrared sensors.
The drone joins the manned, propeller driven MC-12 surveillance aircraft which has already been conducting surveillance flights over Nigeria. The U.S. first flew the MC- 12 over Iraq then Afghanistan and is considered a low-cost workhorse in short-range missions.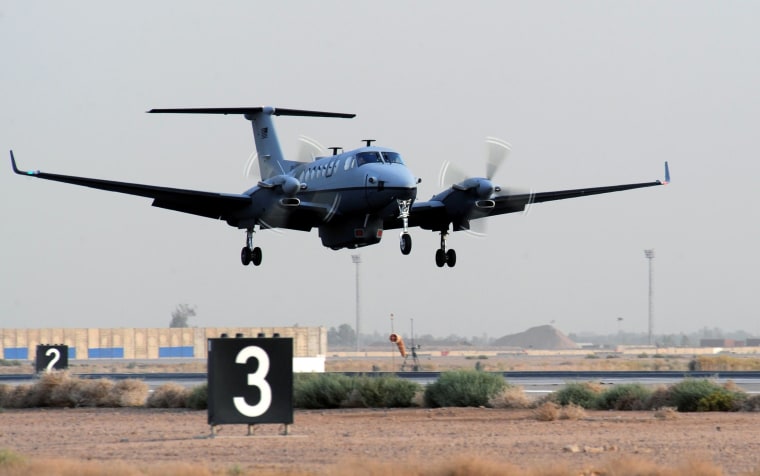 According to the officials, it appears the kidnapped girls have been separated into three groups and are still believed to be in the Northeast corner of Nigeria between Niger and Cameroon.
On Monday the Boko Haram militants released a video that showed about 100 of the girls — who had been ostensibly "converted" to Islam — and said they were open to an exchange of the kidnapped students for the release of other Islamic terrorists imprisoned in Nigeria.
The Nigerian government has said "all options" are open, including negotiations or a possible military operation with foreign assistance.
On Tuesday evening, Secretary of State John Kerry reiterated that the U.S. was doing all it could to find the girls.
"With respect to Nigeria, our people are on the ground. We are proud to be contributing to the effort in order to help find these young women," Kerry said in Washington.
"What I can guarantee is that we will make every effort possible in order to help free those young women. And we are there helping to do that now. I'm not going to discuss what mechanism or methodology may or may not be used in order to do so except to day that we are committed to this effort."
— with Catherine Chomiak and Hasani Gittens