"Fragmentary evidence" and a sense of inevitability that Boko Haram may be planning an attack on U.S. interests in Nigeria has intelligence and counterterrorism officials in Washington on alert.
U.S. intelligence officials, speaking with NBC News on condition of anonymity, declined to characterize the nature of the evidence, other than to say it was recent and non-specific. But they said it is prompting efforts to locate the terrorist group's "military assets" and identify other senior leaders beyond Abubakar Shekau.
They also said that Boko Haram's desire to strike against a U.S. target apparently has been heightened by the increasing U.S. involvement in the hunt for 276 missing Nigerian schoolgirls abducted by the group last month, though the goal itself is not new.
"Boko Haram has a long standing interest in this," said one senior U.S. counterterrorism official when asked about the possibility of an attack. "… It's consistent with what we've seen from them. Broadly speaking, it's in line with what we are tracking."
A U.S. intelligence official agreed that an attack on a U.S. target is something Shekau, Boko Haram's leader, has "long aspired his followers to carry out" -- one reason the U.S. offered a $7 million reward in June of last year for "information leading to the location Abubakar Shekau."
But this official noted that the stronger desire to make a statement could be traced through the recent increase in Shekau's anti-U.S. rhetoric, including a diatribe aimed at President Barack Obama in his latest video, released last week.
Of specific interest to the U.S. is the range of weaponry Boko Haram has at its disposal. In recent attacks, it has used automatic weapons fired from armored personnel carriers disguised as Nigerian military vehicles, as well as car bombs -- some driven by suicide bombers -- increasingly its weapon of choice for larger attacks.
As for the Boko Haram chain of command, the U.S. is trying to determine who – beyond Shekau – wields power or influence in the group, the officials said.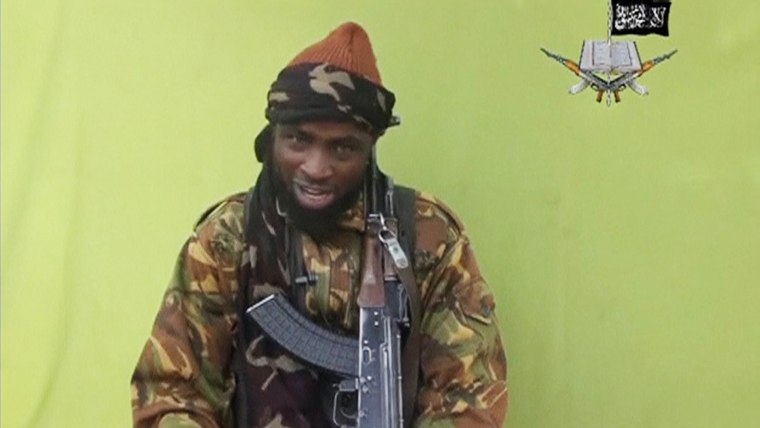 Mounting an attack on U.S. interests in the region would be difficult for Boko Haram, which has so far shown a limited ability to strike outside its stronghold in northeastern Nigeria.
The intelligence official said there are "fewer and fewer Americans" in that part of the country because of security concerns. "It's basically a no-go area, even for relief workers," said the official.
The security situation in the region was the reason that plans for a new consulate in Kano, the north's largest city, were scrapped last year, said John Campbell, former U.S. ambassador to Nigeria now at the Council on Foreign Relations.
"It's dead in the water," he said. "It was approved by Secretary (Hillary) Clinton but never implemented because of security concerns."
Follow NBC News Investigations on Twitter and Facebook.
Most "U.S. interests" – a term the intelligence community uses broadly to include government and commercial facilities and individual Americans -- in Nigeria are located in the Christian south, near Lagos, the former capital, and the nearby oilfields. Thus far, Boko Haram has not demonstrated an ability to mount attacks in that area, more than 800 miles to the southwest of its base of operations.
The numerous U.S. government and corporate facilities in the Nigerian capital of Abuja are more likely targets, the officials said. Already, Boko Haram has carried out at least five attacks in Abuja in the last three years, killing more than 150 people.
Among the attacks was an apparent suicide car bombing at the United Nations headquarters in Abuja in August 2011, only blocks away from the U.S. Embassy. Twenty-three people were killed in that attack, and two Americans – a diplomat and a lawyer -- were in the building at the time but were not injured, according to Nigerian human rights lawyer Emmanuel Ogebe.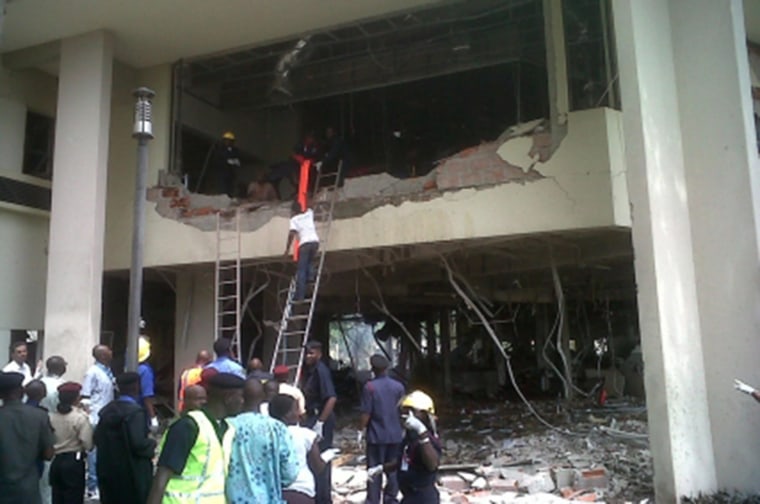 Just last month, more than 70 people were killed by car bombs at a crowded bus station on the outskirts of Abuja.
The U.S. intelligence official said security at the embassy and other diplomatic facilities in the capital is "generally high," and many of the recent attacks have been on the capital's periphery. Still, said the official, the attacks on the bus station were particularly sophisticated and designed to inflict maximum casualties, with the first attack taking place during morning rush hour and the second during the evening rush.
In addition to providing new impetus for a possible attack, U.S. military personnel in the region to help the Nigerian government hunt for the missing school girls could become targets.
The search for the girls, abducted on April 14 from a government-run school in the town of Chibok, now includes both Global Hawk drones, apparently flown from a base in Sicily, and Predator drones flown from a base in Njamena, the capital of Chad. The White House announced Wednesday that 80 American service members are on the ground in North Africa to oversee the operations of the unarmed drones -- half to operate the remotely piloted aircraft and half to provide security. There are also 30 other specialists from the State and Defense departments, the FBI and the intelligence community who have been sent to Nigeria to advise officials there.
Related
U.S. Deploys 80-Man Drone Force to Help Find Nigerian Girls
Boko Haram Leader Abubakar Shekau: The Man Who Would Be Africa's Bin Laden
Terror on a Budget: Where Boko Haram Gets Its Weapons
In addition, the Defense Department's African policy expert, Amanda Dory, told a congressional committee Wednesday that U.S. personnel are helping the Nigerian military with its communications and intelligence gathering and began working with a newly created Nigerian counterterrorism organization.
Because Boko Haram fighters "cross the border" every day, U.S. officials also are concerned that they could attack a broader range of U.S. targets in either Cameroon or Chad, including aid workers. Ogebe, the human rights lawyer, said the group already has tried to abduct American relief workers in northern Nigeria.
The U.S. is not alone in taking Boko Haram more seriously as a result of the schoolgirls' kidnapping and other heinous crimes and attacks carried out by the group in Nigeria.
U.N. Security Council approved sanctions Thursday against the group, adding it to the so-called 1267 sanctions list -- a roster of al Qaeda-linked organizations subject to arms embargoes, travel bans and asset freezes.