A killer snowstorm that paralyzed parts of the South then swept into the nation's capital turned its sights on greater New York City early Saturday, packing gale-force winds, heavy snow and coastal flooding.
By the time the storm moves out Sunday, one in seven Americans could be under at least half a foot of snow, and Washington, D.C. could see snowdrifts more than 4 feet high.
The weekend whiteout already has knocked out power to hundreds of thousands, led to more than 8,000 canceled flights and been blamed for at least 10 deaths.
Live Updates: Millions Brace for Major Snowstorm
"We see this as a major storm. It has life and death implications. And all the residents of the District of Columbia should treat it that way," Washington, D.C., Mayor Muriel Bowser said.
The main priority, Bowser said, was to keep people safe, from students to commuters to the homeless. Public schools were closed Friday, the Metro will stop operating at 11 p.m. and outreach workers will try to find shelter for people who would otherwise sleep outside.
Federal government workers were told to leave work at noon Friday ahead of the front edge of the blizzard.
PHOTOS: Blizzard Pounds Its Way Up East Coast
The storm has killed at least ten people, including six in North Carolina who died in traffic accidents on icy roads.
North Carolina Highway Patrol reported 1,200 crashes from midnight Thursday to 5 p.m. Friday. An estimated nearly 137,000 people were without power in North Carolina as of 9 p.m. Friday night, the North Carolina Department of Public safety said.
In South Carolina, around 30,000 were without electricity Friday evening, the state emergency management agency said.
Where there weren't blizzard warnings, there were fears of other dangerous conditions. Various winter weather warnings, watches and advisories were in effect in more than 20 states, from New York to South Carolina to Kansas, the Weather Channel reported. That covers more than 85 million people — more than a quarter of the U.S. population.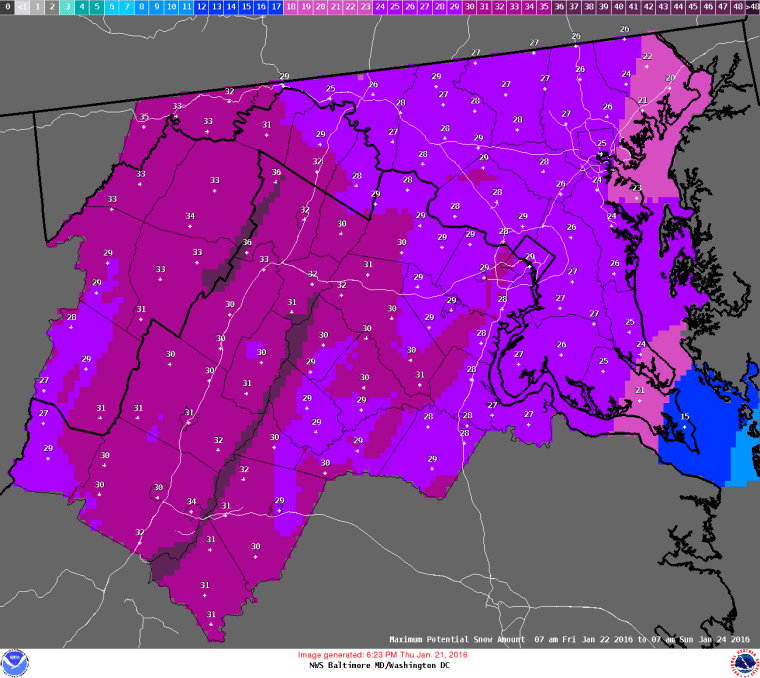 The National Weather Service warned of "extremely dangerous travel" conditions and "numerous power outages" across the region.
Nearly 3,000 flights were cancelled Friday.
Philadelphia International Airport preemptively canceled all Saturday flights in anticipation of up to 18 inches of snow. American Airlines canceled all of its Friday flights out of the Washington, Baltimore and Charlotte, North Carolina, airports.
Amtrak canceled several national services for Friday, Saturday and Sunday, including Crescent service from New York to New Orleans, Cardinal service from New York to Chicago and Silver Meteor service from New York to Miami.
"This is going to be a legitimate blizzard," said Ari Sarsalari, a meteorologist for The Weather Channel. "Some of these [snow] numbers are absolutely staggering."
Saturday will be "an absolute mess," he added, predicting that travel would be "literally impossible anywhere in the Mid-Atlantic region."
By 3:30 a.m. ET Friday, snow was falling across a crescent stretching from Arkansas through Kentucky and down into North Carolina.
Snow began falling in Washington, D.C., in the afternoon and 5 inches was observed in one part of the district by around 10:30 p.m., the National Weather Service said.
The capital could get more than two feet of snow by the time its all over, forecasters said. Baltimore recorded more than 3 inches by just after 10 p.m.
Up to 8 inches of snow was reported in parts of Arkansas, while the Carolinas could expect even more ice. The highest snowfall total at 5 p.m. Friday was in Jonas Ridge, North Carolina, which got 18 inches.
One area where the forecast had changed was New England, which now looked likely to miss out on the snow, save for a possible inch in Boston on Saturday, according to Weather Channel lead forecaster Michael Palmer.
"I think the folks up there are probably used to that, anyway," he said.
A day after a mere inch of snow paralyzed Washington, transit authorities shut down the D.C.-area Metro system — the nation's second-busiest mass transit network — for the entire weekend. The train system was closed at 11 p.m., and buses were stopped at 5 p.m.
New York Mayor Bill de Blasio, however, suggested his city is made of sterner stuff and said there were no plans yet to close the subway. Latest forecasts predicted a range of 8 to 14 inches of snow there.
Many areas were under blizzard advisories because of strong winds forecast for the weekend. Forecasters warned that 60-mph gusts could blow wet, heavy snow into trees, power lines and transformers, presaging widespread power failures in the East from North Carolina to New England.
And because a full moon will swell tides this weekend, "moderate to major" coastal floods could be in store from Maryland and Delaware to Connecticut — including coastal New York — said Michael Lowry, a storm surge specialist for The Weather Channel.
The storm is expected to reach so far south that it could affect Sunday's National Football Conference championship game between the Carolina Panthers and the Arizona Cardinals in Charlotte.
A forecast of freezing rain Friday led the city to cancel a pep rally for the team, and snow up to 3½ inches is forecast for Saturday, when the Cardinals are scheduled to fly to Charlotte ahead of Sunday's game.
The Cardinals said that, for now, they didn't expect to be delayed.
But for the team's fans, getting to the game could be tricky.
"I'm a little nervous," Tyler Vasquez of Phoenix told NBC station KPNX. "I have yet to get an email from my airline, [but] a lot of people in our group that we have that are going on this trip have posted, 'I've got this email or my flight's been canceled.'"
If necessary, Vasquez said, he'll fly to Atlanta on Saturday and try to make the 4½-hour drive to Charlotte.
Meanwhile, in Chesterfield County, Virginia, school officials got creative in announcing the cancellation of classes with a district-wide music video.
The weather system produced entirely different effects further south, with a "possible tornado" causing major damage to two homes and downed trees and power lines in Mississippi's Lamar County late Thursday, according to The National Weather Service.
In Florida's Calhoun County, radar detected "tornado debris signature" at 4:50 a.m. ET, although both twisters were yet unconfirmed.
Thunderstorms were also possible across Georgia, Alabama and South Carolina, sparked by the same warm air from the Gulf of Mexico that was clashing with cold air further north and producing all that snow.