The mammoth winter storm pounding the East Coast isn't just bringing snow and blizzard conditions with it: Coastal flooding is affecting states from Virginia up to New England, bringing record surges Saturday morning.
A full moon this weekend meant high tides were already naturally running higher than normal. The fierce winds, particularly in the mid-Atlantic, worsened conditions. The areas of greatest concern were the southern half of the Jersey Shore, Delaware and the coast of Maryland, The Weather Channel reported.
The National Weather Service issued coastal flood warnings from the Outer Banks of North Carolina all the way up to Long Island, as well as the New York and Connecticut shores of Long Island Sound. Minor to moderate coastal flooding is expected, plus localized major coastal flooding in some locations, The Weather Channel said.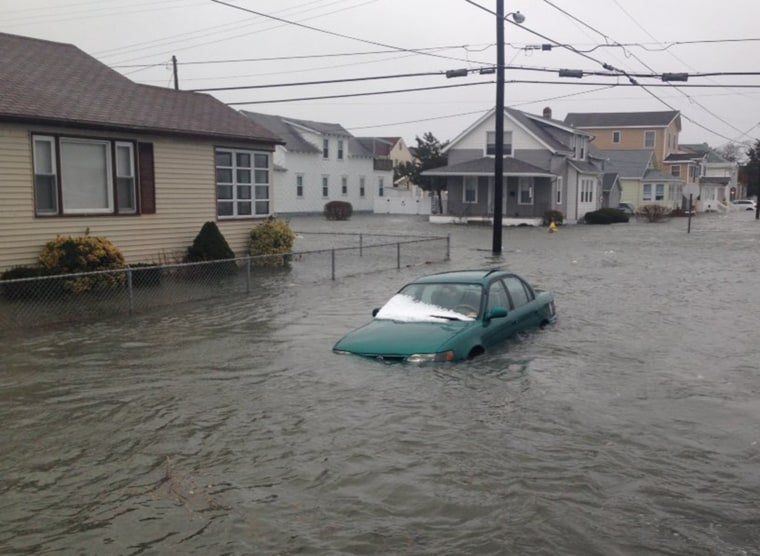 There's also a chance of moderate coastal flooding along the south shore of Massachusetts Bay, Cape Cod, Martha's Vineyard and Nantucket Island.
Follow Live: Blizzard Blog Updates
Coastal flooding reached a peak early Saturday morning during high tide, setting records in parts of New Jersey. North Wildwood Mayor Patrick Rosenello told NBC affiliate WCAU in Philadelphia that flooding in his town reached a record high of 9.26 feet, exceeding the prior record during Superstorm Sandy in 2012 of 8.67 feet.
In Lewes, Delaware, it reached its second highest water level on record at 9.15 feet, resulting in a storm surge of more than 4 feet. That's the highest it's been there since March 6, 1962, when the water level was recorded at 9.2 feet.
Other than this morning, high tide times are 7 p.m. Saturday and 7 a.m. Sunday, and will be the worst times for flooding.
The Delaware Department of Transportation said coastal flooding was a "major concern" in eastern Sussex County, which was "getting pummeled by high winds all night long."
Related: Monster Blizzard Leaves At Least 17 Dead As It Pummels East Coast
"Sustained winds at the Indian River Inlet Bridge are 50 miles per hour, with gusts up to 62 miles per hour," officials said in a press release Saturday morning.
Along the Jersey Shore, where buildings were destroyed by coastal flooding during Superstorm Sandy in 2012, streets were underwater by 9.am. North Wildwood police shared photos of roads that were "completely" submerged on Twitter, and cautioned motorists, "Stay off the roads."
A flood warning was in effect for coastal portions of New Jersey until Sunday. Flooded roads in Atlantic City and other areas in southern New Jersey were closed early Saturday, and in Point Pleasant, New Jersey, workers in bulldozers stockpiled as much sand as they could to protect buildings from the Atlantic Ocean.