The epic blizzard headed toward the East Coast is expected to blanket New York City, Washington, D.C., and Philadelphia in snow.
For couples, that means a few nights binge-watching "Making a Murderer." But what about singles? It's hard to hit the bars when they're buried in 30 inches of snow. Don't worry, there is plenty of flirting to be found online.
"Historically, we have observed that bad weather is great for online dating activity, as people spend more time indoors," OKCupid chief product officer Jimena Almendares, told NBC News. "That means they are browsing more OkCupid profiles, sending messages and engaging in conversations that will lead to dates."
Related: Mid-Atlantic Blizzard Could Make 'Legitimate' History
This isn't just a theory. OKCupid and plenty of other online dating companies have the data to back it up. NBC News reached out to several of them to find out just how good bad weather is for single people.
OKCupid
During an average rainy day, OKCupid sees a boost of 10 percent in user activity. Last year, however, Juno hit the East Coast. While it wasn't the cataclysmic storm some expected, it still shut down Boston and New York.
During that blizzard, messaging on OKCupid increased by 34 percent — nearly matching the 36 percent spike seen during Hurricane Sandy.
Hinge
Apparently, even the prospect of a storm can make people feel amorous. In the days leading up to Juno in 2015, Hinge saw a 27 percent spike in activity, according to a company spokesperson.
Then the real fun started. When Juno hit, activity went up 47 percent. The average user — perhaps bored of photographing their snack and booze stockpile for Instagram — checked their account five times on each day of the storm.
Ultimately, there was a 56 percent increase in the number of phone numbers exchanged and a 96 percent boost in two-way conversations.
Match
Users of Match didn't mess around. They were roughly 60 percent more active than usual during Juno, a Match spokesperson told NBC News. On average, Match sees a 33 percent increase in activity during snowstorms.
Bumble
For women who don't want to be messaged by creeps during the blizzard, there is Bumble, which only lets female users make the first move. A company spokesperson said that there is a 20 to 40 percent increase in activity during big storms, which leads to double the number of matches.
Tinder
Swiping left or right is a great way to pass the time when snowed in. Sadly, Tinder didn't have any storm-specific statistics. But a company spokesperson did tell NBC News that on January 3, 2016 the service experienced its "biggest growth in active users in a single day in Tinder's recent history" and the "biggest day of downloads in the past two years." That means there are a lot of new Tinder users out there to keep you company during the storm.
Craigslist
Yes, people are posting messages looking for "blizzard boyfriends" and girlfriends, but most of them are totally NSFW. But, yeah, things are happening.
How to make a connection
It's pretty clear that people are looking for love this winter. But how do you actually create a connection?
Recently, OKCupid released a look back at 2015 with all kinds of helpful statistics. It found that a simple message that read "Hey" did not work — in fact, it had an 84 percent chance of being ignored. The report also ranked emoji by their effectiveness.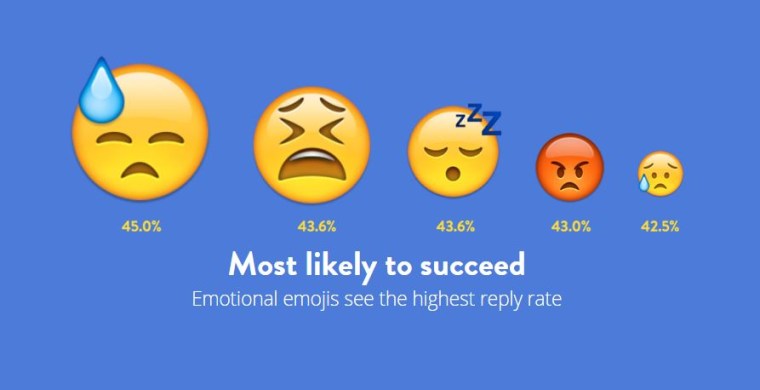 And back in 2009, OKCupid found that poor spelling was a major turn-off for people. That report also found that compliments work well, but not when they are about physical attractiveness.
The best tip, however, comes from OKCupid founder Christian Rudder, who noted in his book "Dataclysm" that sending out as many copy-and-pasted messages as possible is probably the best strategy.