A killer snowstorm paralyzed the East Coast on Saturday, effectively shutting down New York City and the nation's capital, while dumping as much as 3 feet of snow in other areas.
At least 19 people died in the mammoth storm, which canceled thousands of flights throughout the weekend.
New York City recorded its second-largest snowfall since 1869, with Central Park receiving 26.8 inches by midnight — 0.1 inch shy of tying the record 26.9 inches set in 2006, the National Weather Service said.
Baltimore got a record 25.5 inches, breaking a daily record set in 1935, and a measurement of 22.3 inches of snow was taken in Washington, D.C. at midnight.
New York Gov. Andrew Cuomo closed all roads in New York City and Long Island at 2:30 p.m. Saturday as well as tunnels and bridges going to New Jersey. Above-ground sections of the subway and New York City buses stopped running.
The travel ban will be lifted at 7 a.m. Sunday, Cuomo said Saturday evening. "We have made very good progress in cleaning the roads," Cuomo said in a conference call with reporters.
While unusual, Cuomo said the shutdown was necessary because "the storm was fast and furious, and we believe that safety is paramount."
There were three shoveling-related deaths in New York City, officials said. Two people also died while apparently using snow blowers on Long Island Saturday, police said. New York City Police said they had responded to 312 car accidents and 343 disabled vehicles across the city.
With travel prohibited, major landmarks and attractions quickly closed their doors. All Broadway matinee and evening performances were canceled, and the Metropolitan Museum of Art shuttered early.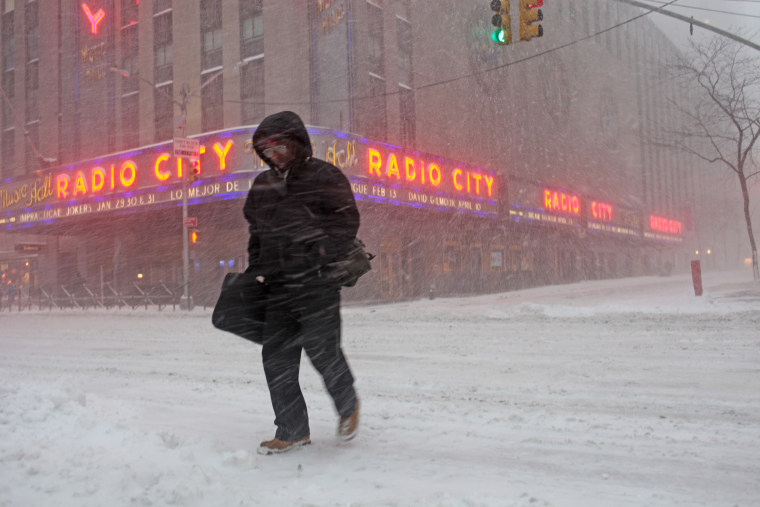 Meanwhile, in Washington, D.C., which is bracing for record snowfall, the North Lawn of the White House was bombarded by snowdrifts that were 20.5 inches high. The National Guard deployed 100 personnel in 30 Humvees to support local authorities.
The federal government closed its offices at noon Friday, and public transportation was shut down through Sunday. Monuments, normally teeming with tourists, were largely deserted.
By the time the storm is over Sunday, one in seven Americans from Kentucky to Connecticut could be under at least half a foot of snow, forecasters said.
The biggest snowfall was in rural Glengary, West Virginia, which got a whopping 40 inches as of 2:45 p.m., The Weather Channel said according to unofficial snow totals.
Redhouse, Maryland, was second, with 38 inches by 1:30 p.m. Parts of West Virginia got up to 33 inches, and parts of Virginia got 30 inches by late morning, while Roaring Spring, Pennsylvania, had 30 inches.
In Silver Spring, Maryland, which already had 20 inches of snow by morning, lightning and thundersnow lit up the skies, The Associated Press said.
Parts of Tennessee, South Carolina, West Virginia, and Georgia saw 6 inches and more. Eight inches of snow fell at Nashville International Airport, the most since 1996, when Nashville got 8.7 inches, the AP said.
Follow Live: Blizzard Blog Updates
In Philadelphia, which also shut down public transportation, officials said the city had 22.6 inches of snow just after 3 p.m.
The weekend winter wallop has knocked out power to hundreds of thousands, led to nearly 10,000 canceled flights and been blamed for at least 19 deaths, most of which were related to car accidents.
Besides the five New York City deaths, six of the deaths were in North Carolina, two were in Kentucky and two were in Tennessee, and there was one each in Virginia, Arkansas, Pennsylvania, and Maryland.
One of those killed in Kentucky was a state Department of Transportation worker, who was fatally injured in a snow plow crash.
Photo Gallery: Pictures From the Storm
But the worst wasn't over yet. Strong winds that topped 30 mph and gusted to about 50 mph were blowing from Virginia to New York, the National Weather Service reported. In Maryland, all of Interstate 270 heading toward Washington, D.C., and part of I-70 were shut down.
Related: Good Samaritan Shot to Death Helping Stranded Driver in North Carolina
The snow began falling Friday, zeroing in on Kentucky. Drivers were stranded on a long stretch of Interstate 75 south of Lexington because of a string of crashes and blowing snow, state police and witnesses said.
Coastal flooding was also a major concern. From Virginia to New England, high tides produced minor to moderate coastal flooding Saturday morning, with record surges in Delaware and the Jersey Shore.
With the next high tide happening Saturday evening just before 7:30 p.m., officials in Union Beach, New Jersey, issued a voluntary evacuation. A flood warning was in place in Ocean County until noon Sunday.
There were power outages, too. The worst affected area was North Carolina, where more than 148,000 customers were without electricity. More than 90,000 homes and business also lost power in New Jersey.