New Jersey's tough-talking Gov. Chris Christie tried to "mop" up a controversy by apologizing Tuesday for downplaying the flooding damage on the Jersey Shore from the recent monster blizzard.
Christie's mea culpa came after he got an earful from several mayors in the hard-hit area — including a political ally he called "crazy" for comparing the monster snowstorm to Hurricane Sandy.
"I take heat for what I say all the time," Christie admitted during a news conference in Trenton. "I got carried away."
Related: Christie Resumes Campaign As New Jersey Digs Out After Storm
But Christie insisted coastal community residents "shouldn't be offended by my words." He said what he was objecting to was "any type of characterization" that the damage from the wintry blast "was anywhere near what happened during Sandy."
"It's not even close," added the GOP presidential contender, who said the whole controversy was "driven by the media."
Christie's words were salt in the wounds of Shore dwellers like Marlin McMaster of Wildwood, which was swamped by widespread flooding amid last weekend's storm.
"He should get down here and take a look," McMaster told NBC News. "So then he'd know what he's talking about."
Christie, who had been praised in the past for his take-charge responses to Hurricanes Irena and Sandy, took flak from New York City Mayor Bill de Blasio and New Jersey Democrats last week when he waffled on returning home from New Hampshire — where he'd been campaigning — to deal with the storm.
And while Christie got back in time to direct the state's response to the storm, he headed back north once the worst was over where he was confronted with questions about why he didn't stay to supervise the clean-up in flooded Jersey Shore towns.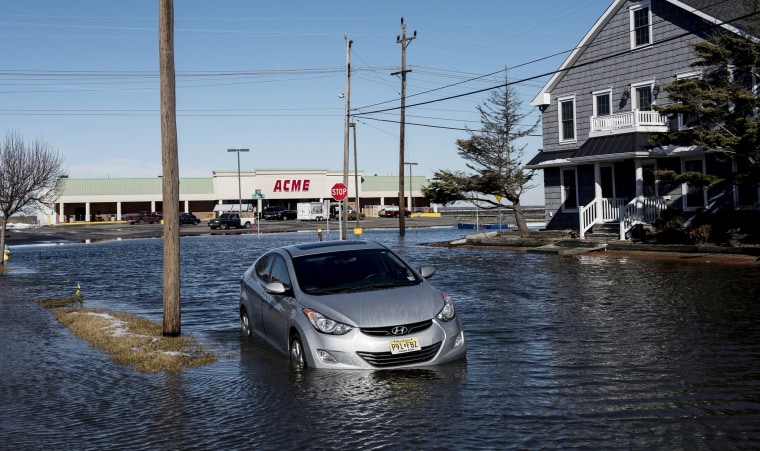 "Do you want me to go down there with a mop?" Christie responded when a student with pals in New Jersey posed the question to him at a town hall.
That flippant response fell flat with Christopher Fox, the mayor of hard-hit West Wildwood, who told NBC News on Tuesday that he wants an apology.
It's not clear if Fox got one. But Christie did apologize to North Wildwood Mayor Patrick Rosenello for complaining at the same town hall meeting about hearing "one crazy mayor down in South Jersey say this is worse flooding than Sandy."
Rosenello is a Christie supporter.
Christie has no immediate plans to return to the Jersey Shore and is expected to head to Chicago and Iowa on Wednesday for campaign events.
"It's very fluid," when asked about the GOP race in which Donald Trump remains the front-runner. "Nobody knows what's going to happen."