A blockbuster snowstorm is forecast for the East Coast this weekend, with heavy snow expected to blanket parts of at least 15 states.
The forecast is still evolving, but right now, meteorologists are viewing this as a potentially historic storm. Here is what you can expect, and when, from the impending winter wallop.
How many people will be impacted?
The short answer: A lot.
As of Thursday morning, more than 80 million people were covered by either a blizzard watch, winter storm watch, winter storm warning, winter weather advisory, or freezing rain advisory, from southeast Nebraska to the Carolinas to the New York City area, according to The Weather Channel.
The storm was already taking shape over the Plains early Thursday. But the real punch is expected this weekend.
Mid-Atlantic region forecast
The Mid-Atlantic region is going to be hardest hit. The brunt of the storm is expected to be focused on Washington, D.C., which could get around 2 feet of snow plus dangerous blizzard conditions from Friday through Sunday. Baltimore, Maryland, could also get blizzard conditions.
The heaviest of the snow is expected Friday night into Saturday. On Saturday, snow could fall at a rate of 2 to 3 inches per hour.
There will be "enormous amounts of snow and wind" in the area, NBC Washington meteorologist Chuck Bell said.
West of D.C.'s Dulles airport, up to 3 feet of snow is possible. Roanoke, Virginia, and Charlotte, North Carolina, could get more than 2 feet, The Weather Channel said.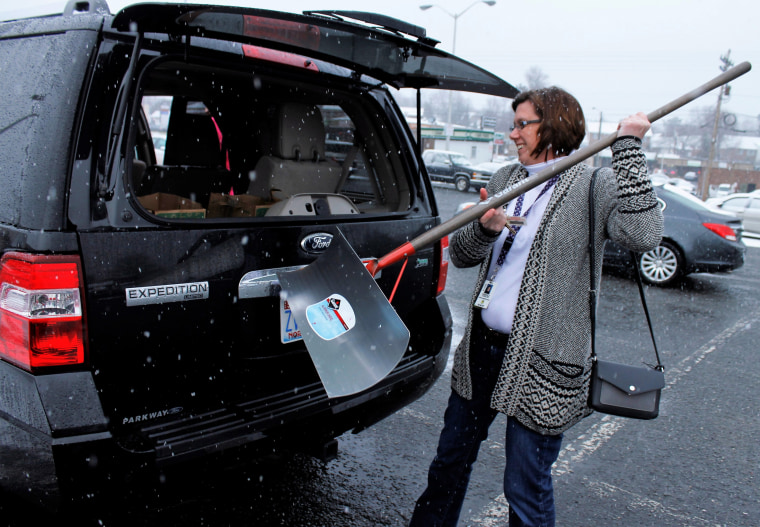 Light snow had already started falling in the region Wednesday night. The inch of snow that fell crippled D.C. traffic, and even caused President Obama's motorcade to skid on the slick roads, according to NBC Washington.
Northeast forecast
Some, or possibly all, of the largest cities in the Northeast, will experience heavy snow and strong winds that halt traffic, according to the Weather Channel. The snow is expected between Friday afternoon and Sunday morning. At least 6 inches of snow are likely along the Interstate 95 corridor northward through New York City and Long Island. On Saturday, gusts of wind up to 60 mph could batter New Jersey and Long Island: Coupled with heavy snow, power outages and downed trees are to be expected.
The precise forecast for New York City is still up in the air, according to NBC meteorologist Bill Karins. The National Weather Service puts snowfall total for the Big Apple at 11 inches, with a minimum of 2 inches, and a maximum of 20 inches. The greatest impact of the storm is likely to be from 8 a.m. Saturday to 6 a.m. Sunday, meteorologists with NBC New York said.
New York Mayor Bill De Blasio has said he doesn't expect the storm to shut down subway service.
Inland New Jersey could see even more snow: 8 to 12 inches, with wind gusts of 40 to 50 mph, NBC New York reported. In Connecticut, just 3 to 6 inches are forecast.
Additional strong gusts of wind are forecast for the New England coast, particularly Cape Cod, Nantucket, and Martha's Vineyard.
Southern East Coast forecast
Parts of Tennessee, Kentucky, and North Carolina will see a "major" impact from the storm, Karins said. At least 1 foot of snow is likely from eastern Kentucky into most of West Virginia. Ice will accumulate in parts of central and eastern Kentucky, northern South Carolina, and western and central North Carolina, according to The Weather Channel.
When will it hit?
According to Karins, an ice storm will begin in the Carolinas on Friday. Snow will start falling in Washington, D.C., and Baltimore on Friday evening, getting heavier toward midnight.
On Saturday, there will be heavy snow and blizzard conditions from I-95 west to I-81 in Virginia and Maryland. Major coastal flooding is forecast Saturday morning due to high tide from New Jersey to Virginia.
The snow will then reach New York City on Saturday afternoon into evening.
On Sunday, the snow will exit the hardest hit region of West Virginia, Virginia, and Maryland, with strong gusty winds along the coastal Northeast.
How to prepare
Prepare for possible power outages by having three days' worth of bottled water and food available. Have extra medication on hand if you take prescriptions regularly. Don't forget to check your stockpile of flashlights and batteries, and have a first aid kit readily available.
Get more tips on winter storm preparedness from the American Red Cross.