One of the only comforts that Danni Legg can take in the death of her son Christopher is that he died protecting someone else.
When an EF5 tornado hit Moore, Okla., exactly one year ago Tuesday, and leveled Plaza Towers Elementary, Christopher's body was found in a third-grade classroom huddled over a smaller friend. The girl survived, and said that Christopher had shielded her from the storm.
Now Legg says she wants to protect other children, by running for the state legislature on a platform of ensuring that every school in Oklahoma has a storm shelter.
"It's my son's legacy," she said. "No parent should have to drop their child off at school and not know whether or not they can pick that child up at the end of the school day."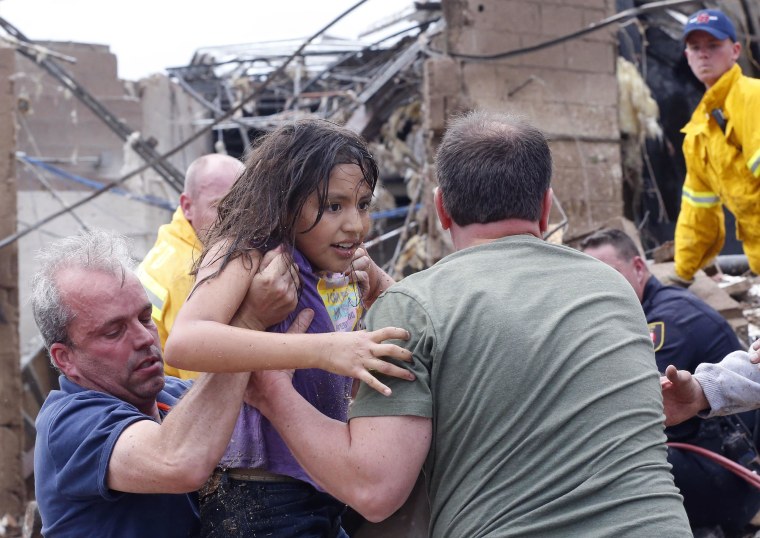 But a year after a massive tornado destroyed two schools and killed seven children in Moore, Okla., Legg's dream is not close to coming true. Only a third of Oklahoma's schools have shelters, and politicians are still fighting over how to pay for protection for the other 1,100 schools and 500,000 students and staff. The state at the heart of Tornado Alley has no building code requiring that schools include shelters, and no statewide means of paying for them.
A bill proposed by Democratic state legislators that would've permitted school districts to pay for bond issues out of $1 billion in state taxes levied on corporations never made it out of committee, and an attempt to put it before voters as a state referendum was scotched by the Attorney General. A proposal backed by Republican Gov. Mary Fallin to raise the debt limit for local governments that want to issue bonds to build shelters has stalled in the legislature.
Gov. Fallin told NBC News that tornado protection is a "huge priority," and that she'll continue pushing to get the debt limit proposal approved. "My goal is to make sure that we have an option on the table," said Fallin. "There is no other live piece of legislation out there this year that will address storm shelters." Fallin is running for reelection this November, and is favored to defeat her challenger, Joe Dorman, the Democratic legislator who proposed funding the shelters via corporate taxes.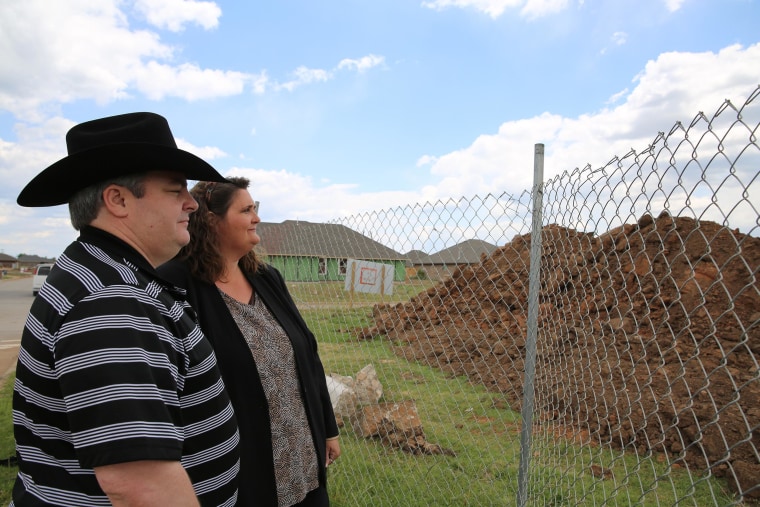 Legg says she believes the reason for inaction is the potential pricetag, the "almighty dollar." State Rep. Richard Morrissette, a Democrat who supported the proposal to tap franchise tax revenues, and who has regularly proposed tornado protection bills, said the reason comes down to politics.
Oklahoma is a very conservative state, said Morrissette, where people are allergic to the idea of the capital telling local municipalities what to do.
And then there's a phenomenon familiar to followers of national politics –- partisanship. "Everything ends up being red and blue, regardless of the idea," said Morrissette.
While attention has focused on Oklahoma's lack of shelters because of the Moore tornado, other states that are prone to twisters also lack statewide mandates for storm protection in schools.
In fact, no state requires that school buildings have tornado protection. Alabama recently became the first to require that new construction include shelters.
As Gov. Fallin noted, tornadoes of the strength that hit Plaza Towers and Briarwood Elementary, the two schools destroyed last May, are uncommon, and most tornadoes strike after school hours, between 4 and 9 p.m. Direct hits on schools full of children are rare events.
But the cost of retrofitting more than 1,100 Oklahoma schools for storm protection has been estimated at $800 million. New taxes, even for storm shelters, are a tough sell anywhere. In the red states of Tornado Alley – Oklahoma has no Democrats in Congress and Republican supermajorities in both houses of the state legislatures – the sell can be even tougher.
"Even bonded debt is not popular," said Dr. Keith Gaddie, a political science professor at the University of Oklahoma. He said that until recently some archconservatives in state government had resisted raising money via bond to repair the state capitol building, which is crumbling. "It's a philosophy of governance issue."

The lack of a state mandate can mean that within a single municipality, schools are built to different standards.
Moore was hit by an EF5 tornado 15 years ago, which killed 44 people and destroyed Kelly Elementary and Westmoore High. No students were killed because the tornado hit after school hours. The structures were rebuilt with FEMA-approved safe rooms.
On May 20, 2013, they were the only two of Moore's 31 schools that were so equipped. Both Briarwood Elementary and Plaza Towers Elementary, the schools hit by last May's EF5 storm, had no storm shelters. Plaza Towers was made up of several sections, with the main building constructed in 1965 and an annex built in 2005. Christopher Legg and six other students died in the 2005 annex, which critics like Danni Legg say was constructed to a lower standard.
Engineers have prepared a soon-to-be-released study of Briarwood Elementary, which will evaluate any shortcomings in construction. One of the engineers participating in the study has already told state legislators that he believes there were problems with the rebar and at least one beam. Plaza Towers could not be evaluated, because its ruins were removed. Moore school officials have insisted that Briarwood and other schools in the district were built up to code.
Local officials in Moore passed a new building code for the city of 55,000 that requires all new structures to be storm resistant. Briarwood, Plaza Towers and a third school that was damaged by the storm are now being rebuilt with shelters, and three new schools that are going up to house the districts growing student population will also feature shelters. Another shelter is being constructed to serve two existing and adjoining schools, Central Elementary and Central Junior High.
To fund the construction of that fifth shelter, however, Moore had to take a $500,000 donation from Oklahoma's Baptist General Convention. And the city, which paid for the rest of the construction with bonds, has now maxed out its ability to issue new bonds.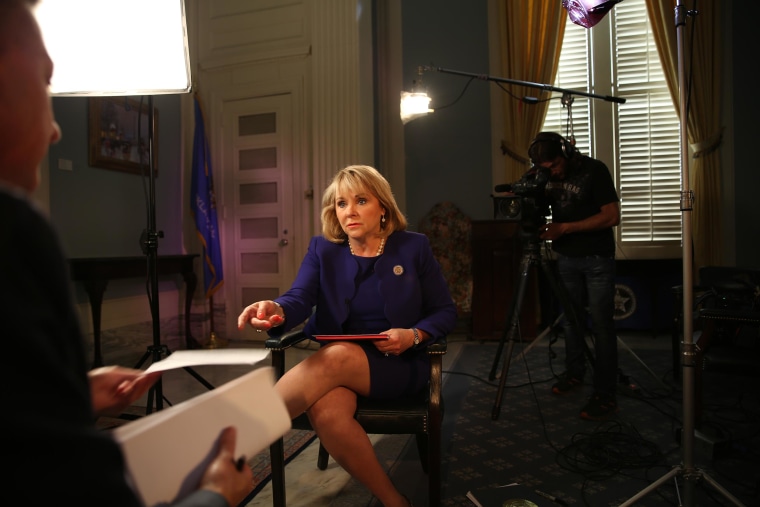 Gov. Fallin's proposal would increase the ability of cities to issue bonds for school construction, if voters approve the proposal in a statewide referendum. It would not, however, provide any statewide funds to offset the bonds.
Danni Legg, a political novice, announced her candidacy for the State House after she said she couldn't convince her local representative, Mark McBride, R.-Moore, to back the shelter bill proposed by Rep. Dorman and backed by Rep. Morrissette, which would draw on the state's franchise tax revenues.
Legg said she felt the plan supported by the governor would mean that only certain school districts could afford to issue the bonds required to pay for new shelters, and that rural and poorer districts would be unable to take part in the program.
Under Dorman's proposal, the money would have come from the state's franchise tax, a levy charged on every incorporated entity above a certain size that makes capital investments in the state. However, the measure also required that the franchise tax continue to exist, and the legislature's Republican majority wants to get rid of it.
Rep. Morrissette said that by denying local school districts access to state revenues, Gov. Fallin's plan would create a de facto property tax increase for any district that issued a bond to build a shelter.
But Gov. Fallin believes that her plan for a referendum is in tune with the Oklahoma preference for "local control" rather than a statewide tax.
"We think the local decisions, knowing what's best for the community itself, what's best for the people is the best way to do that," said Fallin, "Get it to the people of Oklahoma, let the local districts be able to have a choice whether they want they want them or not. And I do believe the majority of Oklahomans would vote to be able to put in storm shelters."
Rep. McBride, the incumbent Legg is challenging, points to the improvements in Moore schools as proof that "we've been doing it" through "a public/private partnership."
Said McBride, "To date we've probably sheltered 5,000 kids and faculty from private funds."
Morrissette is more pessimistic about the state's will to find a solution.
"As time goes by, the attention span just dwindles. And the issue just goes away," he said. "There will be another tornado, and pray God nothing happens to anyone. But the chances are, we are going to have another EF5 tornado. And are we going to be prepared? The answer is no."