The National Park Service turns 100 years old this month. Fifty-nine U.S. National Parks cover almost 52 million acres across 27 different states. Last year, they saw a record 305 million visitors. To recognize the centennial of the system protecting these American treasures, NBC News will feature stories from 10 national parks and recreation areas — from California's Yosemite to New York's Gateway.
---
It's just after sunrise at Zion National Park's Grotto Picnic Area when an almost full shuttle bus brakes to a halt and hikers of all shapes and ages spill out into the parking lot. Some tighten their bootlaces or eat a granola bar while others make one last trip to the restroom before crossing the road to the trailhead.
They're here to climb Angels Landing, one of the most exhilarating and dangerous trails in the National Park System.
The group spreads out as the trail winds along the North Fork of the Virgin River, the same river that cut through 2,000 feet of sandstone to create Zion Canyon. This paved section of trail meanders slowly upward, approaching the vertical canyon walls that tower above the canyon floor. As the trail meets the walls, the angle steepens.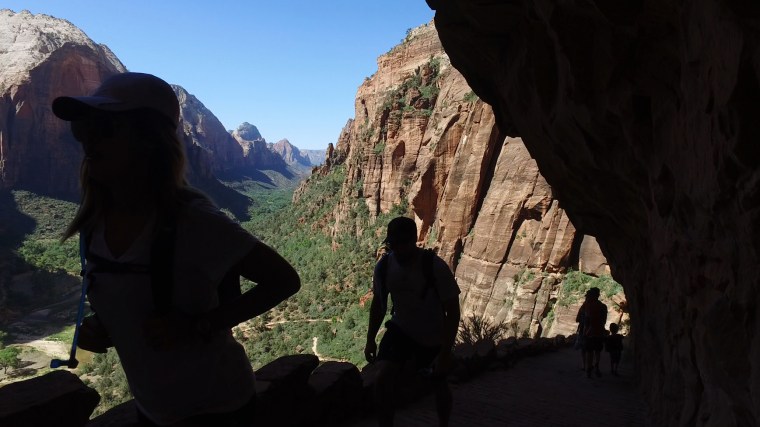 Angels Landing was named a century ago by Frederick Vining Fisher, a Methodist minister so in awe of the massive sandstone cliff that he surmised that only angels might land on it. The name stuck, and the trail was built in the 1920s. Now, the five-mile round-trip route gets thousands of visitors from all over the world each year.
Hikers become reacquainted with their cardiovascular systems as they ascend, catching glimpses of the angelic summit as they go. They hear their own heartbeats, which fall into a steady rhythm with their breathing and footsteps. After a few switchbacks that are carved into the side of a vertical rock face, they can look down at hikers who started their climb from the next shuttle bus 30 minutes after they did. Down there, people look like ants.
But then, just as their hearts, lungs and legs beg for a break from the nonstop elevation gain, they get one. A cool breeze reminds them they have just entered Refrigerator Canyon, a straight, shaded canyon named for its cool temperature year-round. Here, the trail mostly levels out, giving hikers a chance to recuperate before they hit one of the most fascinating sections of the route.
Walter's Wiggles, named after Walter Ruesch, the park's first acting superintendent, is an engineering marvel of 21 tight switchbacks that track back and forth and back and forth. Heart rates and elevation rise quickly on the way to Scout Lookout, which many initially mistake for the top. First-timers wander around searching for the rest of the trail, some taking advantage of the opportunity to consider whether to continue at all.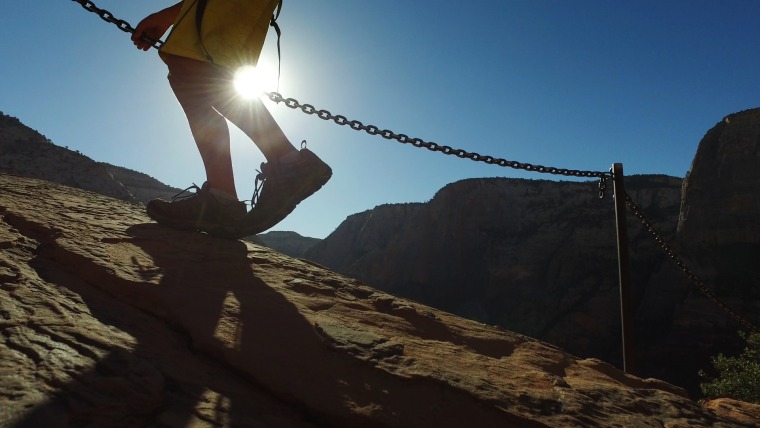 Then they see it — the seemingly impossible last half-mile of the trail: A near-vertical ascent on a knife-edge of rock, 1,400 feet over the valley floor. A sign at Scout Lookout shows an icon of a person falling and makes clear what some hikers already know going in: Since 2004, six people have died falling from cliffs on this route. For many, this is the stopping point.
But for some, it's simply a place of rest.
From here, the trail offers a different kind of National Park hike: a world of steep sandstone steps and chains anchored to the cliff walls. This final stretch is what draws people to climb Angels Landing in the first place. In this day and age where we're so protected from ourselves, the opportunity to be in a position of such exposure, such danger, can be a welcome relief from our daily routine. It's no longer hiking. It's survival.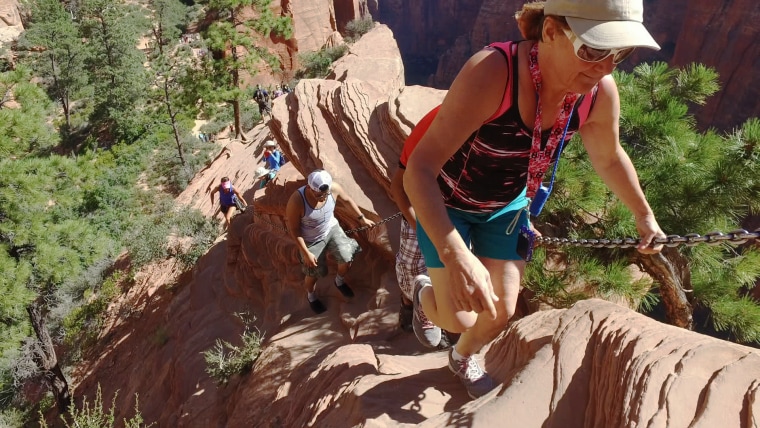 One by one, people grasp the chain, pulling themselves upward while searching for the next foothold. They do it again and again and again. The wind rips at their shirts and the views over the edge become as stunning as they are terrifying. The path becomes narrow; people hug the wall to let those who made it to the top before them pass as they make their way back down. The drop to the canyon floor is 1,400 feet on one side and 800 on the other.
There's nowhere to go but up. Climbing over boulders, squeezing through narrow gaps and ducking under branches, the unrelenting steepness of the trail eases and finally gives way to a large, mostly-flat plateau — the top of Angels Landing. Views spill away in all directions and it becomes clear this is someplace very special. Hikers sit in small groups drinking water, eating energy bars, and recovering, looking around in disbelief that such a place exists at all. It is beautiful beyond comprehension.
But as they look around, 1,500 feet above Zion Canyon, they are reminded that now that they are here, they must hike all the way back down.
Hiking Angels Landing
Angels Landing is a steep, strenuous five-mile round-trip hike with 1500 feet of elevation gain that takes three to five hours to complete. Hikers should be in good physical condition and wear comfortable, supportive footwear. The sun exposure in summer months can be extreme so hiking early in the day is best. Bring plenty of water and snacks, and be patient as the trail can get crowded during summer. The trail can be hiked year-round, but in winter it's not uncommon to find ice and snow on the trail, so bring crampons or similar traction devices.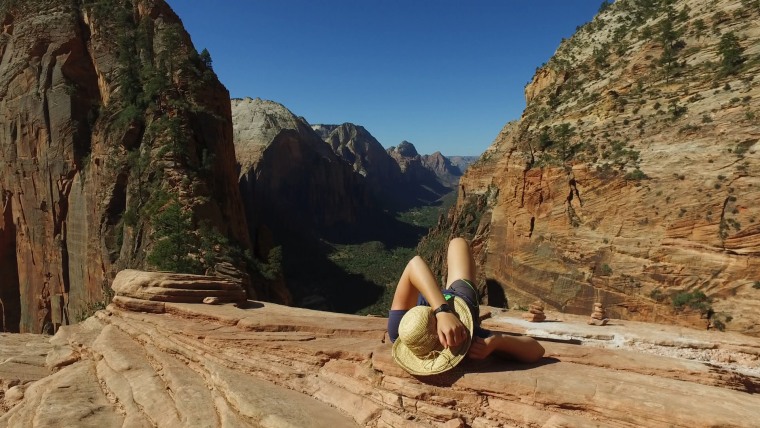 Zion National Park
Location: Utah
Size: 229 square miles, or 146,600 acres
Wildlife species: About 67 mammals, 29 reptiles, 7 amphibians, 9 fish, 207 birds, including the endangered California condor and threatened Mexican spotted owl
Plant species: More than 1,000
Noteworthy Features: Deep sandstone canyons, high plateaus, tree-covered slopes, and hanging gardens. There is an elevation change of about 5,000 feet from the highest point (Horse Ranch Mountain, at 8,726 feet) to the lowest (Coal Pits Wash, 3,666 feet). Home to one of the most dangerous trails in the National Park System, Angels Landing.
---
National Parks at 100: