The National Park Service turns 100 years old this month. Fifty-nine U.S. National Parks cover almost 52 million acres across 27 different states. Last year, they saw a record 305 million visitors. To recognize the centennial of the system protecting these American treasures, NBC News will feature stories from 10 national parks and recreation areas — from California's Yosemite to New York's Gateway.
---
Bill Sycalik recently ran a little over 26 miles through the jagged peaks, flat grasslands and gently sloping valleys of South Dakota's Badlands National Park.
The week before, he successfully avoidedtwo bison herds at Theodore Roosevelt National Park in North Dakota. The week after he conquered Badlands, he headed further west in South Dakota and raced through a prairie dog town in Wind Cave National Park, filming commentary on his GoPro ("Hear them call the alarm?") over the animals' chirping.
Sycalik, 45, is still getting used to his new life as a trail-running nomad. A few months ago on a weekday, he might have been working behind a desk in Manhattan.
But in May, he quit his management consulting job, let the lease expire on his Queens apartment and drastically downsized. A 10-day meditation retreat had left him wanting to move away from office life toward something more fulfilling. Inspired by the 100th anniversary of the National Park Service, he decided to complete a marathon in all 59 U.S. national parks over the next 18 months to two years. He then plans to relocate, possibly to Denver, and get a job related to the outdoors.
"I just got tired of working in corporate America. I wanted to get to a place where I'm moving more, I'm engaged with nature," he said in South Dakota after completing his seventh marathon at Badlands. "I just decided if I don't do it now, when am I going to do it?"
By the end of what he calls the National Parks Marathon Project, he will have covered more than 1,545.8 miles across 27 states and two U.S. territories.
He is driving from park to park running about one marathon a week, crossing the country on a route based on efficiency and weather. He started before dawn in Badlands, where temperatures have soared above 100 degrees this summer. In the winter, he will head to parks in the southern United States.
This isn't the first time Sycalik has gone off the beaten path: After getting an MBA from New York University's Stern School of Business, where he studied finance and information systems, he moved to Romania for a volunteer program.
American history and the internet are full of stories of people who have quit their jobs to travel or tackle ambitious projects. Sycalik, as far as he knows, will be the first to run a marathon distance in every national park. (A National Park Service spokeswoman said she wasn't aware of anyone else.)
He started running at 33 to get in better shape, building up the endurance to run not just marathons but 50-mile races.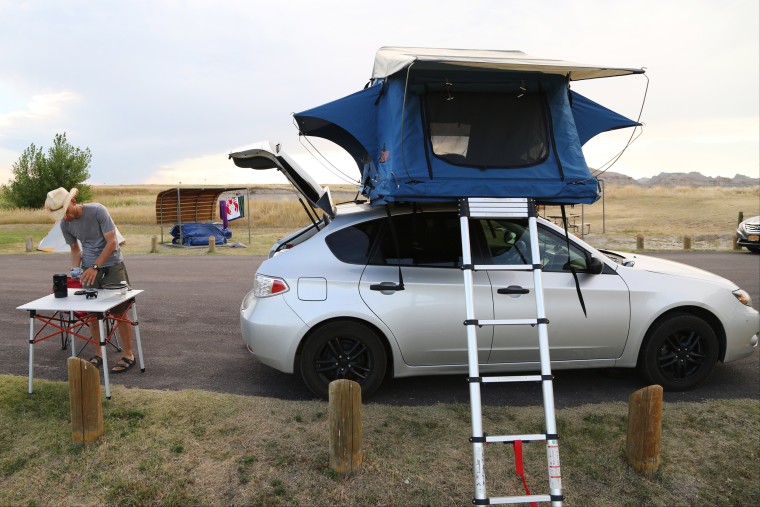 He travels from park to park in his Subaru Impreza, staying at campsites or with people he meets along the way, usually sleeping in a car-top tent that unfolds like a pop-up book. (Yes, he sleeps on top of his car — the tent is attached to a roof rack.) He lives frugally, getting by on savings and donations to a crowdfunding page at Generosity.com.
He plans out marathon routes with help from park rangers, usually arriving a day after his run in the previous park. He avoided a trail waterlogged from recent rains at Voyageurs National Park in Minnesota and ran a marathon at an elevation above 6,300 feet in Grand Teton National Park in Wyoming. "From forest to marsh to lakes to geysers!" he wrote on Twitter after his run at Yellowstone National Park.
"I've seen more places than I have in the last five years," he said in Badlands, though at that time he still had 52 parks to go.
The Park Service spokeswoman said there are hundreds of races each year in the 400-plus parks and other areas in the National Park System, but wasn't sure how many take place within the 59 national parks. Sycalik hopes to get more people "running the parks," a hashtag he uses and the URL of his website. While he invites other runners to join him, in part to ward off loneliness, he would need a permit if he amassed a Forrest Gump-size following.
While he ran regularly in and around New York City over the last five years, he prefers trail running to roads.
"You get to see so much in a short amount of time," he said. "And it really challenges you. You get to feel one with nature, like an animal."
Related: Angels Landing Brings Fearless to Zion for Heavenly Views
Sycalik runs his park marathons in anywhere from four to seven hours, depending on terrain, weather conditions and how he's feeling. They are runs, not races, and he leaves days between each one to help his body recover.
He keeps a checklist to help ensure he takes plenty of water, protein snacks and energy gels, adding items like a water filter, insect repellent, a small GPS and bear spray if he might need them. He tracks his time, distance and other stats on a GPS watch, and his route and results load to an app connected to the watch and the fitness app Strava. While he ran along a park road for part of his Badlands marathon, future runs will be more remote.
Running on trails that extend as far as he can see, Sycalik has traded the crowds of New York City for long stretches of sheer beauty where he might not see or talk to anyone. While he misses his friends, he said he feels energized being out in nature.
"It fills you with a sense of awe and a sense of wonder that I think is lost in the cities," he said.
Off the trail, Sycalik lives out of his neatly packed car, where he stores necessities like cooking supplies and a fold-up table and chair. He works hard to maintain a vegan diet, eating simple dishes like rice and beans. Mustard, which doesn't require refrigeration, is a favorite condiment.
On runs, he said he thinks about what he's doing, watching out for vehicles on roads and holes left by burrowing rodents on trails. He keeps himself entertained by talking or singing to animals he sees on the route, like a group of bighorn sheep he encountered at Theodore Roosevelt.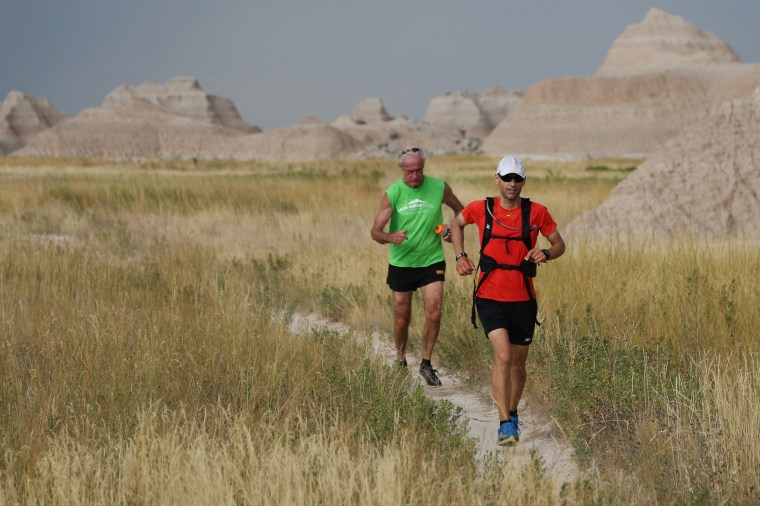 He also talks to a future audience, making the occasional web videos he posts when he can find Wi-Fi.
Sometimes, he is lucky enough to have other runners to talk to, who he meets through his website and social media.
Jerry Dunn, 70, a veteran distance runner who lives in South Dakota, joined Sycalik on parts of his marathons through Badlands and the nearby Wind Cave National Park after finding the project online.
"I admire him for being willing to give up his real life and quit his job and do something like this that not many people are willing to take on," Dunn said.
Sycalik hopes to create a database of marathon routes in all 59 parks and has invited other runners to contribute routes of their own on his website, where he also keeps a copy of his schedule.
Part of his aim is to encourage people not to limit themselves. People who say they could never run a marathon probably could, he said, with commitment and training.
"This is a project of possibility," he said. "I want people to be open to the possibility of doing new and different things."
Ahead of him is a world of possibility all his own. He still has 48 parks to go.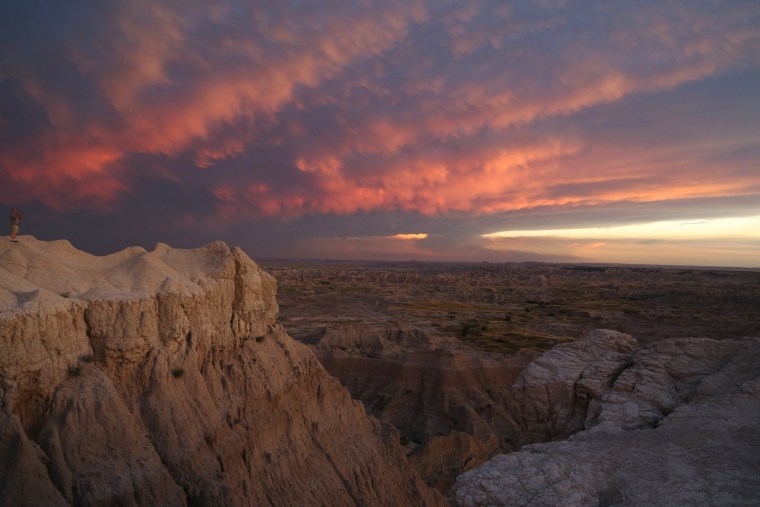 Badlands National Park
Size: 244,000 acres
Wilderness: 64,250 acres
Wildlife species: 39 mammals, 9 reptiles, 6 amphibians, 206 birds and 69 butterflies
Weather: Known for extremes, with temperatures ranging from -40° F to 116° F
Noteworthy Features: The park's namesake badlands formations are made up of sedimentary rock layers deposited some 28-37 million years ago that have been sculpted by erosion and rest on layers dating back up to 75 million years. Badlands has the largest percentage of prairie ecosystem in the National Park System and is home to one of the world's richest mammal fossil beds. Fifty percent of the park is co-managed with the Oglala Lakota Nation.
---
National Parks at 100: