The National Park Service turns 100 years old this month. Fifty-nine U.S. National Parks cover almost 52 million acres across 27 different states. Last year, they saw a record 305 million visitors. To recognize the centennial of the system protecting these American treasures, NBC News will feature stories from 10 national parks and recreation areas — from California's Yosemite to New York's Gateway.
---
As a shy child growing up in New York City, Millie Jimenez broke out of her shell by translating for her Spanish-speaking mother. Surrounded by diversity, she learned to make connections by interacting with her loud neighbors and asking strangers for directions.
While still soft-spoken, Jimenez is now the one giving directions, a world away in Wyoming.
The 25-year-old is a ranger for Grand Teton National Park, where she works to introduce Latinos like her younger self to the outdoors. She recently took a handful of middle and high schoolers on a three-day backcountry camping adventure that ended with a "float" down the Snake River, which flows through the park.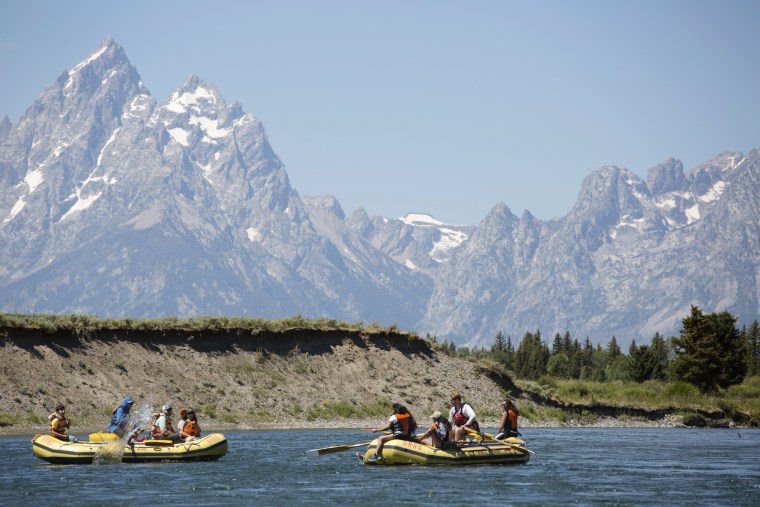 As their two rafts drifted down the river, the group chatted easily, switching back and forth between English and Spanish. The mountains of the Teton range came in and out of view, while two bald eagles perched high up in evergreen trees observed the landscape below.
The trip, organized in honor of the National Park Service Centennial, was part of Pura Vida, a program designed to introduce Latino students to park resources and career opportunities. It's one of many offerings at Grand Teton aimed at getting young people of all backgrounds interested in the park.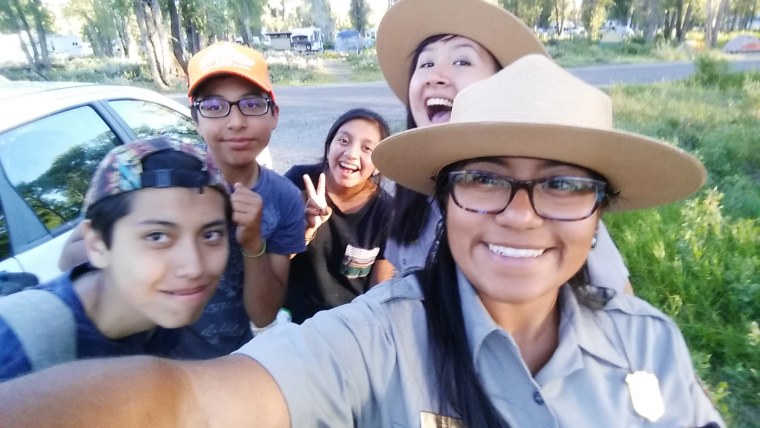 Programs like Pura Vida, and rangers like Jimenez, play an increasingly important role as the National Park Service aims to increase diversity in its workforce and in the ranks of park visitors.
Visits to the national parks topped 300 million for the first time in 2015, but fewer than 20 percent of NPS employees are non-white, according to NPS data.
Visitor demographics are thought to generally track with the demographic statistics of the workforce, spokesman Jeremy Barnum said. A 2011 University of Wyoming study commissioned by the NPS found that just 20 percent of visitors to a national park in 2008-2009 were minorities, and that only 9 percent were Hispanic.
"We're the next generation," Jimenez said. "The national park isn't representing the United States' population. If we want to continue to be relevant and if we want to get to 200 years, we need to open our arms and embrace everyone."
Related: Among Both Visitors and Staff, National Park Service Looks to Grow Diversity
Jimenez, the daughter of Mexican immigrants who began working at Grand Teton in 2014, grew up in the bustling Little Italy neighborhood of the Bronx. A trip to Great Smoky Mountains National Park through the NPS Academy, a joint workforce diversity initiative of the Park Service and Student Conservation Association, was her first trip to a park outside an urban setting.
An internship at Yellowstone National Park "solidified my dream of wanting to become a park ranger," she said.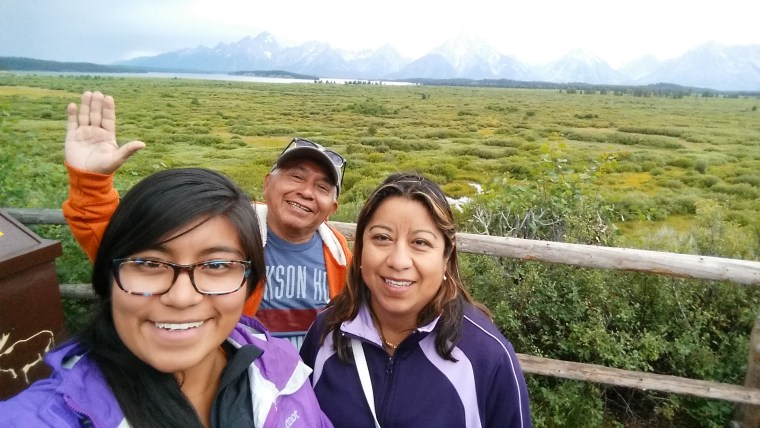 Grand Teton, located just north of Jackson, is well-situated for outreach efforts. While the Jackson Hole valley is known as a wealthy resort community, a recent report by the Economic Policy Institute found the Jackson metropolitan area to be the most economically unequal in the U.S. It's also home to a growing Latino population.
According to 2010 Census data, a little over 27 percent of Jackson's population is Hispanic. More recent Census data showed Latinos comprise 15 percent of the population of Teton County, where Jackson is the seat, though a Wyoming consulting firm's 2015 report said local service providers estimate that number is closer to 25 to 30 percent.
Grand Teton Superintendent David Vela, who is Latino himself, called diversity outreach a priority for the park. Jimenez's path, he said, has the power to inspire.
"For an urban kid, a Latina, to have her life transformed because of experiences in a national park is exactly what national parks can provide to any American youth," Vela said. "Millie's story is what's in the realm of possibility if you're exposed to these magnificent places."
Jimenez is determined to show the local Latino community that the park also belongs to them. She courts kids from Jackson by coaxing their parents, in Spanish, to let her take their sons and daughters kayaking or camping. On trips, she identifies bird and plant species. She becomes something like an older sister, helping apply sunscreen and laughing with her charges when one of them starts to act like a payaso, or clown.
"That's why I think it's so important to have rangers that specifically go out into communities and get people excited, because they might not think that this park is for them, but all parks are for everyone. Because they tell the American story. They tell your story and my story. There's a park for everyone," Jimenez said.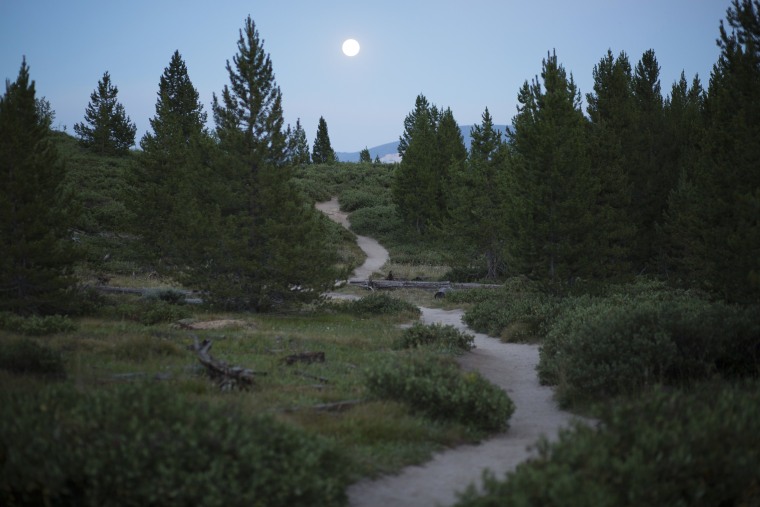 Her time with the park service has not been without its challenges. Last October, she suffered a devastating fall while hiking Avalanche Canyon in the Teton backcountry with a friend. She plummeted 50 feet and had to be airlifted by helicopter to a hospital, where she learned she had broken her sternum, clavicle, and multiple bones on the right side of her body.
She awoke to the familiar faces of Vela and other colleagues, and their outpouring of love and support reaffirmed her commitment to the park. After nine months of physical therapy, she embarked on the same hike once more, determined to complete it.
On her frequent visits to Jackson to recruit new young people to the park, Jimenez often ditches her ranger uniform for regular clothes. She wants to make sure people know her as "Millie," not as an intimidating government employee.
But when she is in uniform, the badge she wears identifying her as a Spanish language interpreter often sparks conversations.
"They're not used to seeing rangers that look like me, right?" she said. "So for them it's really cool that they can come up to me and talk to me and we already have some shared understanding of something."

Grand Teton National Park
Location: Wyoming
Size: 310,000 acres
Wildlife: Home to more than 60 species of mammals, including bison, moose, elk, grizzly and black bears, and river otters
Noteworthy Features: Snake River, 1,056 miles long, flows through the park. Home to Grand Teton, Wyoming's second highest peak at 13,770 feet, and Jackson Hole Airport, the only commercial airport in the U.S. located inside a national park.
---
National Parks at 100: