The National Park Service turns 100 years old this month. Fifty-nine U.S. National Parks cover almost 52 million acres across 27 different states. Last year, they saw a record 305 million visitors. To recognize the centennial of the system protecting these American treasures, NBC News will feature stories from 10 national parks and recreation areas — from California's Yosemite to New York's Gateway.
---
During the summer, Donna Shaver often sleeps on the job — so she can nurture the thousands of incubating sea turtle eggs in her care.
Shaver, who leads the Division of Sea Turtle Science and Recovery at Padre Island National Seashore, beds down in a small room near the incubation facility so she can make frequent visits to the two warm, dark incubation rooms every night during the May through August hatching season.
Wearing a headlamp and loose-fitting athletic clothes, she spritzes water on crates of turtle eggs, aims fans at the eggs nearing the end of their incubation period, monitors temperatures and checks to see if any eggs are close to hatching.
"Sometimes I'm on my feet through the whole night," she said.
But Shaver is not complaining. This is her favorite time of the year.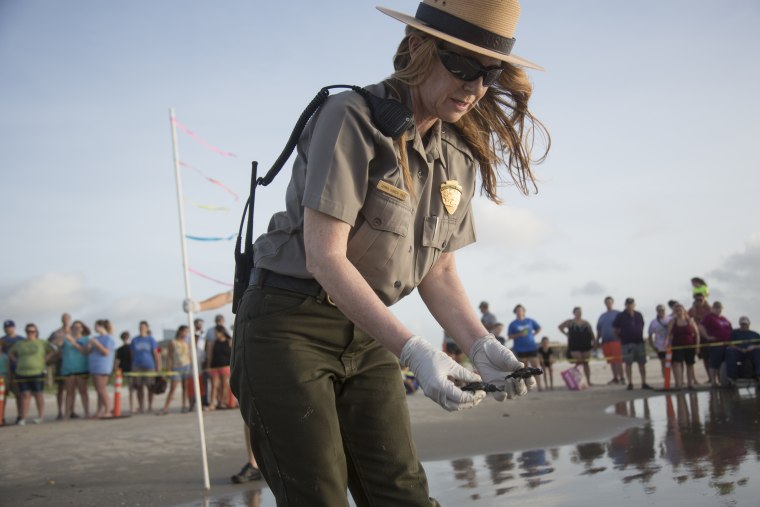 When the turtle hatchlings are ready for release, they are transported to the beach, where Shaver and a crew of colleagues and volunteers watch over them as they crawl into the surf.
The public is often invited to observe. "We see grown folks with tears in their eyes," she said.
The incubation facility at the national seashore, a 70-mile stretch of barrier island off southern Texas, is part of a nearly 40-year effort to re-establish a nesting population of the endangered Kemp's ridley sea turtle on Padre Island. The species is the most endangered of all sea turtles, according to the U.S. Fish and Wildlife Service.
Over the course of a decade beginning in 1978, more than 22,000 eggs were collected from Rancho Nuevo, Mexico, the turtles' main nesting ground, and transported to Texas for incubation. Once hatched, turtles were placed on the beach to amble into the surf, with the hope that they would "imprint," or gain a lasting impression in order to one day return on their own.
Turtles were then recaptured and raised in a laboratory through early development. They were tagged for tracking, then returned to Padre Island and the surrounding area for release into the Gulf of Mexico.
In 1996, Shaver confirmed the return of the first turtle to Padre Island from the imprint program.
When she started at the national seashore, she was a 20-year-old undergraduate at Cornell University with a summer Student Conservation Association internship. She had grown up not far from Cornell in Syracuse, New York, and was eager to work with at-risk species.
"I fell in love with the work and South Texas," said Shaver, who is now 57. "I decided this is what I wanted to do."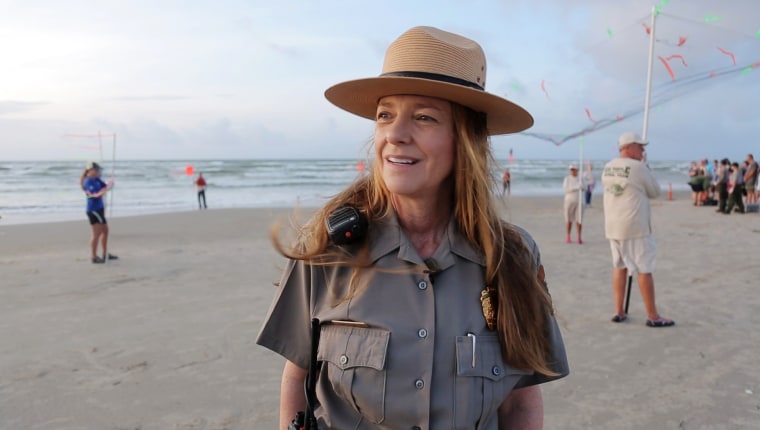 Work by Shaver, her colleagues and volunteers with the Kemp's ridley population has raised the turtles' odds of survival — but by how much, Shaver said she's not certain. Under natural circumstances, it's thought that only about 1 in 400 eggs produces a turtle that survives to adulthood.
Marine debris and accidental capture by fisheries are among the biggest threats to the turtles. Shaver and her colleagues frequently find plastic washed ashore with tiny diamond-shaped cuts in it, indicating turtles have taken a bite. "The best thing people can do to help the turtles is to keep plastic out of the ocean," she said.
Shaver is one of hundreds of scientists at work in the National Park System, whose parks provide researchers and the public with a stunning array of ecosystems and species to explore. In addition to wildlife, park scientists have expertise in botany, climate, caves, geology and other areas.
Her work can involve heavy lifting and has taken a physical toll over the years. She is preparing for her fifth back surgery.
Her devotion to these turtles, however, has never wavered.
"This conservation work matters because this species has been around for millions of years," Shaver said. "It almost went extinct within a blink of an eye due to human activities. It's a magnificent, majestic species and it's important to have it in our natural heritage for future generations to be able to enjoy."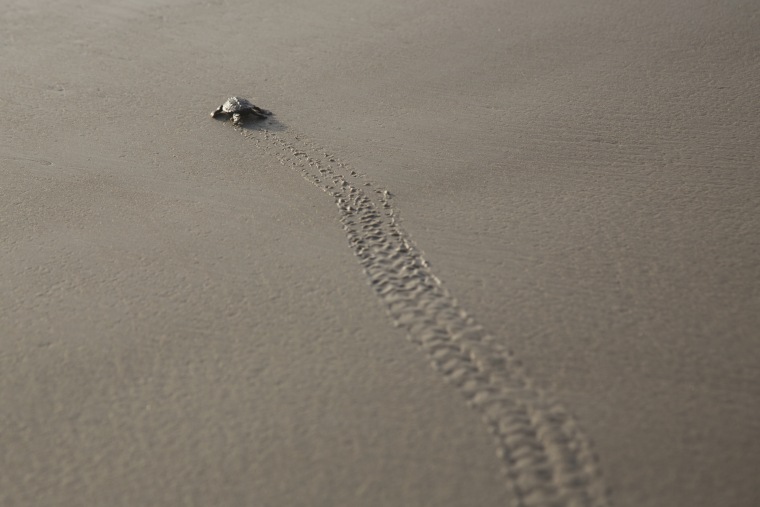 Padre Island National Seashore
Location: Texas
Size: 203 square miles, or 130,000 acres (land and water)
Wildlife Species: 45 terrestrial mammals, 380 birds, 58 amphibians and reptiles, 37 mollusks, and 41 crustaceans
Noteworthy Features: 70 miles of undeveloped sandy beaches. Home to five of the world's seven sea turtle species, including the Kemp's ridley, the most endangered sea turtle
---
National Parks at 100: