The National Park Service turns 100 years old this month. Fifty-nine U.S. National Parks cover almost 52 million acres across 27 different states. Last year, they saw a record 305 million visitors. To recognize the centennial of the system protecting these American treasures, NBC News will feature stories from 10 national parks and recreation areas — from California's Yosemite to New York's Gateway.
---
National parks belong to everyone. That is what ranger Shelton Johnson instills in people who visit Yosemite.
The National Parks Service turns 100 this month. In celebration, they're encouraging everyone to "Find Your Park." If you choose Yosemite, Johnson will congratulate you on claiming your inheritance. As far as he's concerned, the parks belong to all Americans, which is why he is committed to getting more citizens of all creeds to visit them.
Johnson works in the division of interpretation and education at Yosemite. He gives tours and educates parkgoers on the vast history that has transpired on the grounds. However, Johnson's true goals as a park ranger transcend his job description. He doesn't just want people to see nature, he wants them to build a lasting connection with it.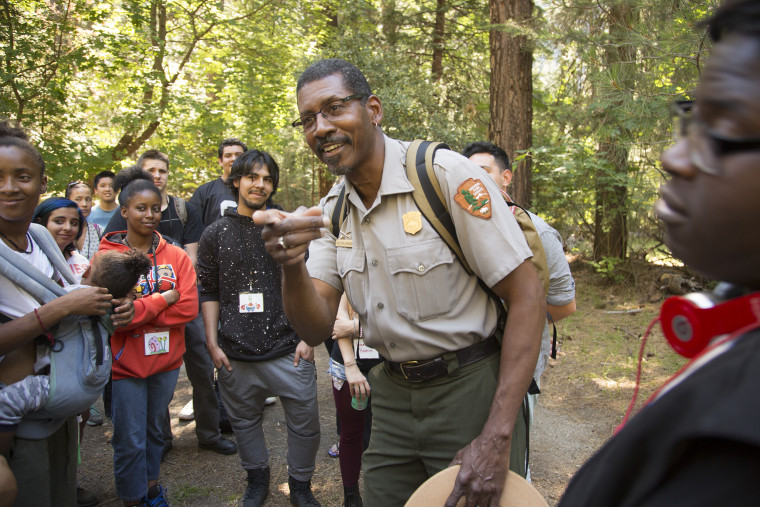 "My job is a facilitator of astonishment," Johnson said. "I create that bridge between the divine and the earth, that's my job. It means building a bridge between one world and the next."
As one of the few black park rangers, Johnson is also bridging the Park Service's minority hiring gap. According to Park Service employee statistics, only six percent of the entire workforce is black. His experience at a national park when he was a kid lured him to a career as a ranger. He knows firsthand the impact a visit to the park can have on a child.
Johnson grew up in a military family. During his father's army service in Germany, the family traveled to Berchtesgaden National Park. It was there in the Bavarian Alps where Johnson had a transcendent, life-changing experience that sticks with him to this day.
"I thought I was elevated to the top of the world," Johnson said. "I thought I literally was on that line between heaven and earth, and the only thing that was keeping me on the earth were the hands of my parents."
That moment connected Johnson with something greater than himself. But, when he went returned to the United States to live in Detroit, Michigan, forests and foliage were replaced with steel and sometimes violence. He lost that otherworldly feeling he experienced in the mountains of Germany. He became a park ranger to regain what nature roused in him as a youth.
Johnson believes that a visit to a national park should mark every childhood, because children have an openness in their spirit that makes them feel like they are seeing the world for the first time. In his experience, people who love national parks attribute a childhood visit to the source of their affection.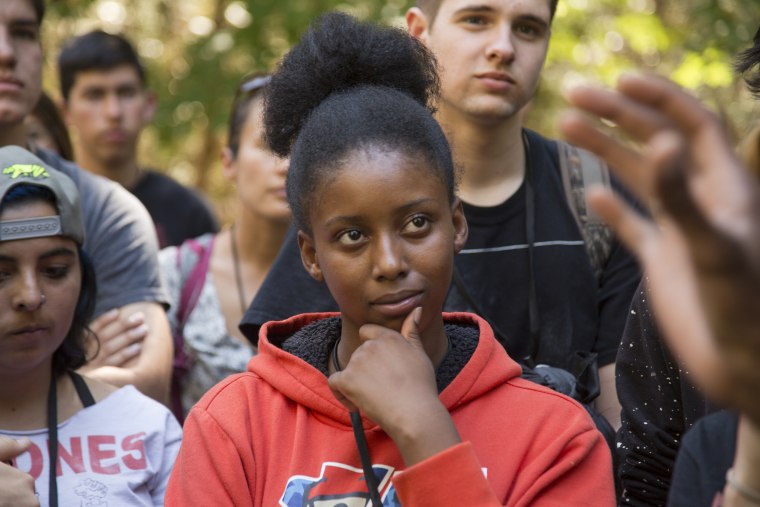 He wants more inner-city children of color to have those experiences. As U.S. demographics shift, Johnson recognizes the necessity of getting people of color interested in the parks while they're young so that their interest in parks can intensify as they mature.
Though the National Park Service does not have a national, in-depth national survey of visitors' ethnicity, they estimate that visitor demographics generally align with the demographic statistics of their workforce. That would mean that over 80 percent of visitors to the parks are white, even though America's racial and ethnic minorities now make up about half of the under-5 age group, and white-majority nationwide could dissipate by 2043.
Should the new "cultural majority" have no connection with the national parks, Johnson believes the survival and sustainability of the national parks would be at serious risk. To that end, Johnson works especially hard to connect kids of color to the park, because his livelihood and his personal passion depend on it.
When a group of inner-city kids from the Bay Area came on a trip to Yosemite, Johnson encouraged them to take care of their birthright as American citizens — this national park and all the others. He conveys messages of ownership so that they understand that the parks belong to them. The park service, he says, is just there to take care of their inheritance.
"That is a very powerful thing," Johnson said, "to tell someone who feels perhaps they own very little, to find out they own the world."
Johnson encourages youth because he still identifies with the young boy standing on a mountaintop between his parents at a national park in Germany.
Aside from giving visitors the lay of the land, Johnson also researches the history of Yosemite Valley. He specializes in the history of the Buffalo Soldiers, the African-American Army regiments formed after the Civil War and eventually posted to the national parks in Yosemite and Sequoia. He performs skits to retell the history of the Buffalo Soldiers and the challenges they faced as African-Americans in the infantry.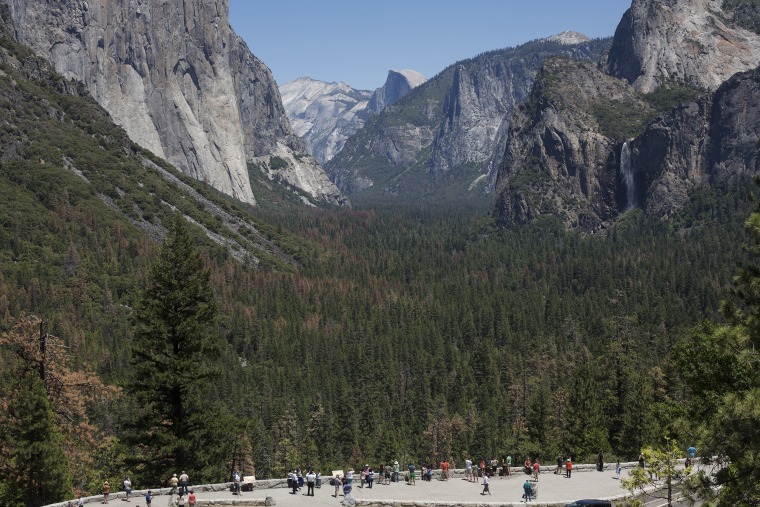 Though African-American history has roots in Yosemite, Johnson doesn't feel that African-Americans are connected to nature anymore, let alone the national parks.
"When people ask me why African-Americans don't visit national parks, I personally feel that you have to go to every single African American family and say, 'Excuse me, why don't you go to national parks?'" Johnson said. "And I think you'll have a certain degree of variance in answers, but I think more than anything else, there's not a history of connection."
Johnson expounds upon the disconnect, because he understands its intricacies. African-Americans know a past of exclusion, rather than inclusion. That history lingers whenever black people choose new destinations, as they wonder whether a place will be safe to visit, or whether they will be treated poorly.
"When you come out of a history where you could be violently treated to be at a place that was determined to not be for you," Johnson said, "why would you choose that place to relax?"
Despite any natural aversions, Johnson is confident in parks' ability to connect African-Americans with a legacy of being one with the land.
"You can reclaim that which is African right in our national parks," Johnson said. "Because all it means is a connection, a spiritual connection, an emotional connection with the earth itself."
---
National Parks at 100:
---