BERLIN — For three decades the Berlin Wall stood as a reminder of a country sliced in two, a barrier trapping millions inside the so-called Iron Curtain. Its fall was hailed around the world as a victory of democracy over tyranny.
As officials prepare to celebrate the 25th anniversary of the peaceful revolution that made the symbol of oppression porous, Germans, tourists and experts alike complain that remnants of the wall have been sold, defaced or simply bulldozed.
"More parts of the wall should have been preserved as a reminder of the lives that have been lost," said Lydia Okutoyi, a doctor from Kenya on her first visit to Berlin, referring to the more than 125 people thought to have died trying to cross from East to West.
Long seen as a hero in the struggle that culminated in fall of communism, capitalism is playing a role in the wall's demise.
"The predominant feeling in those days was that the wall has to go quick," said Wieland Giebel, who owns the Berlin Story shop and publishing house near Brandenburg Gate. He is selling four wall segments on eBay for nearly $10,000 each.
Six concrete remnants of the infamous wall stand at Potsdamer Platz, the German capital's modern center dominated by glass and steel structures. Along with a small photo exhibit, the slabs were positioned as a Cold War landmark, a reminder of Germany's divided past.
But the historic monument has been scarred by hundreds of bits of used chewing gum, "which deteriorated the wall parts into a disgusting, undignified tourist attraction," according to an editorial in Berlin's Der Tagesspiegel newspaper.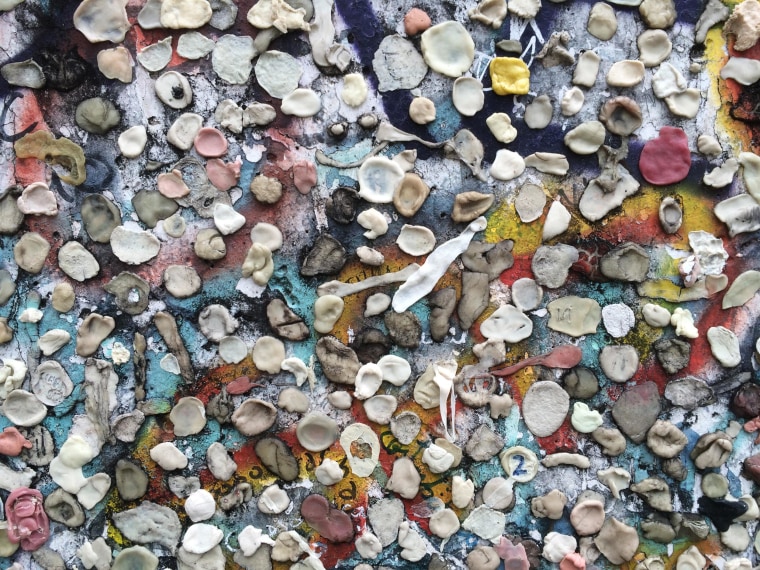 "We came to see what is left of the Berlin Wall, but we are a little irritated by the bubble gum that people stuck all over the original graffiti," Canadian tourist Rachel McAllister, 27, told NBC News.
At one of Berlin's most visited spots — the infamous Checkpoint Charlie border crossing — hordes of visitors search futilely for remains of the structure in an area now dominated by shops selling kebabs, Asian food or the local delicacy currywurst. Travelers from abroad often end up taking photos of a plaque and the lines of cobblestone that identify the former barrier's path.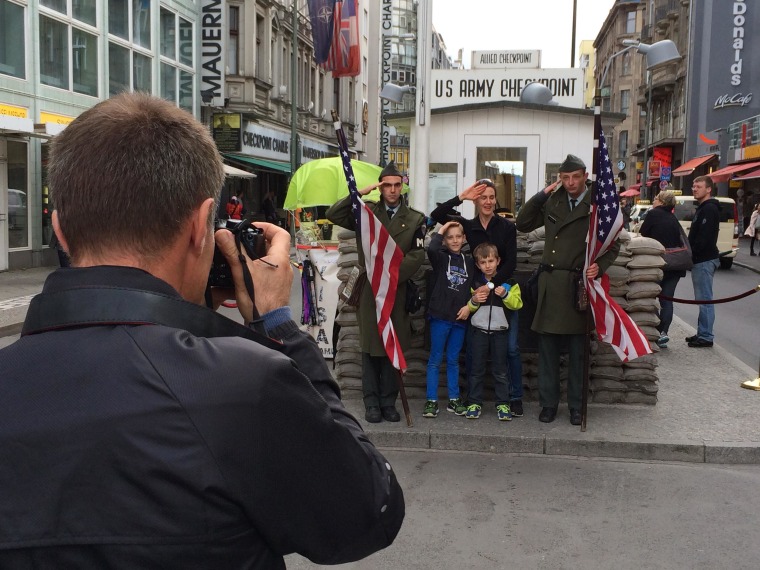 Only few longer stretches of the wall are still seen in a handful of locations across town, including the Bernauer Strasse commemoration site, a Berlin Wall monument next to the German finance ministry, or the colorful East Side Gallery art project.
Officials admit that large stretches of the original 90-mile-long wall are lost forever, with many parts having been used to build highways.
Meanwhile, there are more pieces of the wall around the world than in Berlin itself, according to experts.
"We located 80 to 85 Berlin Wall segments in the United States alone," Tilman Guenther from the Federal Foundation for the Study of Communist Dictatorship in East Germany told NBC News.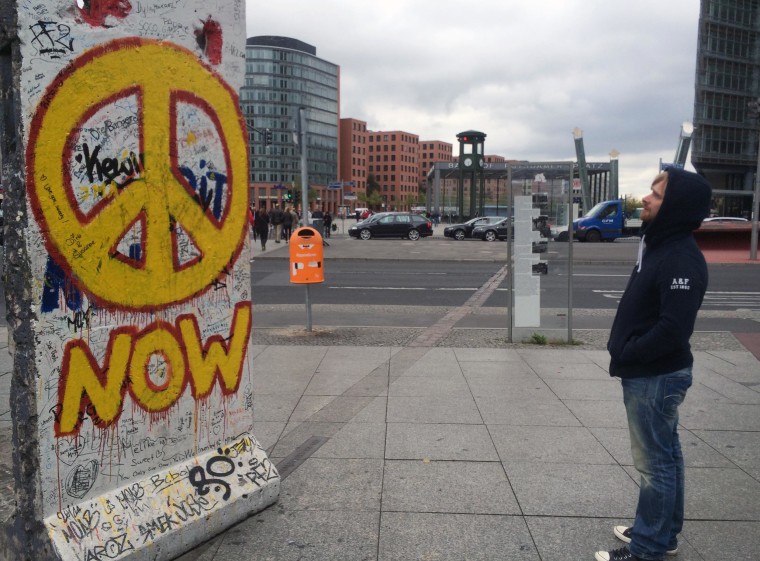 The government agency recently published a book called "Where in the World Is The Berlin Wall" after it identified 240 T- and L-shaped wall segments across the globe.
In an indoor shopping mall across from Potsdamer Platz, an exhibit commemorating the wall was erected in early September.
Between perfume stores and high-end jewelers, visitors can gawk at tacky replicas of border signs and an old watchtower. Nearby, barbed wire hangs from an escalator and mannequins stand dressed in former East German border guard uniforms.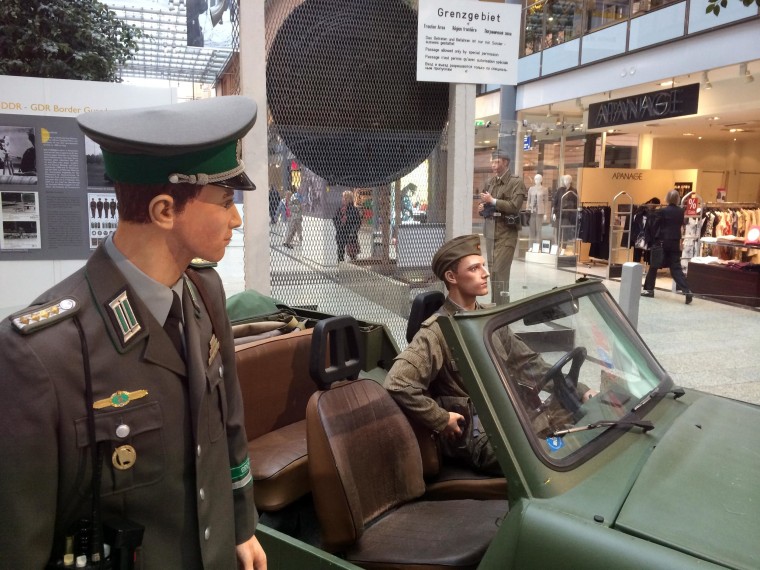 "Often enough we stood in front of the real Berlin Wall," said 67-year old West-Berlin resident Renate, who stumbled across the exhibition with her husband Günther, 75.
The deeply moved woman pointed to a collection of original photos showing the so-called death strip — an area behind the wall armed with barbed wire, booby traps and self-shooting devices that communist East Germany installed to stop residents from fleeing to the West.
"It is very difficult for new generations to understand what life was really like in those days," she said.