An American was killed in the avalanche on Mount Everest that resulted from the massive Nepal earthquake on Saturday, a tour company said.
Dan Fredinburg, a Google executive based in California, had been scaling Everest for the past three weeks with an expedition team through Jagged Globe, a U.K.-based tour company.
"It is with the greatest sorrow that we report the death of one of our Everest team members, Daniel Fredinburg. Two other team members have non-life threatening injuries, as a result of the avalanche that struck base camp during the earthquake and its aftershocks," Jagged Globe posted on its website. No other team members or sherpas were injured, the company added.
Fredinburg is the first American confirmed dead from Saturday's 7.8-magnitude quake and the Everest avalanche it triggered. It was not known whether other Americans are among the reported 1,900 deaths.
Ang Tshering Sherpa, President of the Nepal Mountaineering Association, told NBC News Sunday that 17 bodies have been recovered at Mount Everest base camp and 61 people were injured in the avalanche.
Fredinburg made headlines for dating actress Sophia Bush in 2013 and 2014, and was the head of privacy for innovation lab Google[x]. He described himself as an "Inventor, Adventurer, and Energetic Engineer" on his Google+ page.
"Sadly, we lost one of our own in this tragedy," Google said in a statement Saturday. The company also announced it was pledging $1 million to response efforts in Nepal. "Our thoughts are with the people of Nepal, and with Dan's family and friends during this terrible time."
Three other Google employees were hiking with Fredinburg at the time of the avalanche but are safe, Google said.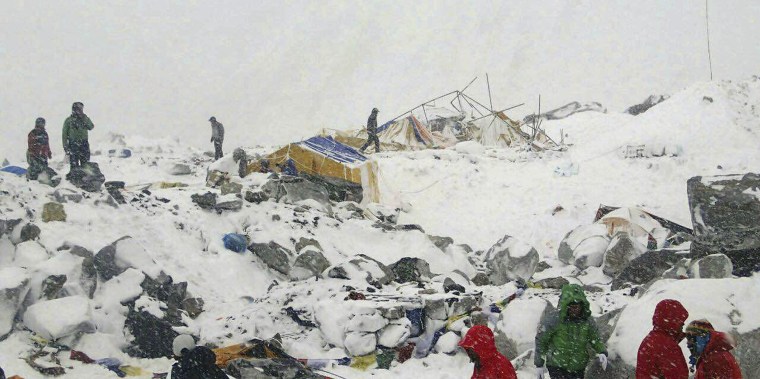 In an eerie coincidence, Fredinburg had been on Everest during another avalanche — and survived. Bush tweeted last April after an avalanche killed 16 sherpas, "For all concerned, @danfredinburg & team are safe at Camp 1 on #Everest after the avalanche. Please keep the Sherpa's in your prayers."
On Saturday, Bush posted a 300-word tribute to Fredinburg, who she called "an incredible friend" and "one-of-a-kind."
"He was one of the great loves of my life. He was one of my truest friends. He was an incredible brother, a brilliant engineer, and a damn good man. I'm devastated and simultaneously so deeply grateful to have known and loved him, and to have counted him as one of my tribe," she wrote.
Fredinburg's sister wrote on his Instagram account that he died of a head injury.
"We appreciate all of the love that has been sent our way thus far and know his soul and his spirit will live on in so many of us. All our love and thanks to those who shared this life with our favorite hilarious strong willed man. He was and is everything to us. Thank you," she wrote.
Fredinburg had been documenting his Everest journey online. His last post, on Friday, was a photo of him taking a cappuccino break on the mountain.
Tributes poured in online to Fredinburg, a University of California-Irvine graduate who lived in San Francisco.
"Dan was weird and driven and selfless and rambunctious and thoughtful and always going for it. Devastating," tweeted investor Chris Sacca.
"One of the great souls and lights to have entered our lives. We love you. Rest in Peace Dan Fredinburg," tweeted Elliott Bisnow, founder of Summit, which brings together innovators and engineers.
IN-DEPTH
— Elizabeth Chuck