Seventy-year-old Australian mountain climber Ronald Nissen had just finished breakfast at base camp on Mount Everest on Saturday when the walls of the dining tent began to shake.
He and three others stepped outside and saw an avalanche, triggered by a 7.8-magnitude earthquake, hurtling down the mountain, straight for them.
Nissen hit the ground just as a wave of snow and ice overtook him.
"Those couple of minutes were without doubt the scariest of my life as I lay there with my hands over my head," Nissen recalled Monday in a phone interview with NBC News. "Everything was ripped away from us."
After the avalanche passed, Nissen groped to the surface and found an obliterated landscape. "The avalanche came through the base and it wiped the camp off the face of the earth. Dining, cooking, sleeping tents, everything vanished," he said, speaking from a hotel room in the relative safety of Kathmandu.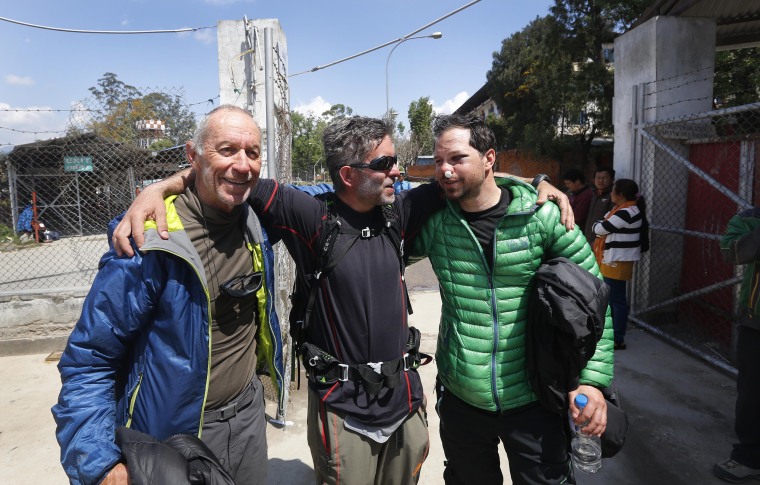 He found two of his three companions from an expedition run by Madison Mountaineering of Seattle, including American documentary filmmaker Michael Churton. The team's base camp doctor, Marisa Eve Girwong, was injured, and would later die.
Nissen suffered only cuts and bruises, he said.
"When we stood up, the Sherpas were there looking around, we had no heavy clothing on, it was bitterly cold," Nissen said. "We tried to scavenge some clothes. The lead Sherpa advised us to go to next village, Gorek Shep."
He and Churton made it to Gorek Shep. From there, Nissen said, they hitched a ride to Kathmandu, where he remained Monday.
IN-DEPTH
— Lisa McNally and Jon Schuppe