The death toll from a 7.8-magnitude earthquake that struck Nepal Saturday rose to nearly 1,900 people in four countries by Sunday, a number that is likely to rise in coming days, officials said.
Authorities said Sunday that at least 1,970 people were killed, all but 60 of them in Nepal. At least 721 of them died in Kathmandu alone, The Associated Press reported.
Seventeen bodies have been found at Mount Everest base camp in the aftermath of an avalanche triggered by the quake, the president of a mountaineering association told NBC News. Helicopters are trying to rescue stranded climbers.
The earthquake struck at just before noon local time Saturday (2:15 a.m. ET), and nearly two dozen aftershocks followed, including a magnitude-6.6 aftershock an hour afterwards. Hospitals were overflowing with injured people, homes were damaged, phone lines were jammed and roads had gaping cracks running along them.
Kathmandu's international airport was shut down for hours, hampering initial relief efforts in the isolated mountainous country. Several countries and many aid organizations launched humanitarian and rescue missions to Nepal in response. Indian military aircraft carrying rescuers, food and tents arrived Sunday and more flights are scheduled.
Secretary of State John Kerry said he asked U.S. Ambassador to Nepal Peter Bodde to release an initial $1 million for humanitarian assistance. USAID is also preparing to deploy a disaster response team and is activating an urban search and rescue team to accompany disaster experts.
"To the people in Nepal and the region affected by this tragedy we send our heartfelt sympathies," Kerry said in a statement.
The quake hit the poverty-stricken Himalayan country just before noon local time (2:15 a.m. ET), with an epicenter about 50 miles from the capital of Kathmandu and 50 miles east of Nepal's second-largest city, Pokhara. It was felt in neighboring South Asian countries, and killed 50 others in India, Tibet and Bangladesh, the AP said.
Gallery: Hundreds Killed in Nepal Earthquake
The shallow quake is the worst to hit Nepal — which is landlocked between India and China — in nearly a century. It struck during the spring climbing season, when hundreds of thousands of tourists come for mountain-trekking and to tour the ancient Hindu temples in Kathmandu.
Climbers on Mount Everest were sent running for their lives when the earthquake set off at least one avalanche. At least 10 people died and 30 were injured in the avalanche on the world's highest mountain, according to the AP.
"A massive earthquake just hit Everest. Basecamp has been severely damaged. Our team is caught in camp 1. Please pray for everyone," mountaineer Daniel Mazur tweeted hours after the quake.
Google engineer Dan Fredinburg was among those who died in the Everest avalanche, expedition company Jagged Globe said on Saturday.
Among the climbers who were safe are Americans Melissa Arnot and Jon Mancuso. Arnot is attempting to become the first American woman to reach the top of Mount Everest without oxygen support.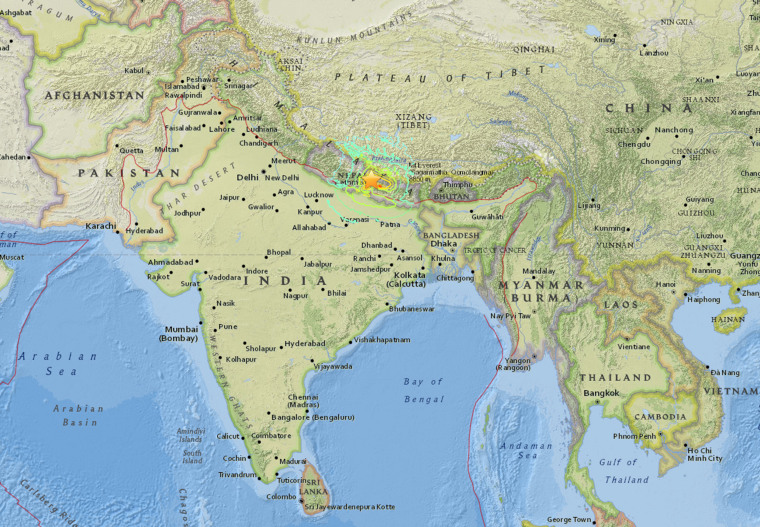 Centuries-old landmarks crumbled from the quake's intensity. The nine-story Dharahara Tower, a historical monument in Kathmandu, was reduced to rubble, the AP said. There were reports of people trapped underneath.
There was little information coming from the outlying areas of the mountainous country and helicopters were circling overheard to get a better sense of the damage.
"We are totally cut off from most parts of our country," said Ram Narayan Pandey of the Nepal Disaster Management Authority, according to Reuters.
Shristi Mainali described the terrifying moment the earthquake could be felt in Kathmandu, which has nearly one million people in its metropolitan area.
"It was a sound like thunder," the 21-year-old nursing student told NBC News. "It lasted for more than a minute... it was really shaking, shaking, shaking."
Residents in her neighborhood in Kathmandu had fled their homes after the initial earthquake and a series of strong aftershocks, Mainali said.
"They are terrified that the aftershocks may come again," she said. "We are staying away from big walls, sitting in the middle of the road."
Donatella Lorch, a journalist who lives in Nepal, was driving her son to a pizza place when the quake struck.
"Initially I thought I had a flat tire, but then it was almost like you were being buffeted like a small boat in the ocean. The road was going in waves," she said. "Everyone else was driving erratically, slamming on the brakes, people screaming, motorcycles falling in front of us, trees completely bent in two."
Many buildings were destroyed in the center of Old Kathmandu, including ancient temples and towers, resident Prachanda Sual told the AP. The old part of Kathmandu city is a densely packed warren of lanes with poorly built homes crowded closely together.
Nepal has had a fair share of natural disasters. Its worst earthquake, a magnitude-8.0 in 1934, killed more than 10,000 people, according to the United States Geological Survey.
In China, hundreds of soldiers belonging to the Shigatse military garrison rushed to the border to help with Saturday's rescue, reported the Chinese Liberation Daily.
The USGS revised up the size of the earthquake from an initial 7.5-magnitude estimate.
— F. Brinley Bruton, Elizabeth Chuck and Audrey Kolina, with The Associated Press and Reuters