Climbers on Mount Everest ran for their lives on Saturday when a massive 7.9-magnitude earthquake struck Nepal and set off at least one deadly avalanche.
Jelle Veyt was just getting back to base camp when suddenly the earth "shook for a couple of seconds — badly," the Belgian climber told NBC News.
A sherpa just a few feet ahead turned and pointed behind him, Veyt recalled, saying he then turned around himself and saw a "huge cloud of snow" heading his way.
"I started running for my life....trying to be in a tent before it hit me," he said, telling NBC News he wasn't thinking about "much" other than running "as fast as I could to the tents" which were only about 200 feet away.
Before he could reach the tents Veyt said he felt a "huge blow."
"It felt like a wind in the back but more powerful," he said. Then, he said, he was "just surrounded by snow then. I couldn't see my own hands."
While Veyt said he first tried hiding behind a rock, he "felt like I couldn't breathe" so tried to make his way to the tent despite the "very low visibility."
"I was afraid not to find the tent and die there," Veyt told NBC News in a Facebook messenger interview.
He managed to find the tent and crawl inside, where others were trying to hold up the walls as the snow continued to hit.
Veyt said he and his team were all safe — but now the injured are streaming into the camp.
"I'm seeing people coming in who got hit by flying ice, fell because of running away even critical people with broken legs, bleeding," he told NBC News. He said one of the around 20 wounded was carried in by eight men, adding that the injured came from a variety of nationalities.
"I assume there are much more."
At least eight people died and more than two dozen were injured in the avalanche on Everest, the world's highest mountain, according to The Associated Press.
Carsten Lillelund Pedersen — a 45-year-old from Denmark — said that as a climber, he was "used to hearing avalanches," but knew almost right away that the "loud rumble" he heard Saturday was different.
"We had to stand still not to fall, and we then turned around and looked at the avalanche, froze for a few seconds and realized that this avalanche was like nothing we had ever experienced," he said. "It was so tall that we realized it could catch us."
"This is the first time I had to run for my life," he added.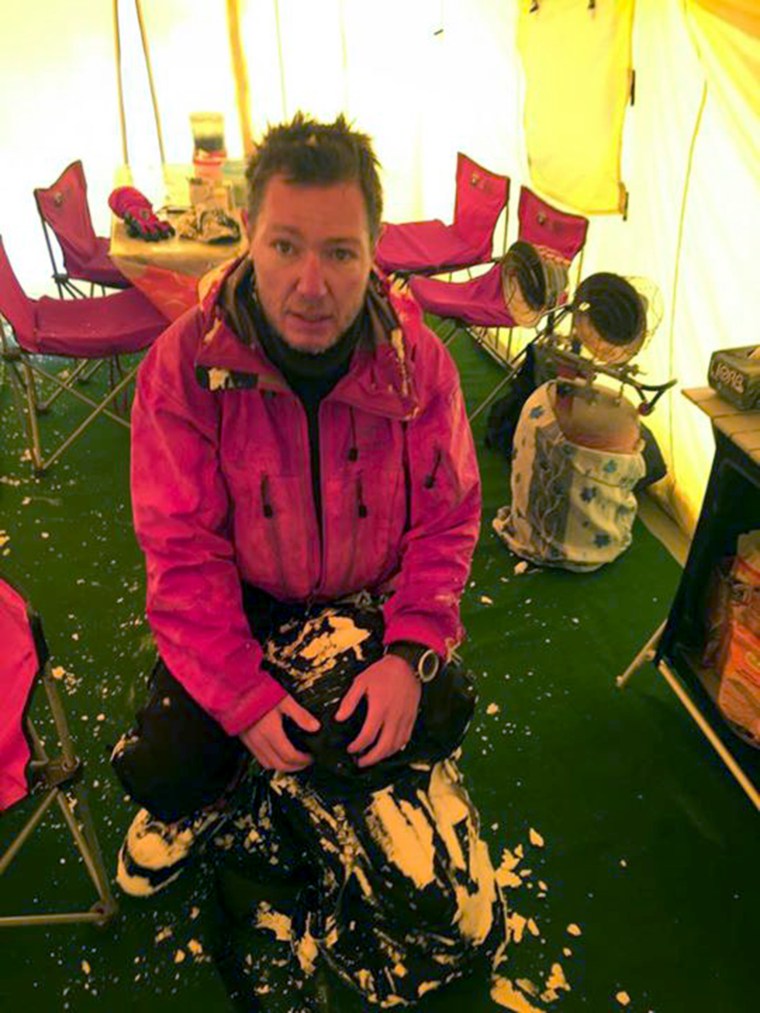 Pederson — who was with Veyt — hid behind a rock until the avalanche passed and he could make it into the tent.
He said his group had set up a temporary makeshift hospital in their old dining tent at base camp — and that so far at least 20 injured have come through.
"We are treating casualties — like smaller fractures to the head, shoulder injuries, etc," he told NBC News via a Facebook interview.
Pedersen said the more severely injured — including one man with "really bad" fractures who had been "blown off the mountain" were being taken to a larger group's tents. That group — International Mountain Guides — has "a lot more doctors," Pedersen explained.
"No injured can leave base camp it is snowing and bad visibility," he added.
Below, other climbers and mountaineers describe the horrific events.