With a sawed-off shotgun pointed straight at him, a New Mexico social studies teacher calmly talked a 12-year-old student into putting down his weapon -- and stopped the country's latest school shooting from being something much worse.
Two students were hurt -- an 11-year-old boy shot in the face and a 13-year-old girl, identified as Kendal Sanders, who was shot in the shoulder. Both were being treated Wednesday at a hospital in Lubbock, Texas. The boy was in critical condition, while Kendal was listed as stable in satisfactory condition.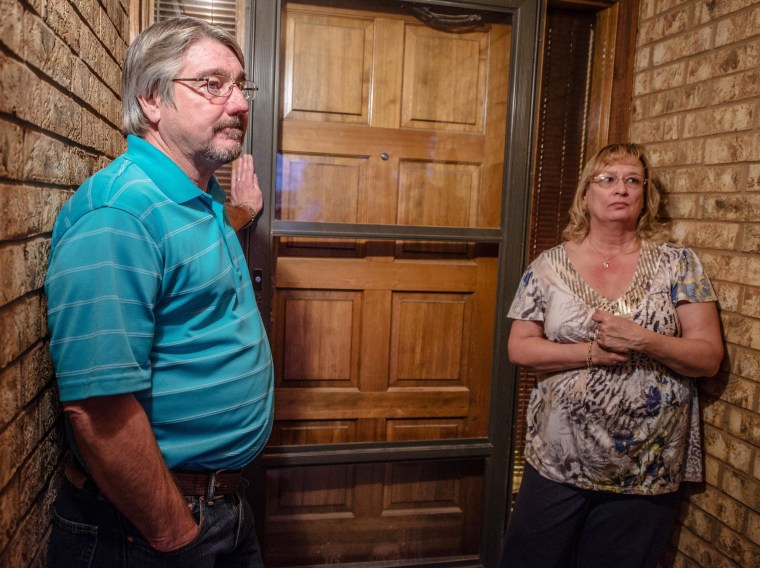 The shooting stopped when John Masterson, a social studies teacher at Berrendo Middle School in Roswell, calmly talked the boy -- identified in court documents Wednesday night as Mason Campbell -- into putting down his 20-gauge pump-action shotgun, police said.
Campbell, described as a "juvenile child," was charged Wednesday in Fifth Judicial District Court in Chaves County with three felony counts of third-degree aggravated assault with a deadly weapon. He was being held at Child Psychiatric Hospital in Albuquerque on the order of a judge.
In a statement Wednesday, Campbell's parents and grandparents said they were "heartbroken" and were praying for the wounded children.
Masterson has spent a decade at the school and coaches soccer and track. He told The Albuquerque Journal on Tuesday night that "it was a harrowing experience," but authorities have asked him not to speak further with reporters.
"He is an amazing man," said Gov. Susana Martinez, who met with Masterson. "He stood there and allowed the gun to be pointed right at him so there would be no more young kids hurt."
According to an account given by Martinez, the teacher was facing away from the shooter, and the shooter away from him, when the first shot was fired. The teacher thought it was a firecracker, she said.
The teacher wheeled around and saw the young man fire more shots before he pointed the gun at Masterson, she said. The teacher talked to him and urged him to put the gun down.
The shooter put the gun down and raised his hands, and Masterson put him up against a wall, the governor said. Just then, an off-duty state police officer arrived -- he was dropping his own son off at the school -- and they contained the student.
The teacher and the off-duty officer, Lt. Gary Smith, drew praise from authorities for their bravery.
"It's one thing for an armed state police officer to enter a school and do his or her job," said Pete Kassetas, the state police chief. "It's another thing for a teacher [or a] staff member to intervene."
Kassetas said at a news conference Wednesday afternoon that investigators had interviewed 60 direct witnesses and believed the boy not only planned the shootings but even warned some of his fellow students on his way into the gym.
Once there, just after 8 a.m. (10 a.m. ET), he pulled the weapon from a duffel bag and opened fire, apparently at random. Three shots were fired, Kassetas said -- one into the ceiling, one into the floor and the one directly into a crowd of students in the bleachers 12 to 15 feet away.
In police tapes released Wednesday, panicked callers to 911 described the scene.
One caller, who said the boy was dressed in purple, reported that "some kid walked in with a shotgun and just shot!"
The dispatcher asked: "Where's the person?"
Caller: "Berrendo Middle School in the big gym."
Dispatcher: "OK, do they still have the gun?"
Caller: "Yes, they still have it. He shot three shots, but he only hit one person."
Another, sounding as though he were crying, exclaimed, "Oh, my god!"
Caller: "Berrendo Middle School, a kid just got shot!"
Dispatcher: "Berrendo Middle School?"
Caller: "Berrendo Middle School -- someone just got shot!"
Dispatcher: "Where is he [the shooter]?"
Caller: "He's on the floor."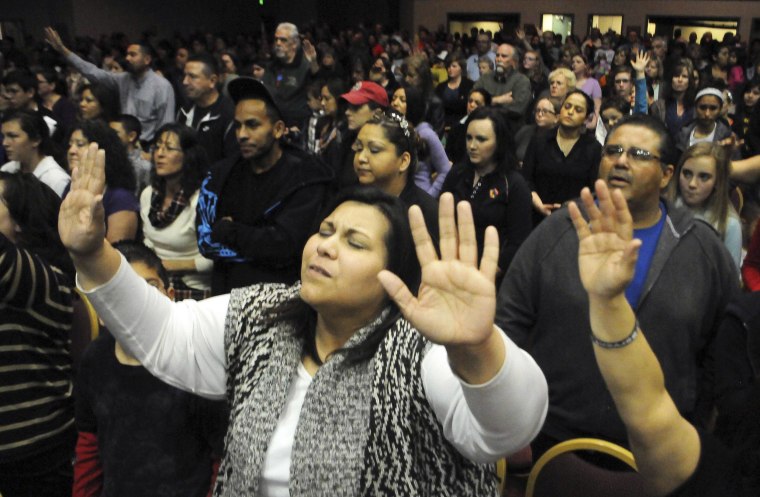 Nearly a dozen agents of the U.S. Bureau of Alcohol, Tobacco, Firearms and Explosives converged on the Campbells' home Tuesday afternoon, but they wouldn't say what they were looking for.
Margarita Macias, who lives next door, told KOB that Jim Campbell built her home. She described the Campbells as normal and nice and said neighbors were "absolutely stunned."
"I've never had any issues with their kids, and, you know, this thing -- that's why when the news broke out, I was in shock," she said. "I just could not believe that it could happen so close to home."
Miguel Almaguer, Alastair Jamieson and Sossy Dombourian of NBC News contributed to this report.