VATICAN CITY – Pope John Paul II seemed destined to become a saint from an early age.
At a seminary in Krakow, Poland, where a young Karol Wojtyla studied to become a priest, his fellow seminarians were so touched by his piety and devotion to Christianity that they famously wrote on his dormitory room, perhaps jokingly, "future saint."
Many decades later, in 2005, hundreds of Catholics reacted to the news of his death with cries of "Santo Subito!" Italian for "Sainthood Now!"
But not everyone has been impressed by the miraculous speed of his sanctification.
Some critics claim the "rushed" canonization of the popular John Paul II is a sign the Catholic Church needs new icons to revamp its reputation, marred by years of scandals. Others say John Paul II shouldn't be made a saint in the first place.
Fast-tracked?
The late pope seemed set to become a saint by popular demand, and in record-breaking time: a mere nine years after his death, he will be canonized by Pope Francis in an official ceremony in St. Peter's Square on Sunday.
Only St. Anthony of Padua, who was declared a saint one year after his death in 1231, was canonized faster than John Paul. But that was before the Roman Catholic Church introduced a strict process that takes years, if not decades, to complete before someone can be elevated to sainthood.
Officially, five years have to pass after somebody's death before the process can even start. That's how long it's supposed to take to establish whether the candidate lived a life of "heroic virtue."
But John Paul II was no ordinary Catholic. Soon after his death, his successor, Benedict XVI, waived the five-year requirement, effectively fast-tracking the beatification and subsequent canonization process. The late pope, it was argued, was a living saint, and the proof of his life of virtue had been in front of everybody's eyes for decades.
'Rubs salt into the already deep wounds'
Barbara Blaine, president of the Survivors Network of those Abused by Priests (SNAP), is one of many who believe John Paul's slow response to the child abuse scandal that came to light during his tenure should disqualify him from sainthood.
"John Paul II had the opportunity to stop violence and refused to do so," Blaine told NBC News in St. Peter's Square on Friday. "He was more interested in the reputation of church officials than in the protection of children."
Blaine has been in St. Peter's Square for several days handing out a pamphlet that explains why SNAP is against the canonization.
"For Pope Francis and Catholic officials to honor John Paul II with this exalted title is extraordinarily heartless and unwise. It rubs salt into the already deep wounds of tens of thousands of still-suffering clergy sex abuse victims and their loved ones across the globe," says the pamphlet.
Blaine added Friday, "We are sad John Paul II will be called a saint. I think it's more important to honor the victims, not wrongdoers."
'A great reformer'
George Weigel, NBC News' Senior Vatican Analyst, disagrees. He doesn't think John Paul II was made a saint too quickly, or wrongly. "John Paul II was a great reformer of the priesthood. And when he had the information he needed, he acted decisively in response to the crime and sin and clerical sexual abuse," said Weigel.
"Hundreds of thousands of people were baptized or freely joined the Catholic Church at Easter; that suggests that reports of the church's 'image problem' are greatly exaggerated," Weigel added. "Pope Francis has, among many other things, reminded the world that it needs a pastor, whether the world knows that or not."
An estimated 1 million Catholics who share Weigel's view have already arrived in Rome to celebrate the pastor John Paul once was, and the saint he is about to become.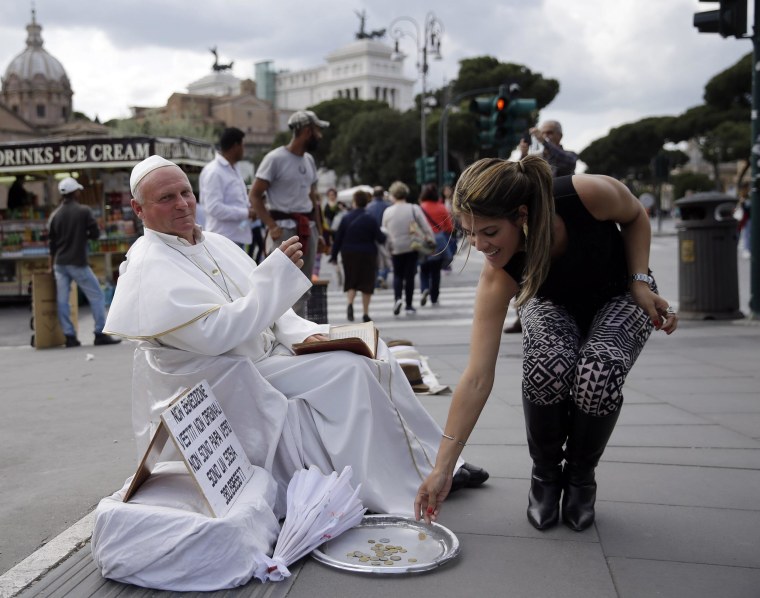 Either way, Rome has already claimed John Paul as one of its own – especially given his nearly 30-year tenure in the Eternal City. He was the longest reigning pope in modern history.
The cobblestone street that links the Imperial Forum to the Colosseum is Rome's very own walk of fame. Here, statues of Emperor Caesar and Augustus rub shoulders with gladiator impersonators who charge tourists a hefty fee for a photo.
But in the past few days, a new character has made a quiet appearance: a man dressed in a white cassock and cap sits by the Roman ruins, with a sign by his side that reads: "I am not a real pope."
His vague resemblance to John Paul II has made him an instant hit with tourists and Italians alike who have lined up to take a picture with him. Time will tell if after Sunday he changes his sign to read: "I am not a real saint."