A prosecutor said Wednesday that Joyce Mitchell, the New York prison worker charged with helping two killers escape, discussed with the two men a plot to kill her husband.
"The information we have from Joyce Mitchell is that that plot had occurred," District Attorney Andrew Wylie told reporters. "And that's all I'll speak about."
NBC News reported earlier this week that investigators were looking into the possibility of such a plot.
The confirmation came as authorities released computer-enhanced images of what the two killers, Richard Matt and David Sweat, might look like after nearly two weeks on the run.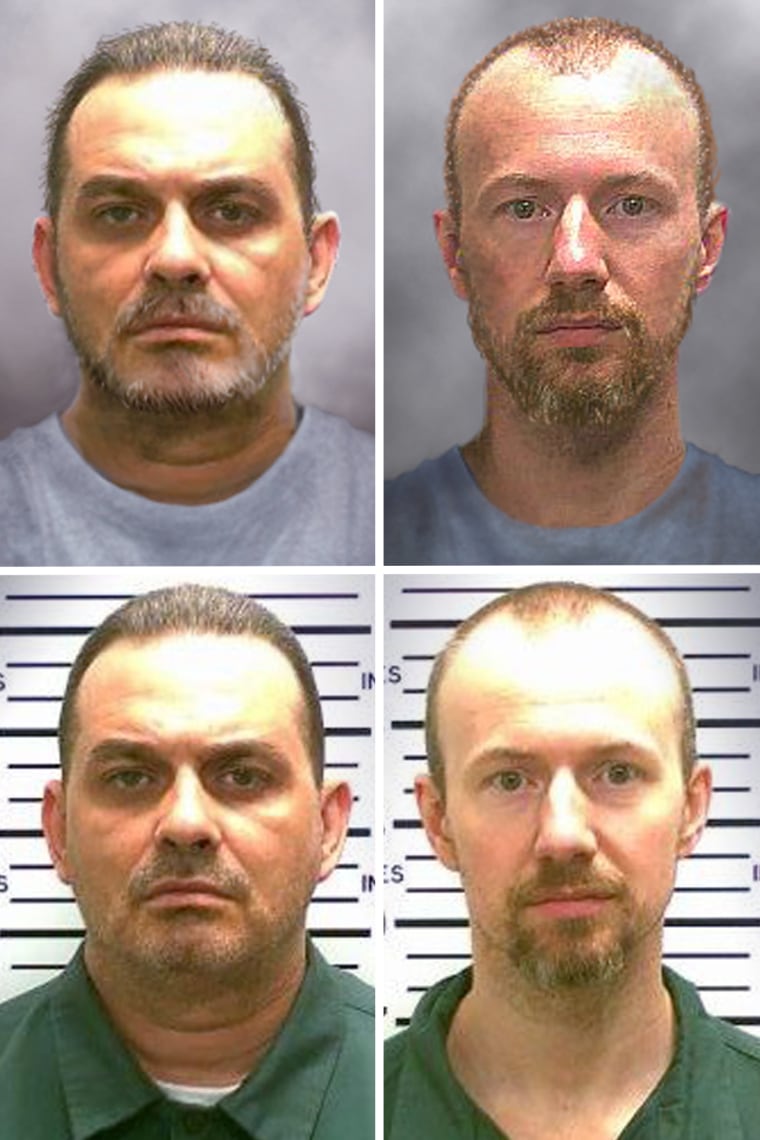 Mitchell is jailed on charges that she supplied tools to help Sweat and Matt bust out of their cells. She has pleaded not guilty.
A sheriff's official described her as "rather composed" and said, "She watches the media. She sees what's happening."
Her husband, Lyle, visited her behind bars on Tuesday for the first time. His lawyer knocked down claims that he was standing by his wife.
"Nothing could be further from the truth," said lawyer Peter Dumas, adding that his client said, "There's no way I'm standing behind her."
Wylie said Wednesday that authorities had no reason to believe that Lyle Mitchell helped in the escape.
A senior New York official told NBC News that authorities have received no solid intelligence for four days in the search for Richard Matt and David Sweat, the killers who staged a daring escape from Clinton Correctional Facility on June 6.
State authorities said they were expanding the search and shifting it to other areas around Dannemora, the prison town. Maj. Charles Guess of the New York State Police said the search was expanding "in all cardinal directions" and officials were looking at "viable high-speed avenues" that the killers might have used.
Authorities also reopened a state road that was closed June 10, after police dogs picked up the suspects' scent.
"We have no information that they have been able to leave the area," Capt. Robert LaFountain of the New York State Police told reporters. But he said that doesn't mean they haven't left the area, either.
RELATED: Brazen Escape Isn't the Only Troubling Thing About N.Y. Prison
Hundreds of federal, state and local law enforcement officers have combed more than 10,000 acres, or 16 square miles, and fielded more than 1,200 leads.