Hundreds of law enforcement officers have combed thousands of acres. Investigators have looked at more than 1,300 tips. Police and helicopters have swarmed toward what looked like promising leads.
And yet, more than a week and a half after killers Richard Matt and David Sweat sawed and shimmied their way out of Clinton Correctional Facility in upstate New York, there has still been no confirmed sighting of the fugitives.
The trail has gone cold.
The New York State Police on Wednesday released computer-enhanced photos of the men, trying to estimate what they might look like after being on the run, and authorities insisted they would not relent in their hunt.
"We are going to pursue every lead," vowed Capt. Robert LaFountain of the New York State Police. "And we are going to locate these individuals."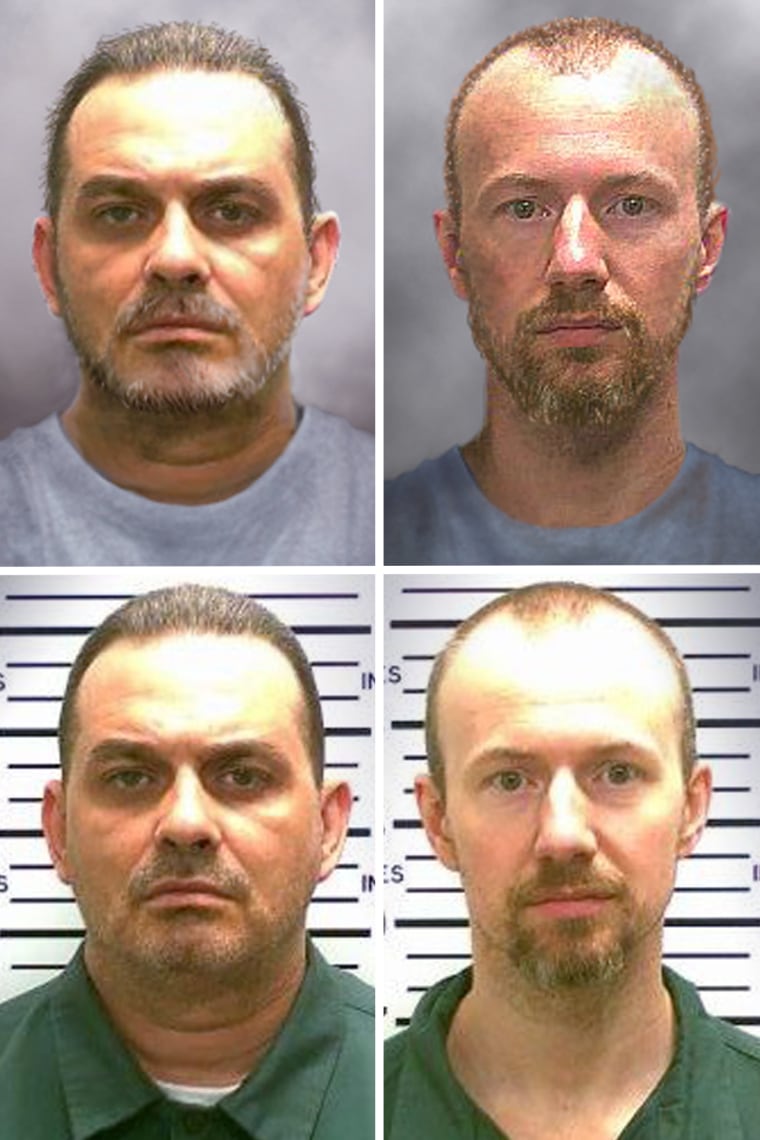 Still, a senior New York official told NBC News late Tuesday that it had been four days since authorities had any solid intelligence about the whereabouts of Matt and Sweat. Authorities appeared to have no real idea where they might be.
Hopes have been raised more than once during the confounding manhunt. But each time, those hopes were dashed.
— Four days in, hundreds of law enforcement officers swarmed the town of Willsboro, half an hour from the prison, and walked shoulder-to-shoulder through the woods looking for Matt and Sweat. A tip had come in about two men walking on a road.
— The governor of nearby Vermont ventured that the killers might have headed for a camp in his state, believing that the law enforcement presence there would be "cooler" than in New York.
— A cab driver as far away as Philadelphia told police on June 12 that he thought he had picked up two men matching the killers' description, then dropped them off at the train station. Police later said the tip was not credible.
— Authorities closed a state road near the prison after police dogs apparently picked up the men's scent. But that led to nothing, and rain in the search zone since then has probably diminished or washed away any scent the men might have left.
On top of those dead ends, it's possible that guards could have thwarted the prison break before it even started.
Several sources told NBC News on Tuesday that officials had requested a full lock down and search of the New York prison following a melee there a week before two convicted killers escaped — but the request was denied, several sources told NBC News.
One person is in custody: Joyce Mitchell, a prison tailor shop instructor who authorities have said was going to drive for Matt and Sweat to freedom, so they could "move on together," until she got cold feet.
She has been charged with providing blades, chisels and other tools to the two killers. She has pleaded not guilty.
Andrew Wylie, the district attorney for Clinton County, confirmed Wednesday that Mitchell has also told investigators about a murder-for-hire plot — that Sweat and Matt would kill her husband, Lyle.
Authorities told the public on Wednesday to stay vigilant, and they insisted that the 12 days of the hunt so far have not been wasted time. In the immediate search zone around the prison, officers have walked about 10,000 acres of land, or 16 square miles.
"We have no information that they have been able to leave the area," LaFountain said. "That being said, it doesn't mean that they haven't been able to escape this area."
Maj. Charles Guess of the state police said authorities were expanding the search "in all cardinal directions," focusing on "viable high-speed avenues" that Matt and Sweat might have used to get away.
The good news, said Lenny DePaul, the former commander of the New York and New Jersey regional fugitive task force for the U.S. Marshals Service, is that all the killers have to do is slip up once.
That can mean something as dramatic as a robbery or carjacking or something as small as a discarded food wrapper.
"Their faces are everywhere," said DePaul, who is not involved in the manhunt. "They'll slip up. The dust will settle. They'll make a call. They'll do something. Somebody will say something. There's plenty of stuff going on behind the scenes that's not really out there."
He drew a distinction between the manhunt, thus far empty-handed, and the investigation. Authorities are still talking to anyone who might have known Matt and Sweat — who called them in prison, who visited them. A break could come any day, he said.
"It's a marathon, not a sprint," he said. "We'll catch up to them."