The trail's gone hot.
DNA from both of the two escaped New York prisoners was found at a burglarized cabin in a rural town about 20 miles from the prison leading authorities to believe they are still traveling together more than two weeks after they broke free, according to a source with knowledge of the investigation.
The search for the men, Richard Matt and David Sweat, focused on the town of Owls Head after the DNA was found on Saturday.
At a press conference, Maj. Charles Guess of the New York State Police would not confirm the DNA find. He said only that "specific items" had been recovered from the cabin and forwarded to the appropriate authorities.
He also declined to say whether it was the strongest lead since Matt and Sweat were reported missing on June 6. "This is a confirmed lead for us," he said. "We're going to run this to ground."
Police announced they were wrapping up their search in southwest New York, near the Pennsylvania state line, where a witness had reported spotted two men on a railroad line. About 300 law enforcement officers searched the area and found it to be clear.
Investigators and military trucks converged on Owls Head and the nearby community of Mountain View after the owner of the cabin saw someone fleeing on Saturday.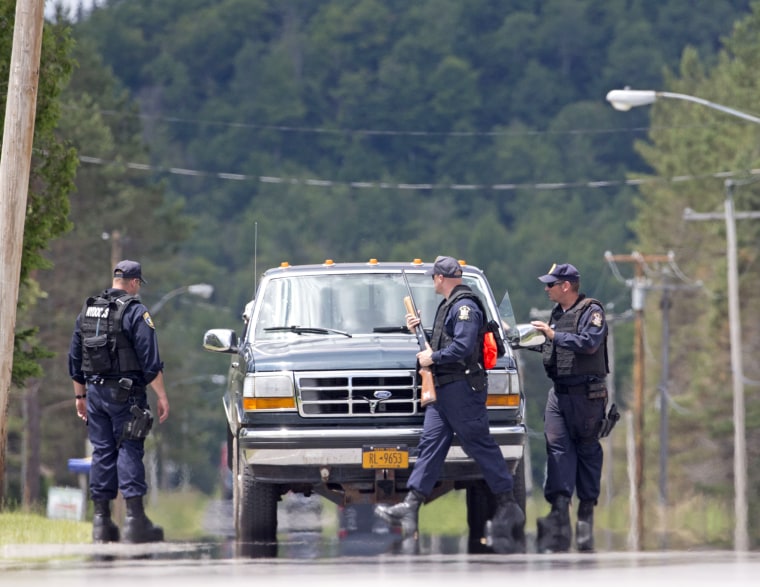 The hunting cabin is deep in the woods and not near a road, said Glenn McNeil, the acting district attorney for Franklin County.
New York state police warned hunters returning to their seasonal cabins in the area to alert authorities immediately "if anything is out of place."
Witnesses told NBC station WPTZ that helicopters have been in the air and checkpoints are in place on roads in the area.
"There definitely is a lot of law enforcement," Terry Bellinger, owner of Belly's Mountain View Inn in Owls Head, told the Press-Republican newspaper of Plattsburgh.
Bellinger told NBC News he thought authorities might have trouble locating Matt and Sweat if they're in the woods. "I don't know where you'd start. It's dense," he said.
Over the weekend, 300 officers searched the two towns of Amity and Friendship, more than 350 miles away. It followed another credible reported sighting of two men resembling Sweat and Matt near a railroad line.
Vermont State Police told NBC News that its Tactical Support Unit had moved to the New York at the request of local officials. The unit "responds to calls involving barricaded subjects, suicidal individuals, hostage incidents, hostage incidents, high-risk warrants, and active shooters."
New York State Police said in a news release late Sunday that "a primary focus of the search" is still the area around Dannemora, where the two convicted murderers used power tools to escape the maximum security Clinton Correctional Facility.
"We will search under every rock, behind every tree and structure until we are confident that that area is secure," State Police Maj. Michael J. Cerretto said at a news conference.
Sweat, 35, was serving a life sentence without parole for killing a sheriff's deputy. Matt, 48, was doing 25 years to life for the 1997 kidnapping, torture and hacksaw dismemberment of his former boss.
Prison worker Joyce Mitchell remained in custody on charges she helped the two men escape by providing them hacksaw blades, chisels and other tools. She has pleaded not guilty.
A corrections officer also has been placed on administrative leave as part of the investigation into the men's escape.
On Thursday, the U.S. Marshals Service placed Matt and Sweat on its 15 Most Wanted fugitives list in the hope of generating new leads.
New York state is offering a reward of $50,000 each for information that leads to the capture of one or both men, and the U.S. Marshals are offering a reward of up to $25,000 each.