A guard at the New York prison where two convicted killers escaped earlier this month accepted artworks from them in return for tools, according to court documents.
Gene Palmer is alleged to have later destroyed the paintings — burning some of them in a fire pit at his home and burying others in woods nearby — after Richard Matt and David Sweat escaped the Clinton Correctional Facility in Dannemora on June 6.
Palmer was charged Wednesday with promoting prison contraband in the first degree (a class D felony), two counts of tampering with physical evidence (a class E felony) and one count of official misconduct (a class A misdemeanor). The charges carry prison terms ranging from 15 months to seven years.
The documents allege that Palmer provided a flat-head screwdriver and needle-nose pliers on "at least four separate occasions" beginning as early as November 2014. According to the complaint, this was a result of Palmer receiving paintings from the Matt and Sweat.
An ex-inmate provided NBC News with photos of artwork created by Matt: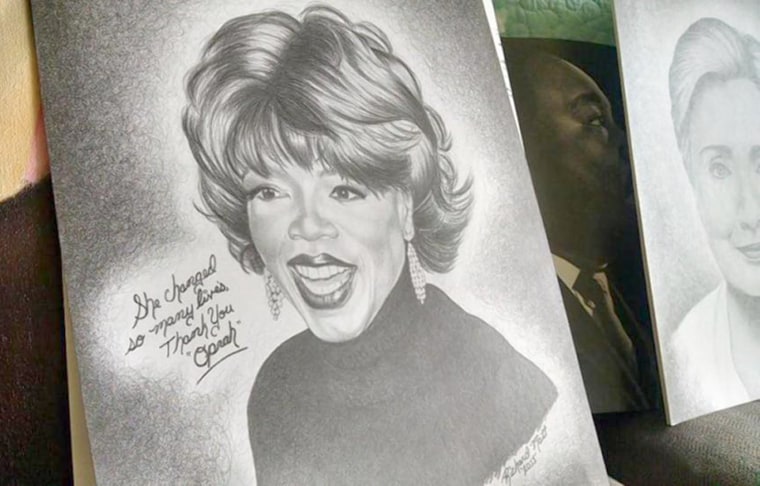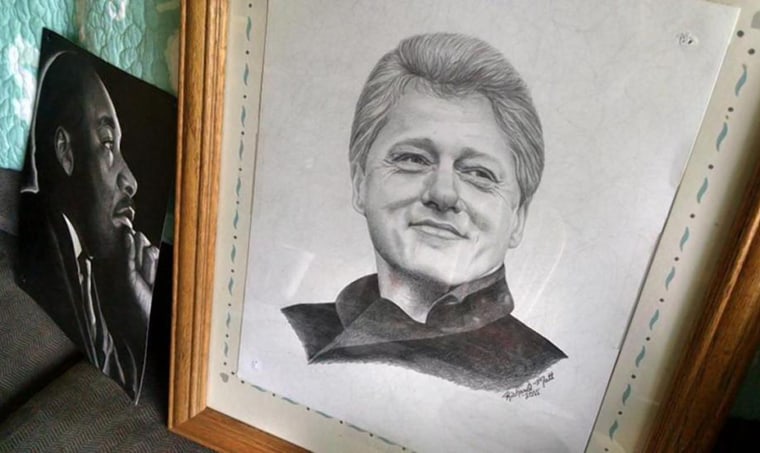 The 57-year-old is the second employee at the facility to be arrested in connection with the daring jailbreak.
Prison seamstress Joyce Mitchell has been charged for her alleged role in a plot that involved her hiding hacksaw blades, drill bits and a hole punch inside raw beef that she brought into the facility. Mitchell has pleaded not guilty.
on Wednesday, Palmer's attorney Andrew Brockway said his client admitted passing on the meat but had no idea it was concealing contraband. Brockway added that his client had been "completely cooperative with the investigation" and "wants these individuals caught."
The guard, who worked in the cell block where Matt and Sweat escaped, was arraigned Wednesday night in Plattsburgh Town Court. A second hearing was scheduled for Thursday afternoon and Brockway told NBC News that his client would plead not guilty.
Bail was set at 50,000 bond or $25,000 cash bail. Palmer posted bail and was released at 12:27 a.m. Thursday, an official at the Clinton County Jail said.
Meanwhile, the 19-day search for the two escapees took a twist Wednesday with the revelation that the men's DNA was found in a burglarized hunting cabin about 20 miles south of the prison, according to a source with knowledge of the investigation.
Authorities have been unable to establish whether the men took guns or ammunition from the building near Owls Head, with Major Charles Guess of New York State Police telling a press conference that the cabin does "not have a definite number of weapons, so they cannot tell us what is missing and what is not."
Guess said searchers were scouring a 75-square-mile area of tough terrain in Franklin County featuring steep slopes, thick bogs and heavy undergrowth. Investigators and military trucks have converged on Owls Head and the nearby community of Mountain View after the owner of the cabin saw someone fleeing on Saturday.