Josh Parker has a plan in case his family encounters the killers who busted out of maximum-security prison not far from his house.
He taught his daughters how to use a chair to smash a window, and how to tip over a dresser to block the door to the safe room. He has instructed them to run to the neighbors for help. The neighbors, avid hunters, are heavily armed.
Every night when he comes home from work, Parker has his wife and daughters wait outside while he sweeps the house first — with a gun.
"Kind of surreal," he said.
Parker and his family live in Cadyville, in a quiet, wooded corner of upstate New York not far from where David Sweat and Richard Matt made their daring escape from Clinton Correctional Facility six days ago.
On Thursday, after a police dog apparently picked up the killers' scent, law enforcement officials swarmed the village. Parker told NBC News he saw five men, in camouflage and carrying M-16 rifles, come out of the woods with a German shepherd.
Parker works at a car dealership about 40 miles away, but he stayed home on Thursday because school was canceled for the daughters. He described the scene near his home as a "war zone without all the firing."
"This is something we never thought we would see," he said.
Related: 'She Thought It Was Love': Prison Worker Charmed by Escapee
The hunt for Sweat and Matt has expanded since Saturday, when authorities discovered that they had cut the steel walls of their prison cells, shimmied through the works of the building and popped out of a manhole to freedom.
The governor of next-door Vermont warned that the killers were desperate and would not hesitate to harm people. And as far away as Philadelphia, a cab driver reported that he might have seen the escapees. Police investigated and dismissed the tip.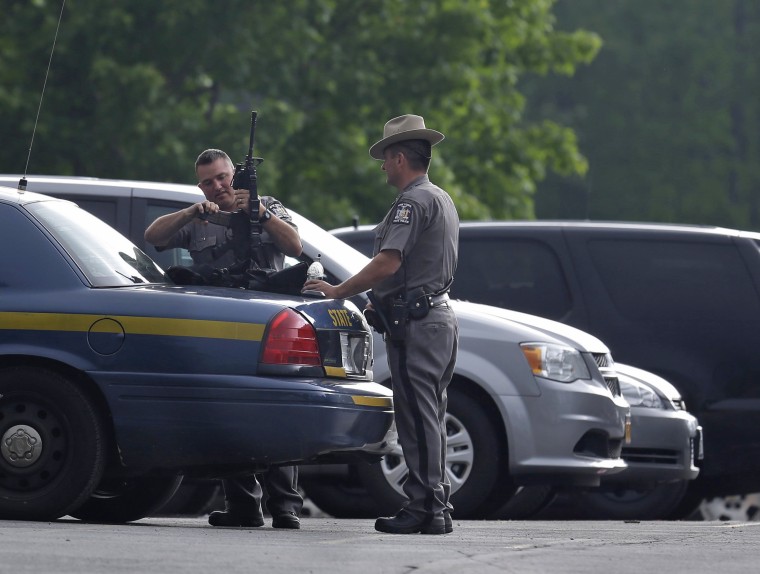 On the sixth day, the search was concentrated on a rough triangle covering about three miles around the manhole. A state road was closed from Dannemora, New York, the prison town, through Cadyville to West Plattsburgh.
Officers of the New York State Police, U.S. Customs and Border Patrol and the state Department of Corrections stood 100 yards apart, some with shotguns, others with assault rifles.
Rita Breen, who lives in Cadyville, said that her family is mostly staying in the house and feels secure with so many police officers around. But she said the search has everyone on edge.
"It's frightening, and we hope they get these guys soon," she told NBC News. "Anyone could hide in the woods. The brush is all grown very high."
She said people who live nearby were mostly keeping to themselves: "We see each other going in and out of our houses. We know we're doing OK."
Beth Montville's house in Cadyville is outside the closed-off zone. Her street is being used as a traffic detour. She said it was stressful, with "lots of helicopters" buzzing overhead.
"We're just trying to keep everything locked up," she said. "Our kids are scared. They're informed about what's going on."
She spent the day Thursday with the two children, home from school. She expected school to be canceled on Friday, too.
"Our day-to-day life has been so different. It's been like this for the past six days," she said. "We're just trying to live a normal life."