The New York prison seamstress who helped two inmates escape by smuggling breakout tools in frozen meat pleaded guilty Tuesday in a deal that protects her from potential rape and murder conspiracy charges.
Wearing a black-and-white prison jumpsuit and with her hands shackled, Joyce Mitchell, 51, somberly pleaded guilty to bringing contraband into the Clinton Correctional Facility in Dannemora, a felony, and to criminal facilitation, a misdemeanor.
"Guilty," she said in a whisper after the judge asked for her plea.
The agreement means Mitchell won't face additional charges for an alleged plot to kill her husband or for any sexual contact with the inmates, David Sweat and Richard Matt, which could have resulted in a rape count, Clinton County District Attorney Andrew Wylie said.
The felony contraband charge carries a sentence of 2-1/3 to 7 years in prison, but Mitchell's lawyer said she is unlikely to be locked up for more than 4 years with time off for good behavior. She will be formally sentenced Sept. 28.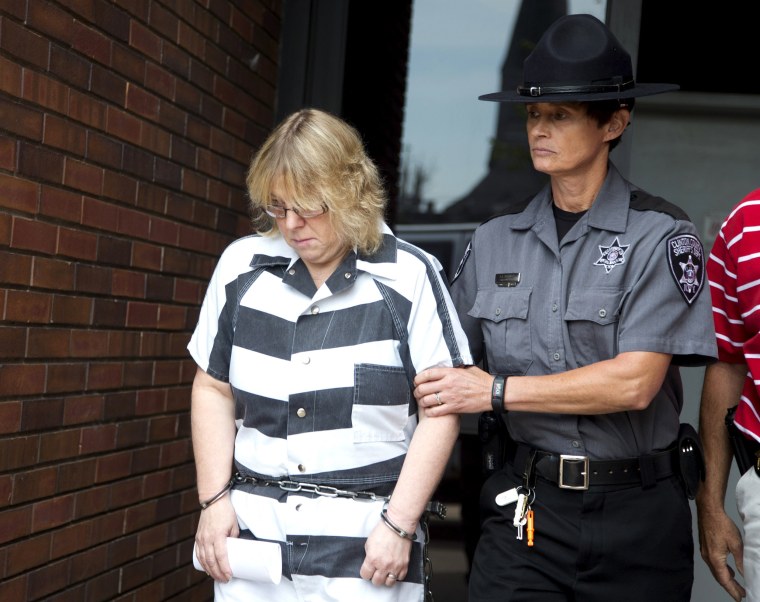 By accepting the plea deal, she waived her right to appeal, and she agreed to cooperate with the ongoing investigation by the state Inspector General's office, which had staffers at the court hearing.
"Because the evidence was so overwhelming ... she wanted to expedite her case proceedings and move on with the matter," Clinton County District Attorney Andrew Wylie said outside court.
Wylie said he could not convict Mitchell solely on her statements to investigators and it was in the "interests of justice" to cut a deal with her.
Mitchell's lawyer, Stephen Johnston, said he does not believe his client was part of any conspiracy to murder her husband, who was in the courtroom for the arraignment.
He said he took the deal because he was worried prosecutors could slap Mitchell with a new charge for every time she smuggled contraband into the prison.
Mitchell provided chisels, hacksaw blades, a punch and screwdriver bits to Matt and Sweat, and allegedly planned to drive their getaway car the night of June 6 but stood them up.
She secreted the tools in the hunk of meat, brought it to the prison, and handed it off to a corrections officer who delivered it to Matt and Sweat, officials say.
In an escape that recalled the movie "The Shawshank Redemption," the convicted killers cut through their cell walls and hacked into pipes to get into an underground tunnel system that led to a manhole.
They spent nearly three weeks on the run in the woods near the Canadian border before authorities caught up to them.
Matt was shot and killed by a tactical team of law enforcement officers in Malone on June 26, while Sweat was captured and shot in nearby Constable on June 28.
By then, Mitchell was already in custody. She was grilled by investigators for more than 20 hours over the course of a week, s source said.
Mitchell's husband, Lyle, previously told TODAY that after she was arrested, his wife admitted she gave the prisoners tools to saw through their cells but denied she had a sexual relationship with either of them.
The inmates wanted her to hurt him so she could flee with them, but she balked, Lyle Mitchell claimed.
"She said: 'I love my husband, I am not hurtin' him'," he told TODAY. "She said, "Then I knew I was over my head."
The DA said he is still pursuing charges against Sweat, even though he is already serving life without parole for a murder.
"I cannot hit him any harder than he has been hit," Wylie said.
The officer who allegedly took the meat from Mitchell and gave it to the inmates — who had no idea there was an escape plot, according to his lawyer — has been charged but has rejected a plea deal, the prosecutor said.
Wylie said he does not expect anyone else will be charged in connection with the escape.