Former prison seamstress Joyce Mitchell sobbed as she was sentenced Monday to up to seven years in prison for helping two convicts escape with tools smuggled in hamburger meat.
"If I could take it all back I would," Mitchell said in a choked voice. "I live with regret every day and will for the rest of my life."
She said she only helped the inmates, David Sweat and Richard Matt, because she feared they would hurt her family.
"I just don't find that explanation credible," Clinton County Court Judge Kevin Ryan told her as he imposed a sentence of 2-1/3 to 7 years in prison on a contraband count.
Mitchell, 51, pleaded guilty in July in a deal that allowed her to sidestep charges for an alleged plot to kill her husband and for any sexual contact with Sweat and Matt.
Even though the actual sentence was already set as part of the plea bargain, Mitchell suggested to the judge that he might go easier on her, suggesting she would wear an ankle bracelet for the rest of her life.
"I'm hoping you will have mercy on me," she said.
Ryan noted that he had received letters from the public urging him to give Mitchell a stiffer sentence and explained she was getting the maximum for the charge in her plea.
Prosecutors are also seeking restitution of almost $120,000 to cover the cost of repairing the cell walls that Matt and Sweat cut through to bust out of the Clinton County Correctional Facility on June 6.
Mitchell's lawyer objected to the sum, which will be the subject of a hearing at a later date — and he also suggested that Matt and Sweat may have had other accomplices who have not been caught.
"I believe there was other assistance somehow provided to these men," the defense lawyer. Stephen Johnston told the judge. Prosecutors say there is no evidence of anyone other than Mitchell helping the men.
Mitchell supplied the inmates with a drill bit and hacksaws that she smuggled in meat, according to authorities. They cut holes in their cells, hacked their way through underground pipes, and crawled out through a manhole.
In an exclusive interview with TODAY, Mitchell said the two men — both serving life for murder — wanted her to meet them after the escape with a getaway car.
"I was supposed to come up and park by the manhole that they were gonna be coming out of. And I was supposed to pretend that I was making a phone call while they were coming out," she said.
"I was supposed to bring clothes for them. I was supposed to bring a tent. I was supposed to bring a shotgun."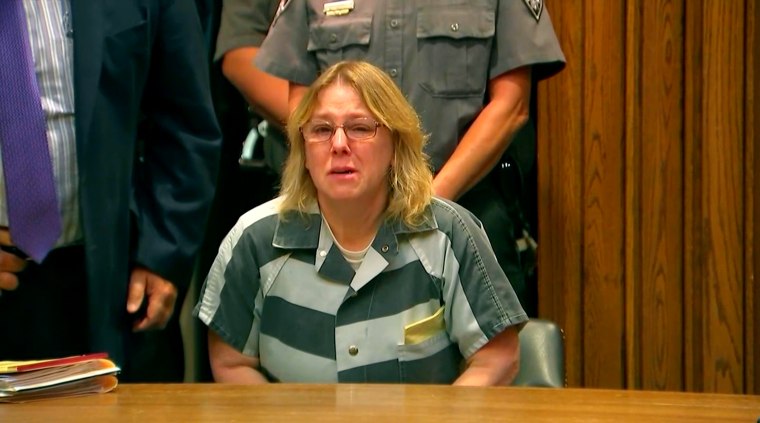 Mitchell said she didn't show up because she believed that they planned to kill her and her husband, Lyle, before taking off.
After a three-week manhunt, Matt was shot dead while on the run, and Sweat was shot and captured two days after that.
Mitchell's husband, Lyle, said he is standing by her and will wait for her to serve her sentence.
"My wife has a heart of gold," he told TODAY. "That's her biggest downfall."
The courtroom spectators at Monday's sentencing included Lyle Mitchell — and the fiancee of Joyce's first husband, who said she was hoping for a harsher punishment.
"She put a lot of people in danger," Tracy Sardegna said, adding that she didn't think Mitchell's tearful expression of remorse was sincere.
"She's just feeling sorry for herself," she said.