A New York prison seamstress helped two inmates escape by smuggling tools into prison inside of ground beef, a local prosecutor told NBC News Tuesday.
Clinton County District Attorney Andrew Wylie, whose office is prosecuting the escape plot of Richard Matt and David Sweat, said the prison tailor shop instructor embedded hack saw blades, drill bits and a hole punch in the meat before bringing it into Clinton Correctional Facility.
The convicted killers burrowed out of the maximum security prison in Dannemora, New York, on June 6.
Joyce Mitchell, who has been charged with providing escape tools to the fugitives, outlined the scheme in interviews with investigators, Wylie said.
After smuggling the meat and metal mixture into the prison, Mitchell put it in a refrigerator in the tailor shop where she worked with Matt and Sweat, Wylie said.
Wylie said it isn't uncommon for prisoners to have hot plates or other cooking equipment in their cells to grill raw meat and other provisions.
A corrections officer named Gene Palmer then allegedly took the meat to Matt, the prosecutor said.
Palmer was placed on administrative leave in response to the revelations. He has not been charged.
He denied to investigators that he knew he was delivering tools to Matt and Sweat, Wylie said. He took a polygraph and passed.
Mitchell told investigators she didn't think Palmer knew what was hidden in the ground beef, Wylie said.
Authorities have said Mitchell had planned to drive Matt and Sweat to freedom, so they could "move on together," until she got cold feet.
Mitchell has also told investigators about a murder-for-hire plot — in which Sweat and Matt would kill her husband, Lyle.
She has pleaded not guilty.
Meanwhile, there was a brief flurry of police activity Tuesday afternoon in a small Adirondack Mountains town about 30 miles west of Dannemora, raising hopes that authorities had finally caught up to Matt and Sweat.
But the activity in Mountain View seemed to subside, and the search continued.
The activity occurred near a burglarized cabin where searchers over the weekend found DNA of Matt and Sweat. The evidence included a pair of underwear worn by one of them, NBC News confirmed.
DNA of both of the men was found in the cabin in the town of Owls Head, leading authorities to believe they were still traveling together two weeks after their escape. That lead followed days of trails going cold.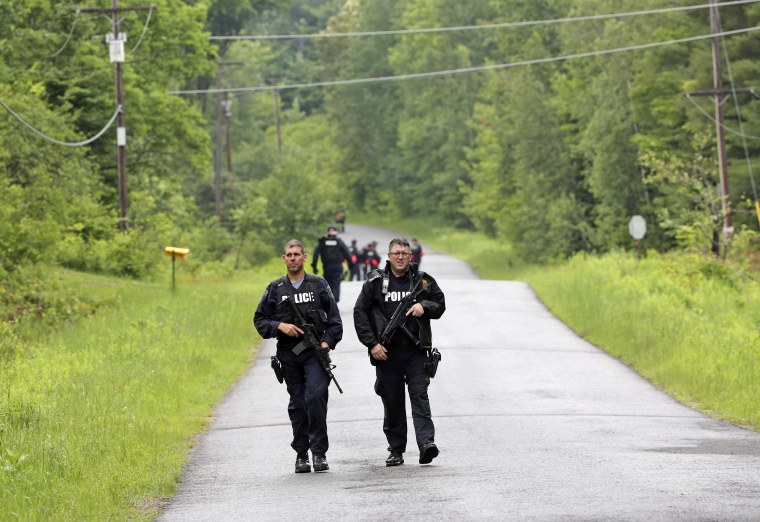 Since the escape, hundreds of searchers have painstakingly walked thousands of acres of land in and around Dannemora, much of it densely wooded and mountainous. They've also gone through countless homes and buildings.
There have been several previous potential sightings that have raised hopes that the fugitives would be captured. Each time, searchers have come up empty.
Over the weekend, 300 officers searched the two towns of Amity and Friendship, more than 350 miles away. It followed another credible reported sighting of two men resembling Sweat and Matt near a railroad line.
On top of those dead ends, it's possible that guards could have thwarted the prison break before it even started. Several sources told NBC News that officials had requested a full lock down and search of the New York prison following a melee there a week before two convicted killers escaped — but the request was denied, several sources told NBC News.
On Thursday, the U.S. Marshals Service placed Matt and Sweat on its 15 Most Wanted fugitives list in an attempt to generate new leads.
New York state is offering a reward of $50,000 each for information that leads to the capture of one or both men, and the U.S. Marshals are offering a reward of up to $25,000 each.