Joyce Mitchell, the New York prison worker being questioned in the escape of two murderers, was charmed by one of the inmates and planned to be their getaway driver until she got cold feet, sources familiar with the case told NBC News.
One of the inmates, Richard Matt, established a relationship with Mitchell over a couple of months, the sources said.
"She thought it was love," one said.
Instead of being the getaway driver, Mitchell went to the hospital and checked herself in, the sources said. As NBC News has previously reported, Mitchell checked in on Saturday, the day the inmates were reported missing, with "a case of nerves."
Authorities in New York, Vermont and elsewhere were still searching on Thursday for Matt and David Sweat, who cut through the steel walls of their cells, crawled through a pipe and emerged from a manhole near the prison.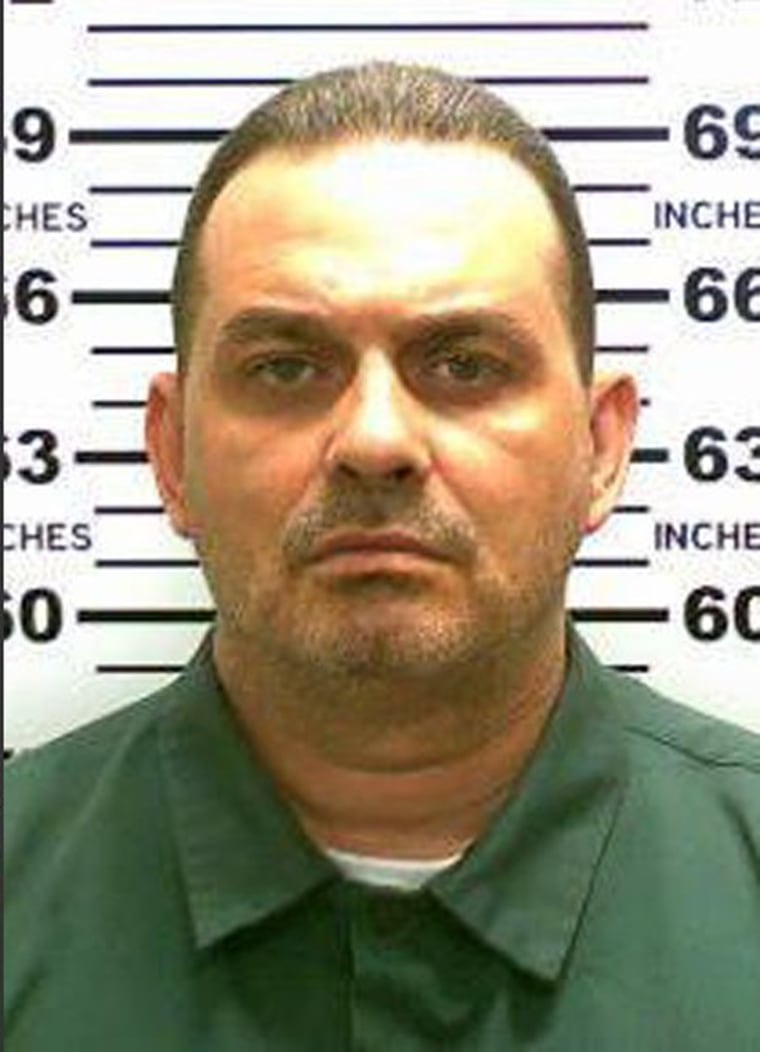 Two sources told NBC News that Mitchell will be charged, although the exact charges were not immediately known.
Mitchell works in the tailor shop at the prison, Clinton Correctional Facility in Dannemora, New York. On Wednesday, the superintendent of the New York state police said that she had "befriended" the inmates.
Her son, Tobey, told NBC News exclusively on Tuesday that his mother never would have helped the two escape.
"She is not the kind of person that's going to risk her life or other people's lives to let these guys escape from prison," he said.
Asked whether his mother might have been taken advantage of, he said: "I don't know. I mean, they both are convicted murderers. I mean, you have an inmate that is in prison for life, you really don't have anything to lose."
Former inmates at Clinton told NBC News they were shocked that such a relationship could develop. Over time, prison workers can become friendly with inmates — offering a spare cigarette, say — but most keep a cool distance, they said.
As the hunt entered its sixth day on Thursday, a state road near the prison was closed, and at least one helicopter hovered nearby. Authorities warned a day earlier that the escapees might have headed for Vermont, and Canadian authorities were expanding their search.
Matt, 48, was doing 25 years to life for killing a businessman for whom he had worked. Sweat, 34, was sentenced to life without parole for the 2002 killing of a sheriff's deputy.
The suggestion that Mitchell might have helped the men escape calls to mind a case from Oklahoma: Bobbi Parker, a prison warden's wife, was found guilty of helping a convicted killer escape in 1994.
Prosecutors said Parker fell in love with the killer, Randolph Franklin Dial, while they worked together in a prison pottery program. They were found living together on a Texas chicken farm in 2005. Parker served six months in prison. Dial died in prison in 2007.