Dallas Cowboys running back Ezekiel Elliott is facing backlash after video posted online Monday purportedly shows the star player pulling down a woman's top and exposing one of her breasts at a St. Patrick's Day parade.
While the Cowboys and the NFL have not addressed Saturday's incident in Dallas, domestic violence awareness groups are demanding a response — and quickly — in light of the league's previous pledge to act forcefully in cases of sexual or physical abuse.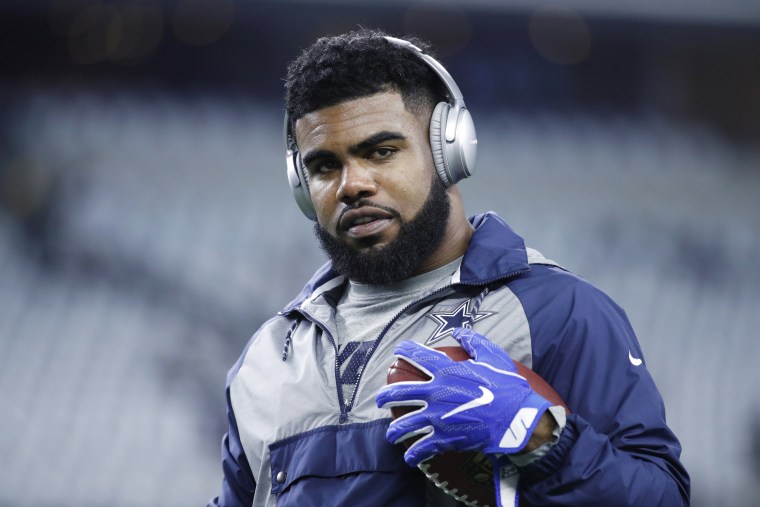 UltraViolet, a national women's advocacy organization, is calling for Elliott to be suspended after the video shows what it describes as a "clear act of sexual assault."
"Players set an example on the field and off the field to millions of people across the country. It's critical that they understand the gravity of the implications for their actions," UltraViolet co-founder Shaunna Thomas told NBC News.
Greg Loughlin, assistant director of the nonprofit Men Stopping Violence, said he was "disturbed" by what the video appears to show.
Related: Why Domestic Violence Prevention Programs Don't Always Work
"One thing we've learned is that swift and clear response to sexual abuse allegations really matters, and the longer the delay in the response, the less likely the man will be to take it seriously — and the less likely there will be a response for making meaningful changes," said Loughlin, whose group was among a coalition in 2014 that asked NFL Commissioner Roger Goodell to better handle such cases involving players.
Elliott, 21, had not commented on the video on his official Twitter account. He is purportedly seen holding a beer when he pulls down the woman's shirt while she stands next to him on a float. Her face is blurred.
Twitter users asked why the video, which was first published by TMZ, was met without reaction by Elliott's team and the league. A Dallas Cowboys spokesman told NBC News that the team has "no comment," and the NFL did not respond to NBC News' request for comment.
TMZ said a representative for Elliott insisted that the unidentified woman was not upset by what occurred. An attorney for Elliott didn't respond to a request for comment from NBC News.
The video could complicate Elliott's already precarious relationship with the NFL after physical assault allegations were lodged against him last year and remains under investigation by the league.
A woman in February 2016 said that she suffered an injury after Elliott pushed her against a wall during an argument in Florida, according to a police report first obtained by USA TODAY. He was not arrested and she declined to go to the hospital, the report said.
In July, the same woman said Elliott had assaulted her in Columbus, Ohio, and abused her over several days, The Dallas Morning News reported last year. She told police in a report that she was his girlfriend, but he denied being in a relationship with the woman. Columbus prosecutors ultimately declined to press charges.
Elliott told the Fort Worth Star-Telegram in January that he was dismayed by the length of the league's ongoing investigation.
"I will tell you this — it just seems like they're dragging their feet right now," the Ohio State standout said. "Who knows, man? I just want it to end."
Even without criminal charges, the NFL could decide to place a player on leave or suspend them if they're found to have violated the personal conduct policy on domestic violence or sexual assault even once.
"A second offense in this category will result in banishment from the NFL," the policy states.
The issue of athlete violence was in the national spotlight again after Ray Rice, a Baltimore Ravens running back, was caught assaulting his fiancée on an elevator in 2014. That incident was caught on video.
In this latest case involving Elliott, Thomas said, while the circumstances might be different, the woman in the video didn't appear to consent to what was occurring.
"Even if she previously exposed herself, she at no way consented at the moment that he did it," Thomas said. "She slapped him down when he tried to expose her again."
Loughlin said having a video might advance the issue, but oftentimes in instances of abuse, there is no such evidence and cases might get swept aside — particularly if the person is a big name.
"These behaviors aren't the aberration, but the men are acting from the messages they receive from society," Loughlin added. "We can't stop this behavior without society changing what we think is acceptable."