Millions of Americans have applauded the NFL players who have taken a knee during the national anthem, but not the women whose job it is to root for the teams — the cheerleaders.
They have been noticeably absent from the year-long drama that has divided football fans and outraged President Donald Trump and their reasons range from not wanting to undermine the team — to not wanting to lose their prized spot on the squad.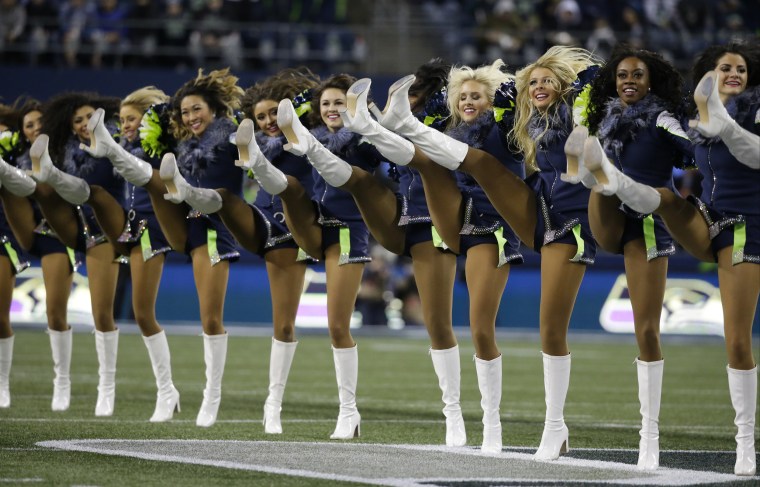 "Definitely the financial compensation isn't high enough where you're concerned about paying rent … but certainly if you're creating waves you could lose your spot," Danetha Doe, a two-season Indianapolis Colts cheerleader, told NBC News.
Doe remembers when it was rare to find an African-American in the rah-rah ranks and understands why a cheerleader might think twice about joining the players' protest against the persecution of black people in America.
"Ten years ago I was 18, 19 and still finding my own way," Doe said. "I would not have participated. I was one of a handful of minority cheerleaders. It would have been challenging to be the only one."
Kara Kay, who is white and cheered for the then-San Diego Chargers from 2011 to 2014, said not much would be gained if she or the other cheerleaders joined in the protest.
"I think football players kind of represent their own entity as well as their team," Kay said. "We're representing the coach and the team. It's not like a single entity. If I kneel, no one knows my name."
Melanie Brown, who was a cheerleader for the Seattle Seahawks for six seasons and the Chargers for one, said maintaining that sense of unity is ingrained into a cheerleaders' role. She, as well as Doe and Kay, said they saw themselves as ambassadors for their teams.
"We work hours and hours of being in line and on your mark, so I guess you can relate it to that," said Brown, who is also white. "If one girl isn't doing the same thing as another girl, it might be something that needs to be discussed."
At a time when Trump has called for firing players who knelt during the anthem, the NFL teams contacted by an NBC reporter were reluctant to wade into the controversy.
While not all NFL teams have cheerleaders, none of those that do would comment about their cheerleaders or the protests. Some did not reply to a request for comment. NBC News was unable to contact six teams.
Related: Can Cowboys Owner Jerry Jones Bench a 'Disrespectful' Player?
Doe said every cheer squad is managed and compensated differently. But the bottom line is that cheerleaders don't do it for the money.
The NFL is a $13 billion-dollar industry, but Doe said she and her squad mates took home approximately $100 a game. Kay said when she was a Chargers Girl, captains made $100 and cheerleaders made $75.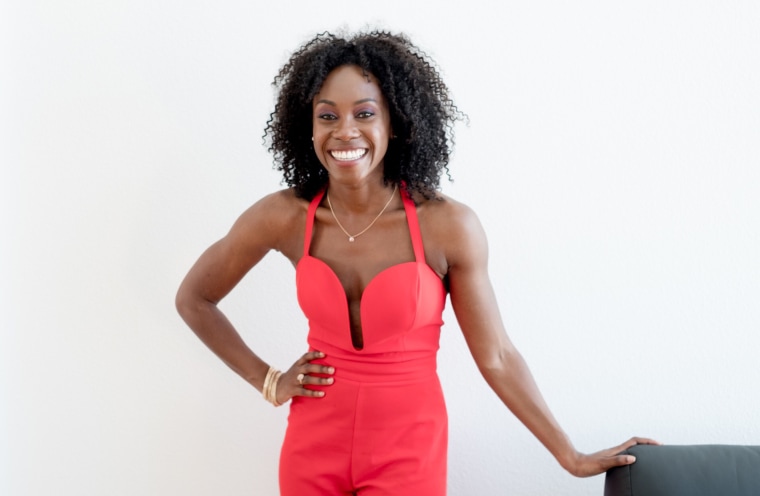 While not a single NFL cheerleader has followed the example of former San Francisco 49ers quarterback Colin Kaepernick and taken a knee, a handful of college cheerleaders have.
Five Kennesaw State University cheerleaders did just that on Sept. 30 during the pre-game national anthem.
"I wanted to let everyone know our reasoning behind it was to promote equality, not just in our community but in the nation and to highlight police brutality and kneel for those who are no longer here and let them know that it's not OK," said cheerleader Shlondra Young, a 20-year-old junior.
Related: Trump Says NFL Should Have Suspended Colin Kaepernick for Kneeling
Young conceded that she faces fewer repercussions than an NFL cheerleader.
"We don't get paid and we're not on scholarship, so our consequences might not be something that … affects us as much as them." Young said. "I feel like if it does affect, them that's wrong and unconstitutional."
Former cheerleaders like Kay said they are rooting for newcomers like Young, who may one day find themselves facing a decision over protests in the NFL.
"I think it's awesome," Kay said. "I think taking a stand against inequality is a good idea. I think if I thought it would make a difference, I would do it, too. I just hope people are going to listen."