Ray Rice got domestic violence and conflict resolution training in 2008, the NFL confirmed on Tuesday. It came in the form of lectures and skit-based "Life Skills" training, which is part of the NFL's Rookie Symposium.
Founded in 1997, the symposium is a mandatory, boarding-school-strict, four-day event. It's held every June, usually in Aurora, Ohio, where from 8 a.m. to 10 p.m. the players learn all the mistakes that await the careless. Along with drunk driving, guns, drugs and financial scams, there is a special emphasis on women and families. Alcohol, visitors, cellphones, do-rags and sunglasses are banned. The league requires every rookie to attend every session, and had Rice missed even a single session, the league would have fined him up to $50,000. (The fine has since been raised to $75,000.)
But he didn't miss one, the NFL said.
In an interview Tuesday, Zachary Minor, a New York University-trained actor who founded the NFL's skit-based "Life Skills" program in 1997, defended his program and the NFL.
"This recent situation is really heartbreaking, because I know what these guys go through and I know how much the league does," said Minor, who ran the program himself until 2012. He has created similar programs for the NBA and Major League Baseball. "You're never going to hit 100 percent," he said. "It's just not going to happen, no matter what. But you've got to keep trying."
Minor started using drama as a teaching tool back in the 1980s, when he ran educational skits for at-risk youth in New York City's schools. Performed by professional actors, and funded by NYU, the mini-soap operas featured conflicts with parents, teachers, coaches and more. At the height of each drama, Minor would yell "FREEZE," and bring the audience in for a what-next conversation. He called it "life training," and its success landed him on the "Today" show with Bryant Gumbel.
NBA executives saw the interview, Minor said, and contacted him about creating a similar program aimed at their incoming players. The NBA was recovering from the death of Len Bias, a University of Maryland star who died -- after a night of partying -- before ever playing in the league. The move was also an effort to modernize the league and improve its public image, Minor recalled, especially when it came to the treatment of women.
"The men coming into the league really needed help," he said. "That was the beginning."
Like the NBA, the NFL had felt increasingly burned by bad player behavior, and ahead of the 1997 season it called Minor to create still another custom program. The league had just become the first in professional sports to publish a policy on off-the-field violence. As part of the new hard line, it launched the Rookie Symposium that June with Minor's skits.
Follow NBC News Investigations on Twitter and Facebook.
"Athletes are comfortable with game film," Minor explained. "I wanted athletes to look at what I do as game film for life."
The skits varied year to year, covering fights, drug stings, traffic stops, crooked friends and shady investments. The actors were culled from auditions advertised in Backpage. But no matter who was on stage, the scenes that got the biggest response, Minor recalled, were usually domestic situations. While he doesn't recall the specifics from Rice's year, one of the perennial favorites featured a player who comes down stairs on his way to catch the team bus. He finds his wife there, her bags packed. She's planning to move out.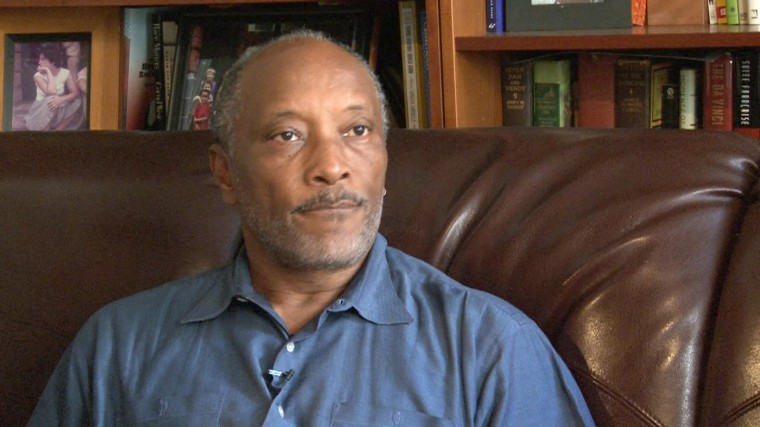 "I've been trying to get you to talk for weeks now," the wife says. "I'm leaving."
"Oh yeah," the player says. "How you going to get there? You didn't buy that car. That's my car. I paid for that car."
Some years Minor would call "FREEZE" right at this point, pressing pause on what he sees as the game of life. He said that the model he's brought to professional sports can be summarized in three words: "choices, decisions, and consequences." He would walk the players through each option, each likely outcome. Then he would let it play out with the actors. When a bad choice was made, and the anger levels rose, the outcome was the player grabbed a golf club. Then came the consequences: he ended up in jail for threatening his wife.
One of the first questions he got from the floor was, "well, what if she hits me first?" That brought home for him what these players go through, he said, going from a life of dorm rooms and mess halls to mansions and steakhouses. For a lot of guys, just walking away is something they promised themselves they would never do. They say it's not being a man, Minor recalled. He tries to teach them that the opposite is true: "You can be a man, and walk way. You can say, enough, I need to take a breather. I need to come back another time."
In some of the later years, Minor was joined on stage by Edward Newman, a guard who played 13 seasons for the Miami Dolphins. He's now a judge in Miami, with a docket that frequently features sexual assault and domestic abuse cases. In one skit, he would appear in his judicial robes, watching the action.
The scene was a break-up, where the woman threatens to take half the player's stuff by claiming status as his common law wife.
"Hold up," the player says. "We weren't even together that long."
"This is a common law state," the women replies, and the player grabs her arm.
"FREEZE," yells Minor, turning to Newman. "Let's see what the Judge says."
The answer: "A year in prison."
On Monday the NFL hired three domestic violence and sex crimes experts — including a former New York City prosecutor — to help them improve their Rookie Symposium and otherwise expand domestic violence training.
But the league had already been making changes, said NFL spokesperson Joanna Hunt.
Minor stopped running his program in 2012, but continues as an NFL-approved "life skills" coach for in-season training. The role-playing has been de-emphasized and replaced by panel discussions, where former players discuss the mistakes they've made, according to Hunt, who shared the Rookie Symposium schedule with NBC News. The only specific domestic violence programming is run by an educator named Tony Porter, founder of A Call to Men, an organization aimed at fostering healthier relationships.
It continues in-season with a mandatory "Rookie Success" program, which features a session on how to spot "unhealthy relationships."
But Minor is hopeful that the Rice scandal will bring his "life tape" idea back to the NFL.
"I think it's important to give players the visual," he explained. "These are young, visual learners, and the more we can meet them there, the more we can engage them."