The Minnesota Vikings on Friday deactivated all-pro rusher Adrian Peterson after the 29-year-old was indicted in a child abuse case.The star running back will not play Sunday against the New England Patriots.
The move by the the Vikings — made via a terse, one-line statement — came after the sheriff in Montgomery County, Texas, announced that a grand jury had indicted Peterson on a charge of "injury to a child," on Friday afternoon. A warrant was issued for Peterson's arrest and he turned himself in to the Montgomery County jail early Saturday and was later released.
Montgomery County officials refused to discuss further details of the case, but Peterson's attorney, Rusty Hardin, said that the charge involved Peterson's using a "switch" to spank his son.
"Adrian is a loving father who used his judgment as a parent to discipline his son," said Hardin's statement. "He used the same kind of discipline with his child that he experienced as a child growing up in east Texas. Adrian has never hidden from what happened. He has cooperated fully with authorities and voluntarily testified before the grand jury for several hours."
The news follows the firestorm swirling around former Baltimore Ravens running back Ray Rice, who was cut from that team just four days ago after a disturbing video of him cold-cocking his wife in an Atlantic City, N.J., elevator was made public.
Peterson has averaged 1,445 yards a year in his NFL career, and has gone to the Pro Bowl six times.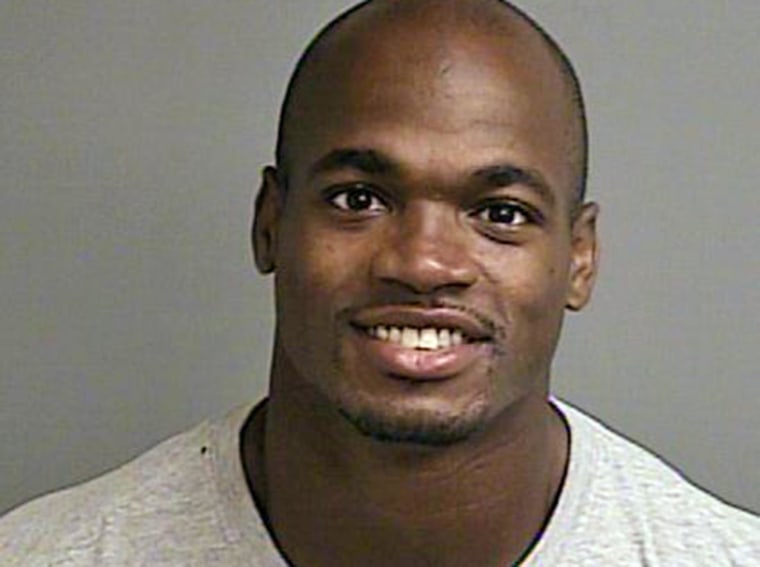 IN-DEPTH
SOCIAL
— Hasani Gittens