He has admitted missteps and promised change. Now, as part of a vow to "get it right" after criticism of the way he handled recent cases of abuse, National Football League commissioner Roger Goodell is preparing a suite of new initiatives to curb domestic violence both inside the league and nationwide. There's just one problem, according to researchers who study the issue: no one knows what works.
Nearly a half-century after the women's movement called attention to intimate partner violence, there's no consensus around why it happens, let alone how to prevent it. Some programs have been shown to change the way men view women, but few, if any, have proven to change abusive behavior—and none have been shown to work in hard cases or over the long term.
"The technical social science term for this is: Oy," said Michael Kimmel, a sociologist at Stony Brook University, where he directs the Center for the Study of Men and Masculinities. "There is very little reliable evidence that says that these programs are uniformly or even partially successful."
The programs—a blend of treatment for abusers and education for men and boys—are new by the standards of social science and psychology. They appeared in the 1970s, multiplied in the 1990s, and now form what amounts to a second front in the public health fight against domestic abuse.
The first front focused on women. It meant shelters and hotlines, all of it supported by the Violence Against Women Act of 1994. A link has never been authoritatively made, but something in this round seemed to work: rates of domestic violence fell by more than 50 percent between 1995 and 2004, according to Justice Department figures.
The drop has stalled, however, settling at about 4 incidents a year for every thousand people. Over a lifetime that's enough to mean that nearly one in three women will experience physical abuse at the hands of their partner.
So the focus has shifted to the men who commit most of this violence. Thousands of court mandated counseling programs have sprung up to treat convicted batterers. Like addicts in rehab, they are asked to take responsibility for their actions, and like addicts in rehab, the vast majority drop out or relapse.
"You take a guy like [former NFL running back] Ray Rice, a guy who can just cold-cock his wife like that and think you're going to send him to a little counseling? No way," said Lundy Bancroft, the former director of Emerge, the nation's first reform program for abusive men. "Once a guy starts abusing women he locks in, in many ways" he added. "Jail takes a bigger bite out of recidivism than even the good batterers intervention programs do."
There's no consensus around why domestic violence happens, let alone how to prevent it.
Ted Bunch tends to agree. In the 1990s, he co-created Safe Horizons, the country's largest program for domestic violence offenders. He's an optimist, hopeful for long term change. But he also acknowledges that these programs are best for accountability, not reform. "It's clear that sending a man to a batterers program is not the cure," he told WNYC in 2008. "It's not going to stop anyone."
Still, some researchers insist that treatment can work. In the 1990s, for example, Edward Gondolf, now a professor emeritus at the Indiana University of Pennsylvania, followed hundreds of abusers as they entered intervention, a four-month to one-year course of weekly group counseling. Four years later, he and colleagues declared success, citing rates of re-assault as low as 10 percent in a given year.
"There is hope!" Michigan State psychologist Cris Sullivan wrote in an email, citing Gondolf's work. But in recent years, the Gondolf study has been excluded from major policy reports, discounted because of methodological flaws and a rosy interpretation of the data. His final figures did not include drop-outs, for example, about 50 percent of the starting population. And when all assaults were factored in, across all four years, the recidivism rate jumps to near 50 percent.
That's consistent with most other studies. In 2003, for example, the National Institute of Justice, the research arm of the federal Justice Department, found that intervention programs have "little to no impact on reoffending." They also "do not change batterers' attitudes." Even worse, according to an NIJ update in 2009, some programs actually seem to make abusers more likely to abuse.
All of which pulls researchers back to a question that has confounded them for decades: what's the root cause of domestic violence? They have been able to develop a strong list of "risk factors," but most of them are as nestled as a pile of pick-up sticks.
Many abusers were themselves abused or witnessed abuse. Many were forged by a bonfire of social disadvantages, including poverty and poor education. Many were drunk or high during the abuse itself. And yet none of these factors explain much.
Even among boys who grow up seeing violence, most do not go on to hit women. Even among men who go to the bar every day, most do not go home to hit their partners. So what separates the abusers from the non-abusers? Here again, no one is sure.
One of the most popular theories assumes that domestic violence is built on a foundation of oozy, retrograde sexism. An abuser may be broken, addicted, emotionally unstable, poor, frustrated, anything. But under this view, the reason he's abusive is fundamentally social. He's been following a musty old script of masculinity, one that teaches him that women are objects of male control.
"It all has to do with devaluing and degrading women," said Cris Sullivan, a psychologist at Michigan State, where she directs a research consortium on gender violence.
To end domestic violence then, we simply need to fix the script. This idea is at the core of A Call to Men, co-founded by Ted Bunch and Tony Porter. For the past two years, A Call to Men has delivered domestic violence education to all NFL rookies. Now the league is working closely with Porter and Bunch as it prepares its new programs, according to spokesperson Joanna Hunt.
The ideas involved are undeniably compelling. Tony Porter's TED Talk version of the program ended with a standing ovation in the studio, and the video has since been viewed millions of times online.
"I need you working with me and me working with you," he said near the grand finale. He called for everyone to teach their sons "that it's okay to not be dominating, that it's okay to have feelings and emotions, that it's okay to promote equality, that it's okay to have women who are just friends and that's it, that it's okay to be whole, that my liberation as a man is tied to your liberation as a woman."
But although ending sexism is a welcome goal, there's little evidence to suggest that it's the root cause of domestic violence, or that combating it with slogans and applause lines will put abusive men on a gentler path.
The idea is to surround the next generation of men with a single, uniform message against domestic violence.
In 2009 Oxford University Press addressed this evidence-hole in "Intimate Partner Violence," a 572-page compendium of what we know and how. In the section on big picture theories, three prominent scholars, including one from the Centers for Disease Control and Prevention, called the lack of support for the sexism theory and other top-down notions of change "perhaps the biggest gap" in the field.
Even more troubling is what seems to happen when sexism is used as the basis for treatment. The short answer is nothing, according to Washington State's Institute for Public Policy. The team of taxpayer-funded researchers recently reviewed all the literature on the sexism model. The impact on an abusers' likelihood of re-offending: "not significantly different from zero."
Now the field is shifting once again, this time toward prevention programs. The idea is to surround the next generation of men with a single, uniform message against domestic violence. It's part of a new public health view, one that treats the problem of domestic violence as huge, complex and permanent—unless we attack it with a national campaign of the same scale.
The CDC has been quietly leading this effort. It started in 2002 at the state level, where the CDC has helped dozens of local coalitions develop offices of prevention. Now, those offices are test-running their first programs.
It hasn't been easy. Members of the Virginia Sexual and Domestic Violence Action Alliance reviewed more than 100 existing prevention efforts, thinking they'd have their pick of the best. Instead, they found that none of the programs were truly evidence-based, according Kristi VanAudenhove, executive director of the Action Alliance, in a speech organized by the CDC in 2012.
They ended up with a mixed approach, based not on a single program but a suite of programs. All of them promote the omnibus idea of "healthy relationships." The messages start as young as kindergarten, develop as the children do, and are meant to be supported by parents and community leaders.
In some Virginia churches, for example, the pastor delivers a semi-annual sermon on sexism and violence. The youth group runs two sessions a year on healthy relationships. The women's and men's clubs run parallel sessions for adults, and the parents group sponsors an annual retreat, shoring up the idea from all sides.
The CDC calls this "surround sound," and it hopes the effect will ripple through school culture, helping turn peer pressure against male-on-female violence. Researchers are now in the process of monitoring these programs, and, if all goes well, we'll start to really know "what works" when the results come in—sometime around 2018.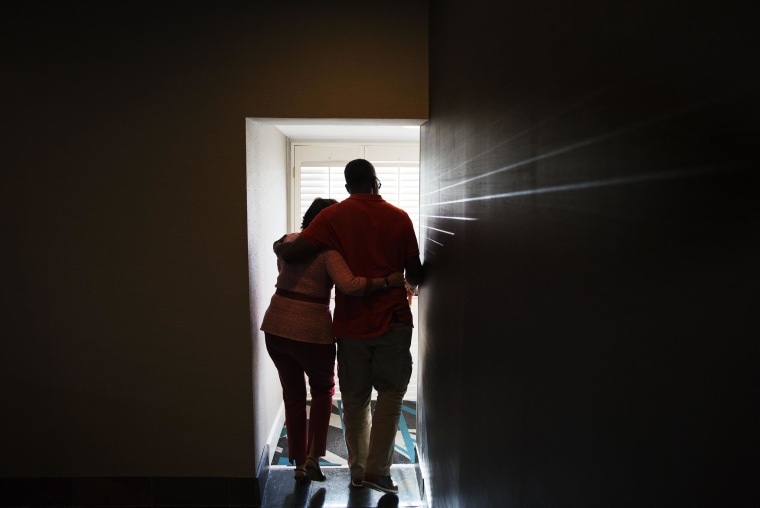 In the meantime, the NFL seems to be pressing on with its own surround sound approach. The league has declined to comment on what it's developing, but in letters made public in the last two months, commissioner Goodell has described a CDC-like hope to envelop players, fans, and the general public.
That sounds right, researchers said, but the challenge will come in actually doing it.
Jeff O'Brien is the director of Mentors in Violence Prevention, a promising national program that turns athletes into allies against domestic violence. From 2006 to 2009, the NFL hired O'Brien to run anti-domestic violence trainings for the teams that wanted them.
"I don't know if you've ever been in an NFL facility during the season," O'Brien said, recalling visits to the New England Patriots and the Denver Broncos, among other teams. "But you can feel the stress dripping off those walls."
At the time few in the league seemed receptive to an intense, interactive program on domestic violence. But that may be set to change.
"I would be surprised within the next year if we're not doing something with them again," he said. "It could be a new day."