Authorities continued to hunt for clues Sunday in the growing investigation into an explosion in Manhattan on Saturday night that New York's governor has described as a "bomb."
And investigators are analyzing possible similarities between two devices seized in New York and one that detonated earlier Saturday in New Jersey, including the fact that all three devices apparently contained old-style mobile flip phones, according to officials familiar with the probe.
Latest developments:
Surveillance video may show the same man at both New York locations where devices were found
New suspicious package discovered in New Jersey
"Vehicle of interest" stopped in New York late Sunday
Governor orders 1,000 state troopers and National Guard soldiers to New York City
Authorities investigating 911 call claiming responsibility
Officials looking to identify suspects from surveillance video
Both NYC "bomb" and explosive device in New Jersey used flip-phones
The New York explosion, on West 23rd Street between Sixth and Seventh avenues in Manhattan's Chelsea neighborhood, was reported around 8:30 p.m. Twenty-nine people were hospitalized with injuries, but they had all been released by Sunday afternoon, authorities said.
Related: 'An Act of Terrorism': Investigators Hunting for Clues in NYC Bomb That Injured 29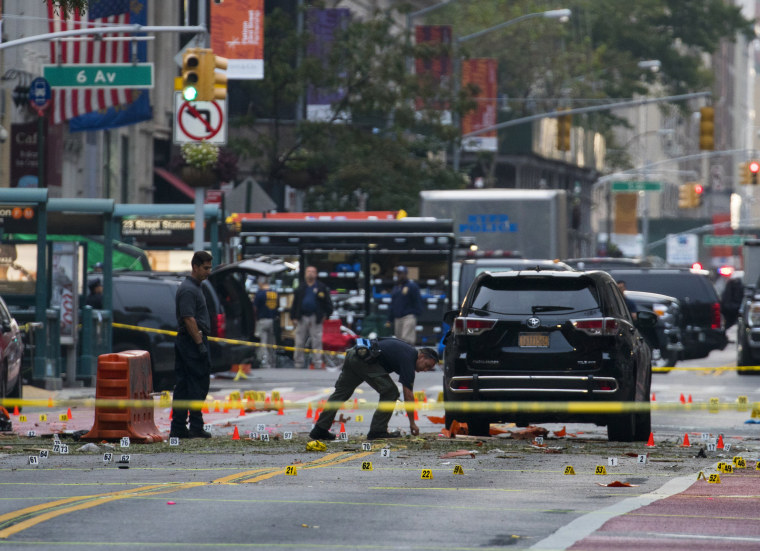 Less than three hours after the New York blast, an object that police described as a "possible secondary device" was found just a few blocks away from the original explosion on 27th Street while officers were combing the area.
New York Gov. Andrew Cuomo said Sunday that both New York devices were "similar in design," but he declined to elaborate.
Complicated investigation at full speed
At a New York police firing range in the Bronx, investigators were planning Sunday evening to conduct a controlled detonation of the second, unexploded New York device — which appeared to be a rigged pressure-cooker explosive.
Related: Rigged Pressure Cookers Have Long History Among Bombers Worldwide
Meanwhile, the FBI confirmed that a "vehicle of interest in the investigation" was stopped near the Verrazano Bridge in New York late Sunday. No one had been charged, and "the investigation is ongoing," said a spokesperson who gave no further details.
And in Elizabeth, N.J., police and the FBI responded late Sunday night to a suspicious package near the Elizabeth transit station at 11 West Street. Authorities didn't say whether they believed the package might be related to the earlier devices, but New Jersey Transit suspended service between Newark Airport and the Elizabeth station.
Video could be key
Authorities were analyzing video captured near the location of the 27th Street device. Two senior law enforcement officials described it to NBC New York as showing a man pulling a suitcase that appears to have contained the second explosive device and then leaving it behind as he walks away.
The two officials said two men later approached the abandoned suitcase, removed a white bag containing the device and took the luggage. The officials said there was no indication Sunday evening that the pair were tied to the plot. They may not have been aware of what they were removing, the sources said.
Law enforcement officials are now looking for the men to recover the suitcase as evidence.
Police were also examining a black livery car Sunday evening on Madison Avenue and East 39th Street, which appeared to have been hit with shrapnel as it passed through the blast area Saturday night, according to sources. Investigators are seeking to recover any potential debris or shrapnel to preserve as evidence.
New York Mayor Bill De Blasio and other city officials asked Sunday afternoon for the public to have patience, stressing that the investigation had only just begun — and that while investigators could determine that the blast was "criminal" and "intentional," they hadn't nailed down a suspect or a motive.
No arrests have been made, but New York Police Commissioner James O'Neill said, "New York City residents can rest assured we'll get to the bottom of this."
Lauren Rispoli of Seaside Park, N.J., who was in bed when she heard the New Jersey blast, told NBC New York that the explosion wouldn't rattle residents' spirits.
"We will support this run again next year here or wherever they choose to do it," she said. "Even if it's next year, we're not afraid. We're not going to let this stop us."