When bombing suspect Ahmad Khan Rahami was captured, he was carrying a notebook containing a "rambling" missive that praised a slain al-Qaeda leader and mentioned several deadly terror attacks, law enforcement sources told NBC News Tuesday.
It was "a hodgepodge, a rambling, disconnected, choppy series of references to past events," a law enforcement official said.
The note referenced the deadly Fort Hood shooting as well as slain al Qaeda terrorist Anwar al-Awlaki, the official said.
Related: Complete Coverage of the NY/NJ Bombings
The revelation came on the same day that NBC learned that Rahami's father, Mohammad, once branded him a "terrorist" during a family fight — and a day after the search for the 28-year-old suspect ended with a gun battle in Linden, New Jersey.
Rahami, who was armed with a Glock semiautomatic pistol, was shot in the leg, arm and shoulder during the Monday shootout, sources said. Two Linden, New police officers were also wounded.
Officer Angel Padilla, who was hit in his bullet proof vest, was discharged from University Hospital in Newark on Monday night, the Linden Police Department posted on its Facebook page. Officer Peter Hammer, who was grazed in the head by a bullet fragment, was discharged Tuesday.
Here's what else we know so far:
Rahami, a naturalized U.S. citizen from Afghanistan who lives in Elizabeth, New Jersey, was being held on $5.2 million bond as investigators continued to investigate the three-day bombing spree in New York City and New Jersey.
The Rahami family first appeared on the FBI's radar two years ago after police responded on Aug. 25, 2014 to a report that he'd stabbed his brother in the left leg. Officers learned from a neighbor that Mohammad Rahami yelled at him, saying words to the effect of, "You're a terrorist. Get out of my house," two federal law enforcement officials told NBC News. Questioned by the FBI, the elder Rahami said he made the statement "out of spite" and that it was not true. The FBI, which had opened what's called an assessment, dropped the case. Also, the domestic violence charge against Rahami was later dropped.
Federal investigators revealed there were four explosive devices: One made from three pipe bombs that exploded Saturday in Seaside Park, New Jersey; two pressure cooker bombs, one of which went off in Chelsea on Saturday night and injured 29 people, as well as a "multi-part device" that was found Monday at a commuter rail station in Elizabeth.
Investigators know the flip phones used on the devices were bought at the same store last year, but the FBI does not yet know where the bombs were put together. "These bombs, although they were somewhat complex, could be assembled in a relatively confined area and with a limited amount of information in front of you," Timothy Gallagher, Special Agent in Charge of FBI Newark, told NBC News.
While investigators believe that Rahami was most likely a "lone wolf," they questioned five people who were in a "vehicle of interest" that police stopped after the Chelsea bombing near the Verrazano Bridge in New York City. Gallagher said they were Rahami relatives, including some first cousins, and "no one in that vehicle has been charged in this incident."
Rep. Albio Sires, a New Jersey Democrat, told NBC News that Rahami sought help in March 2014 with getting a visa for a woman named Asia Bibi Rahami, who he claimed was his wife. It was denied because the woman was 35 weeks pregnant. Rahami's wife remains abroad and there is "nothing to indicate that she is involved," Gallagher said.
Rahami's former girlfriend Maria Mena has asked a court to give her full custody of the child she had with the suspect and issue a restraining order against him — citing his arrest as the basis for her petition, NBC has confirmed.
Investigators were trying to determine whether Rahami was radicalized on trips to Afghanistan and Pakistan during the last decade. A senior U.S. intelligence official told NBC News on Monday that Rahami — who was 7 years old when his family sought asylum in America — visited his homeland as recently as April 2013 and that his older brother Mohammad is believed to still be living there. "We don't know about a path to radicalization, however we do know his path around the world," Gallagher said.
Rahami's former classmates at Edison High School in Edison, New Jersey, were struggling to reconcile the "cool dude" who graduated in 2007 with the suspected terrorist who is now charged with five counts of attempted murder of a law enforcement officer and likely to be hit with federal charges that could send him to jail for life.
Related: "The Perception vs. Reality of Violent Crime in America"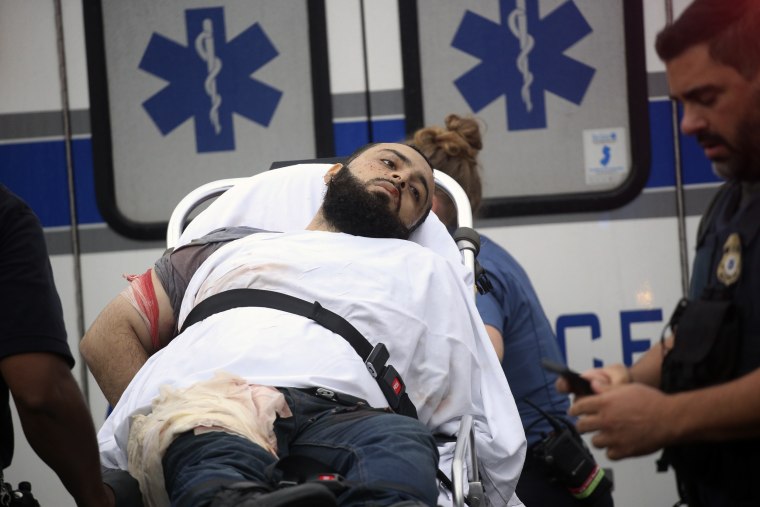 Investigators zeroed in on Rahami after he was seen in surveillance footage taken Saturday night amid the mayhem in Chelsea.
The blast Rahami allegedly set off was so powerful that it sent a dumpster flying more than 150 feet down the sidewalk and shattered windows more than a block away. Police are not clear on why the second device found a few blocks away on 27th Street did not detonate.
Nor has the FBI determined why the Chelsea neighborhood was targeted.
"Individuals who seek to inflict harm upon the general public in general pick areas where there is a large general population or people coming through and that would definitely fall in line with a road race, or New York City, or a train station in central New Jersey," Gallagher told NBC News.
NBC News reported Monday that a fingerprint linked Rahami to one of the pressure cooker bomb — a potentially deadly device similar to the ones used by the Tsarnaev brothers during the Boston Marathon bombing on April 15, 2013.
Related: Ahmad Rahami's father: I had 'no idea' what my son was doing
Rahami was arrested hours after a backpack bomb he allegedly planted in near a train station in Elizabeth went off as a police robot examined it.
His father, who runs a restaurant in Elizabeth called "First American Fried Chicken," has told reporters he had "no idea" what his son was allegedly planning.
Gallagher, the Newark FBI chief, echoed that in his interview with NBC News.
"At this time we have no information that his family members, or if any of his associates knew about these attacks in advance," he said.