The presidential candidates remained true to form in their reactions to the explosion in New York City on Saturday night, with Donald Trump sounding alarms and Hillary Clinton offering caution.
Trump, the Republican nominee, was set to take the stage in Colorado Springs just as unconfirmed reports of an explosion in downtown Manhattan started spreading over Twitter.
After waiting on his plane for about 13 minutes, he took the stage and reported what no news outlets or law enforcement had yet: that a "bomb" went off in New York City.
"Just before I got off the plane, a bomb went off in New York, and nobody knows exactly what's going on, but boy, we are living in a time," Trump said. Exactly how Trump learned of the incident is yet to be determined.
Related: NYC Emergency Crews Respond to Blast Scene
The explosion injured 29 people in a crowded Manhattan neighborhood Saturday night. New York Mayor Bill de Blasio called the act "intentional" but said it has not been linked to terrorism as of Sunday morning. Another explosive device was reported in New Jersey earlier Saturday, but no connection between the two incidents has been made.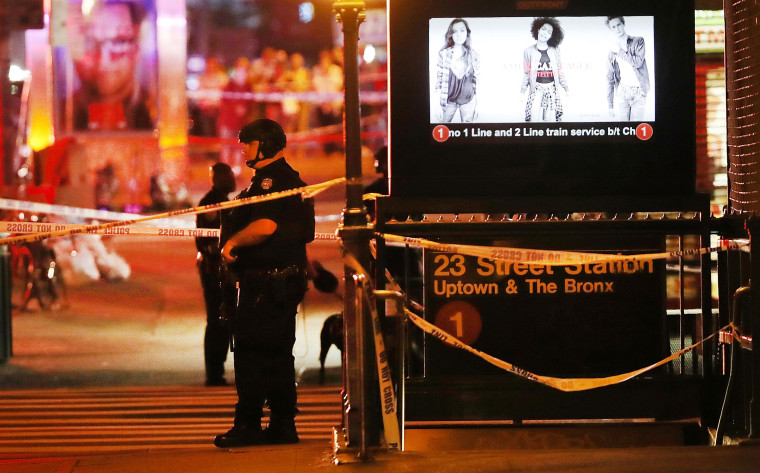 Trump stuck to his authoritative rhetoric, telling his supporters: "We better get very tough, folks. We better get very, very tough."
On Sunday morning, Trump shifted tone on Twitter in a message to the families and victims of the more than two dozen people injured by the explosion.
"I would like to express my warmest regards, best wishes and condolences to all of the families and victims of the horrible bombing in NYC," he tweeted.
While Clinton, the Democratic nominee, appeared to criticize Trump for immediately calling the incident a bombing, she initially referred to it the same way.
"I've been briefed about the bombings in New York and New Jersey and the attack in Minnesota," she said.
Clinton, who was briefed after her speech at the Congressional Black Caucus, later spoke with de Blasio.
"Obviously, we need to do everything we can to support our first responders," she said. "Also to pray for the victims. We have to let this investigation unfold."
Related: Watch Video of the Manhattan Explosion
Asked later to respond to Trump's calling the explosion a bombing, Clinton told NBC News that it's important to wait until jumping to conclusions.
"I think it's important to know the facts about any incident like this," she said. "I think it's always wiser to wait until you have information before making conclusions, because we are just in the beginning stages of trying to determine what happened."
On Sunday morning, however, New York Gov. Andrew Cuomo referred to the explosions as bombs, as well, saying: "Whoever placed these bombs we will find and they will be brought to justice, period. And they will be punished."
Later Sunday, Clinton put out a statement on the "apparent terrorist attacks" in New York, New Jersey and Minnesota.
"I strongly condemn the apparent terrorist attacks in Minnesota, New Jersey, and New York. I pray for all of those who were wounded, and for their families," Clinton wrote, adding, "ISIS has claimed responsibility for the attack in Minnesota, and this should steel our resolve to protect our country and defeat ISIS and other terrorist groups ... I am confident we will once again choose resolve over fear."