New York and New Jersey residents woke up to the news of yet another explosion in the area Monday morning as they prepared to start their commutes amid heightened security.
The explosion in Elizabeth, New Jersey, followed two others over the weekend — one of which left dozens of people injured in a busy Manhattan neighborhood.
Those in the tri-state area began the work week under of a cloud of anxiety, with lingering questions leaving many on edge.
Here's what we know: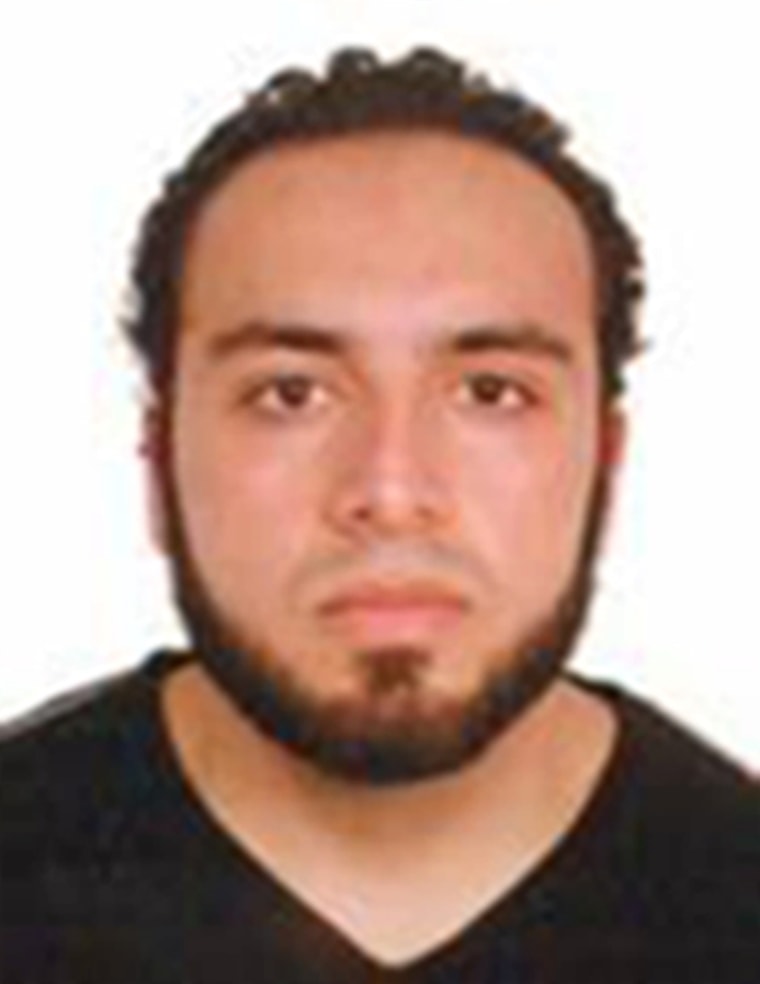 Ahmad Khan Rahami, 28, was shot and taken into custody in connection with the blasts hours after authorities identified him as a person of interest in three separate explosions in New York and New Jersey over the last three days.
Sources told NBC News that Rahami was the man seen on video in Manhattan's Chelsea neighborhood, where a pressure cooker detonated Saturday night, leaving 29 people injured.
The two other blasts occurred in New Jersey — the first on Saturday morning in Seaside Park before a charity race for Marines, and the second early Monday morning in Elizabeth. No one was hurt in either of the explosions, which authorities said were caused by pipe bombs.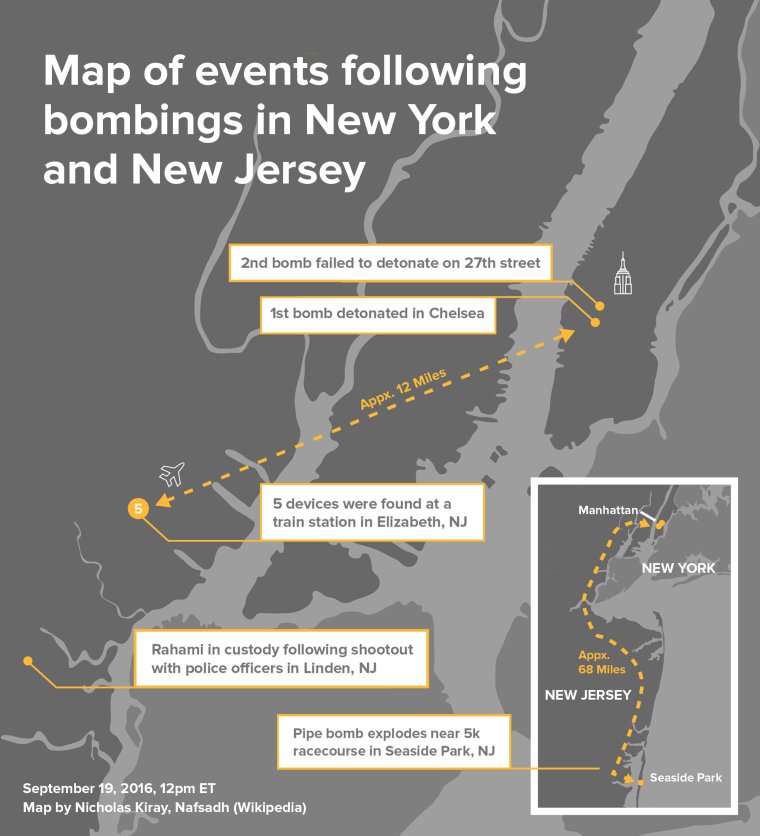 Rahami is linked to the blast that detonated in New Jersey along the race route Saturday morning and the one that went off in New York Saturday night, said FBI Assistant Special Agent in Charge Bill Sweeney.
A pressure cooker device that had not detonated was found in New York and several unexploded pipe bombs were found in New Jersey. Fingerprints on one of those devices helped authorities pinpoint Rahami as a person of interest, a senior law enforcement official told NBC News.
Surveillance video and information on cell phones connected to at least two unexploded devices also helped authorities identify Rahami, who is from Elizabeth, New Jersey, the official said. "He certainly seemed to do virtually nothing to cover his tracks," this official said.
1,000 state troopers and National Guard soldiers have been deployed to provide extra security in New York City.
Remaining Questions:
Who might be responsible?
Rahami is the central suspect, and Sweeney said authorities weren't looking for anyone else on Monday afternoon.
"We do not yet know if this was a lone wolf, or if it was something involving additional individuals," New York City Mayor Bill de Blasio said Monday morning.
Five people were questioned by the FBI early Monday after authorities stopped a "vehicle of interest" at about 8:45 p.m. ET Sunday near the Verrazano-Narrows Bridge in New York, the FBI said. None of those people were arrested, and they had been released by Monday afternoon, officials said.
"I can safely say that that stop of that vehicle was helpful and important," de Blasio said.
What's the motive?
Several law enforcement officials told NBC News that they are concerned that an active terror cell with multiple players could be at work in the New York-New Jersey area.
Cuomo said Sunday that it didn't appear the blast in New York was linked to international terror group, but on Monday he appeared to backtrack. He said on MSNBC's "Morning Joe": "Today's information suggests it may be foreign-related, but we'll see where it goes."
A senior U.S. intelligence official told NBC News that there's no indication ISIS was involved, but the terror group may try to take credit. "They should not be claiming credit for this since they don't deserve it," the official said.
Who is Ahmad Khan Rahami?
Rahami is a U.S. citizen of Afghan descent from Elizabeth, New Jersey — one of the cities which was targeted by the bomber.
In August 2014, he was charged with aggravated assault, unlawful possession of a weapon, but a Union County, New Jersey, grand jury declined in indict him.
It doesn't appear he was on any watch lists or on the government's radar, according to the FBI.
Is there still a threat?
Authorities said Sunday that there wasn't a further credible threat, but at least one call was made to police warning that there were more bombs after the New York City blast.
"I know there were some calls that came in warning that other bombs would go off. We always have to worry about that in these types of situations," said chairman of the House Homeland Security Committee, Michael McCaul (R-Texas). He said officials don't know if the calls were credible, "but you have to take that threat seriously."
"I think the good news is, I do think the perpetrators here are now much more inside the bull's eye of the investigation," he said.
President Barack Obama also assured the people of New York and New Jersey on Monday that they were protected. "I want to take this opportunity to reassure people in this city, this region and Americans across the country that counterterror professionals at every level are working together around clock to prevent attacks and keep us safe," Obama said.
Are the two pressure cookers in New York connected?
Authorities said surveillance video showed the same man on 23rd Street, where the blast went off, and on 27th Street, where a pressure cooker that did not explode was found.
Is the New York blast tied to the New Jersey blasts?
The pipe bombs that were detonated in New Jersey on Saturday morning and the two pressure cookers in New York were all rigged with flip-phones, leading investigators to believe that the explosives are related, but only the two that detonated, in New York and New Jersey, have been conclusively linked.
Multiple senior law enforcement officials told NBC News that the suspicious device discovered Sunday night in Elizabeth looked similar in appearance to the one that exploded Saturday morning in Seaside Park.
"There were certain commonalities among the bombs," Cuomo said on MSNBC Monday, referring to all of the bombs found in New York and New Jersey on Saturday and Monday. "They weren't identical but certain technology was the same, certain chemicals were the same which started to fuel a theory that there was a common group behind the bombs."