As a high school kid, Ahmad Rahami was a "cool dude" nicknamed Bo who liked to have fun and served as a father figure to his younger siblings.
By 2014, just seven years later, Rahami was married to a Pakistani woman and had a "nasty" disposition and a license to carry a firearm.
That's the picture that emerges from former friends and classmates and others who came into contact with Rahami, 28, the only suspect in a series of bombings over the weekend in New York and New Jersey. He was in custody Monday night in New Jersey on five counts of attempted murder of law enforcement officers.
How and why Rahami changed so drastically remains to be learned, but some clues could lie in his recent travel patterns.
A senior U.S. intelligence official told NBC News on Monday that Rahami — who was born in Afghanistan and was just 7 years old when his family sought asylum in America — visited his homeland as recently as April 2013.
He'd also made several trips in the last decade to neighboring Pakistan — while his older brother Mohammad is believed to still be in Afghanistan, the official said.
Related: Ahmad Rahami, Suspect in N.Y. and N.J. Bombings, Charged With Attempted Murder
Whatever it was that transformed him, childhood friends and classmates told NBC News on Monday that the Ahmad Rahami they knew doesn't square in any way with the Ahmad Rahami who investigators say planted multiple bombs across two states and shot two cops in a violent confrontation Monday.
A woman who was neighbors with the family said she was "very close" to Rahami when she was in seventh grade, when Rahami — whom she called "Bo" — was in high school.
"Honestly, he and his whole family they were the nicest people I've ever met," said the woman, who asked that her name not be used.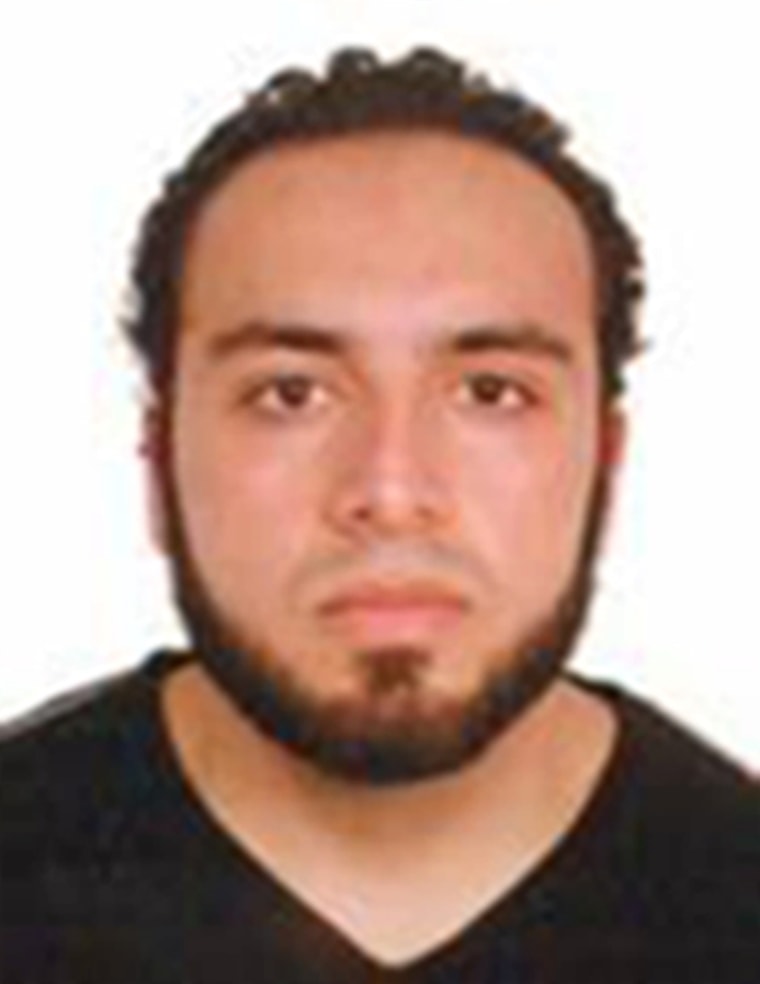 "I spent every single day" with the Rahamis, who "consider me family, as well," the woman said. She said she had a "big brother bond" with Rahami, who she said was the most mature of the six or seven Rahami siblings.
"He would have fun with us, but when it came time to be serious, he was a father figure to his younger siblings," the woman said.
Rahami graduated in 2007 from Edison High School in Edison, N.J., where he'd transferred from Columbia High School in Maplewood.
A former classmate at Columbia told NBC News that Rahami was "a cool dude" who was always ready with a joke,
"I played lacrosse with him until he was kicked off the team for being late all the time," said the man, who also didn't want his name made public.
"He definitely didn't seem like the kind of guy you would think would do something like this," the man said. It "would have been more believable if someone told me he had a comedy gig rather than the things he's in the news for."
In the years after about 2007, however, Rahami began traveling to Pakistan, the senior U.S. intelligence official said. It remains unknown why he went or what he did there, but in 2014, he sent an e-mail to the office of Rep. Albio Sires, D-N.J.
Rahami had gotten married to a Pakistani national at some point, and she was pregnant, Sires said Monday on MSNBC's "Meet the Press Daily." She needed help moving to the United States because her Pakistani passport had expired.
"I assumed she did" get the visa, Sires said. Then he added a personal assessment of Rahami: "He was kind of nasty, too."
No one in the Rahami family, who live in Elizabeth, N.J., has any known ties to terrorists, the intelligence official said. And his father, Mohammad Rahami, insisted Monday that he had "no idea" what his son was allegedly up to.
Asked for his reaction, the elder Rahami said, "My heart is very, very ..." He did not complete the thought.
The United States granted the family asylum in 2011, the official said. The same year, Rahami's family filed a federal lawsuit against the city of Elizabeth alleging that police harassed them and their eatery, First American Fried Chicken, because they are Muslims.
Here's what else is known about Rahami:
— He was no stranger to law enforcement. In August 2014, he was charged with aggravated assault and unlawful possession of a weapon and was released after posting $25,000 bail, records show. For reasons that were not immediately clear, a Union County, N,J., grand jury declined in indict him. At the time, Rahami was living in Perth Amboy, N.J., records show.
— He attended Middlesex Community College from 2010 to 2012 as a criminal justice major but did not graduate, a spokesman for the college said.
— The Rahami family is believed to have arrived in the United States back in 1990-91. They lived in an apartment upstairs from the chicken joint. The suspect and the other Rahami kids pitched in and worked behind the counter, a nearby businessman said.
— According to Jorge Vasquez, an owner of the nearby KJ Signs on Elmora Avenue, the family kept to themselves. "They were very secluded. They would not talk to people a lot," he told NBC News.
— Vazquez said he was mostly in contact with the suspect's father, Mohammad Rahami. "We would print the stuff, and they would pay and leave," Vasquez said, noting that he printed flyers for the dad.
— Vazquez said he wasn't familiar with the suspect Rahami. "We probably saw him going in and out," he said.
— Authorities say flip phones used on explosive devices in Seaside, N.J., and the Chelsea section of Manhattan were bought at the same Dollar Store in Perth Amboy.