President Donald Trump warned Friday that the Islamic State will continue to "pay a big price" after claiming responsibility for the deadly attack in New York City this week.
Trump on Twitter said the terrorist group, also known as ISIS, was being hit "much harder" in the last two days and blasted the suspect in Tuesday's truck rampage in Manhattan as a "degenerate animal."
Investigators had previously noted that 29-year-old Uzbek native Sayfullo Habibullaevic Saipov had become radicalized after watching ISIS videos on his phone and was inspired by leader Abu Bakr al-Baghdadi's call for revenge on the United States, according to a federal complaint.
ISIS in its newsletter, al-Naba, claimed responsibility for the attack, although it provided no evidence to back that up. The newsletter refers to the suspected attacker as a "soldier of the Islamic State," according to security consulting firm and NBC News partner Flashpoint Intelligence.
Although Trump in his tweets said the military was going after ISIS harder, the latest data from U.S. Central Command shows no significant increase — at least in airstrikes — since the Tuesday attack in New York.
Coalition forces have typically conducted at least five airstrikes in a single day in the past two weeks, but as many as 15 to 25. Eleven were conducted on Wednesday and 13 on Thursday.
Related: Trump Tweets Could Sabotage Prosecutors in Truck Attack, Experts Say
While a criminal complaint says Saoipov told investigators that he was inspired to carry out the truck attack, law enforcement sources have said it appeared he acted alone.
Saipov, who came to the United States in 2010, used a rented truck to run down people on a bike path along the West Side Highway in lower Manhattan on Halloween, police have said. Eight people were killed. He was shot and wounded by police, and on Wednesday was charged with two federal counts.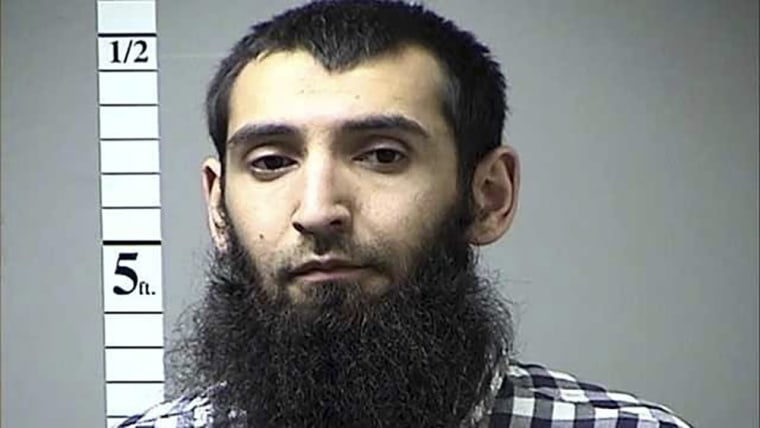 ISIS has urged its supporters to use vehicles in terror attacks. New York police deputy commissioner of intelligence and counterterrorism John Miller said Wednesday that Saipov "appears to have followed, almost exactly to a T, the instructions that ISIS has put out in its social media channels before with instructions to their followers on how to carry out such an attack."
ISIS has made dubious claims of responsibility in the past, including claiming that Las Vegas shooter Stephen Paddock was a "soldier" of the terror organization, also without providing evidence. That claim has been widely discounted by terrorism experts, and the FBI said there was no evidence that attack was connected to international terrorism.
The newsletter in which ISIS claimed responsibility for the New York attack also referenced the Las Vegas shooting. Paddock killed 58 people when he opened fire on a concert crowd on Oct. 1. Paddock then apparently killed himself, authorities have said.
Since the attack in New York, Trump has repeatedly called for Saipov to get the death penalty, although he backtracked on his suggestion that he be sent to the detention facility at Guantánamo Bay, Cuba.